---
Salisbury Academy Auction Moves Online, Benefits Meals on Wheels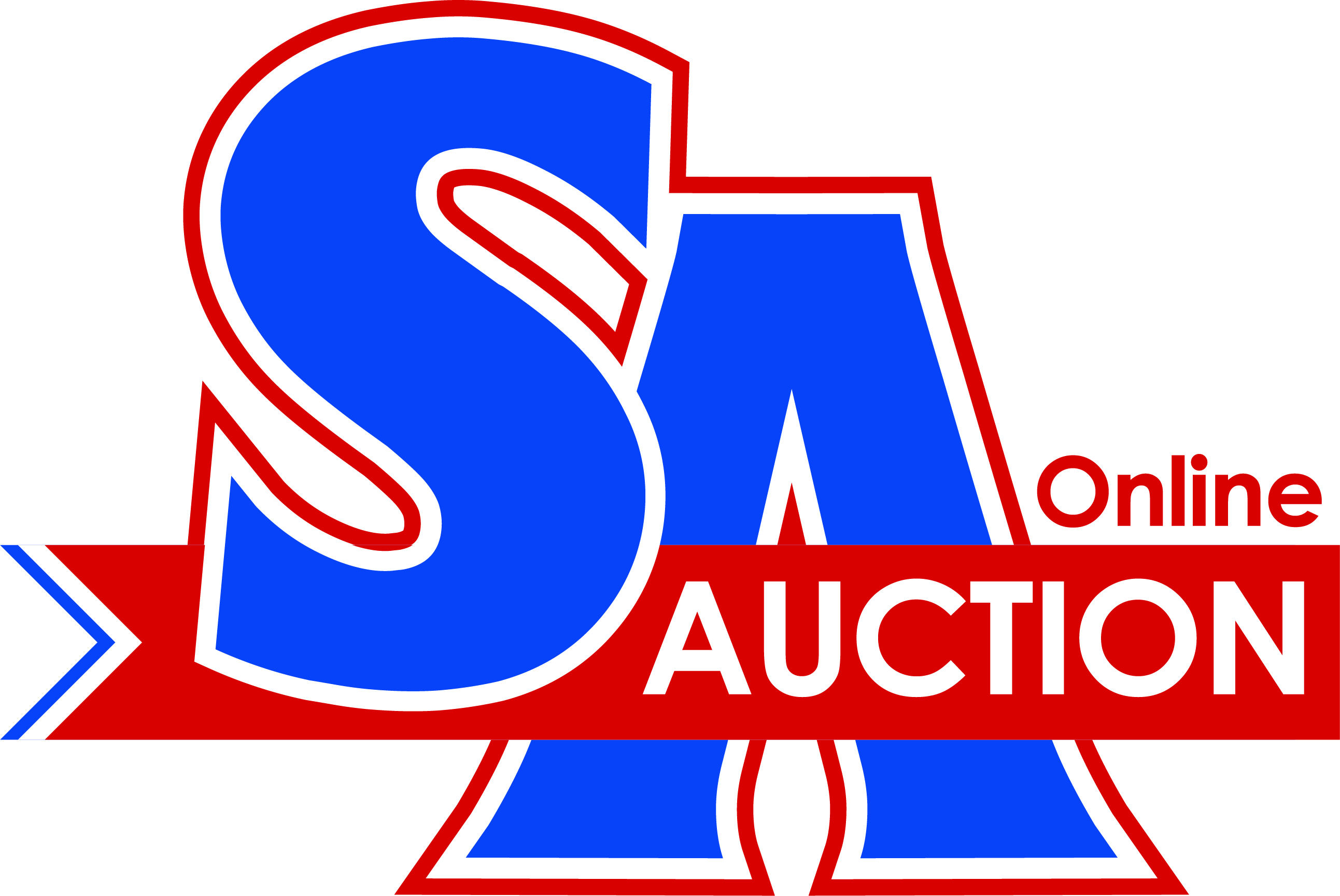 April 6, 2021 - Salisbury Academy has been fundraising via an annual auction for 12 years, and this year's auction will keep the tradition online. This will be the second year for the online, silent format of the fundraiser. Last year, a live auction was scheduled for March before being postponed and moved to an online format in April.
The auction supports the school, a community partner and scholarships open to any Rowan-Salisbury Schools high school students. This year, participants will also be able to support the school's athletics program.
---
Salisbury Academy Students Take On Effort to Shrink Carbon Footprints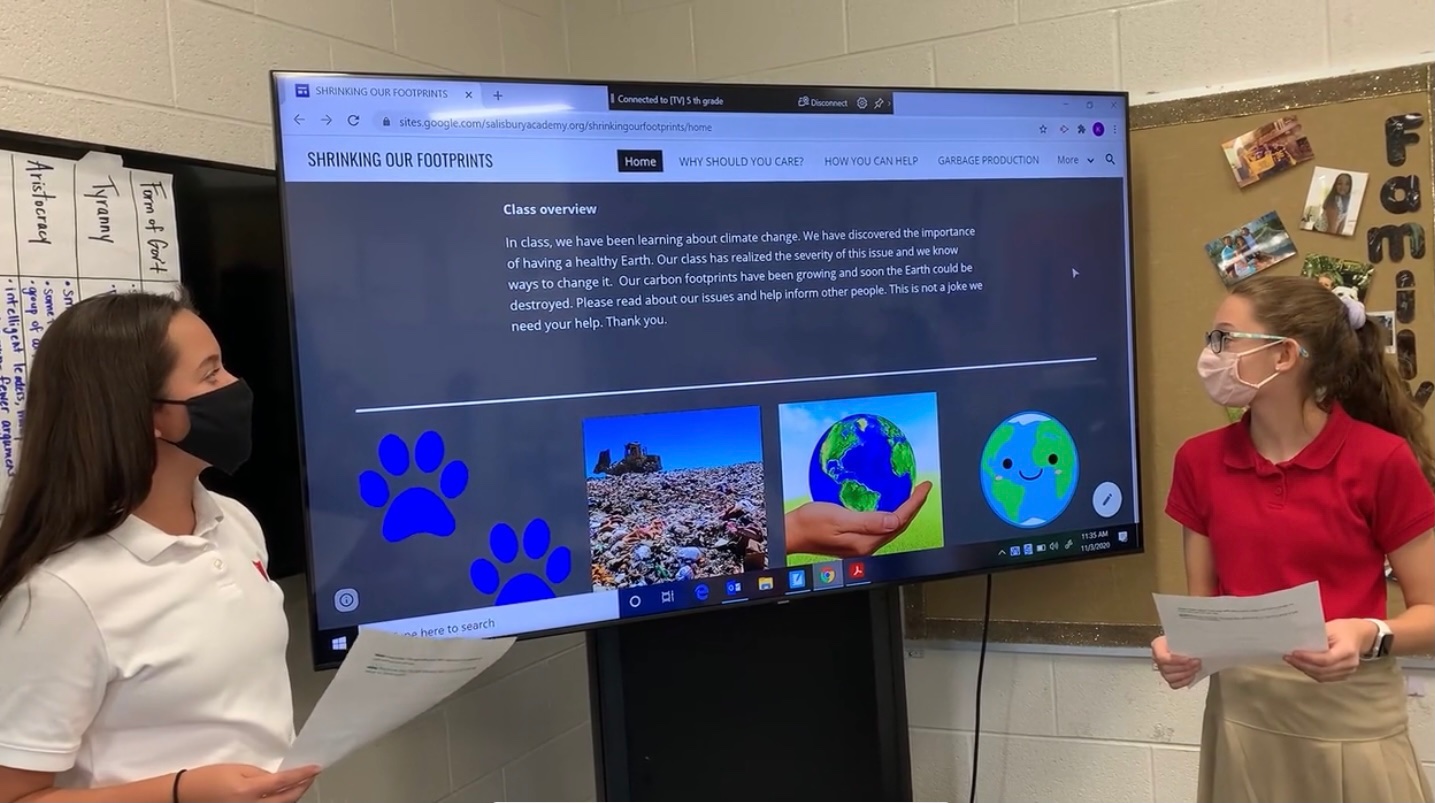 November 5, 2020 - Sixth graders at Salisbury Academy took a look at what's sent into the atmosphere and decided to take action as a result. Sixth grade teacher Kelli Starrett said this was part of a problem-based learning project her students took on in the previous past couple of weeks.
---
Salisbury Academy Brings Sustainability Coordinator Intern on Board for 2020-21
November 5, 2020 - Salisbury Academy is pleased to announce Kristina Rogge as this year's SA Sustainability Coordinator Intern.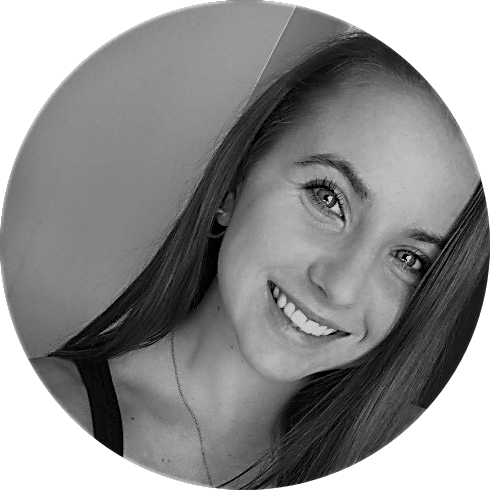 Kristina is an environment and sustainability major and communications and marketing minor at Catawba College, and she is currently in her senior year.
Over the course of the school year Kristina will work with Salisbury Academy to assist the school in moving forward with its sustainability goals. Additionally, she will assist in environmental education through classroom interactions, submit periodic articles in the school's weekly newsletter, and serve as a guest speaker in SA's virtual chapels.
---
Back in the Building - Some Private Schools Restart, Embrace Routines
August 23, 2020 - Students across Rowan County returned to class last week, most of which were in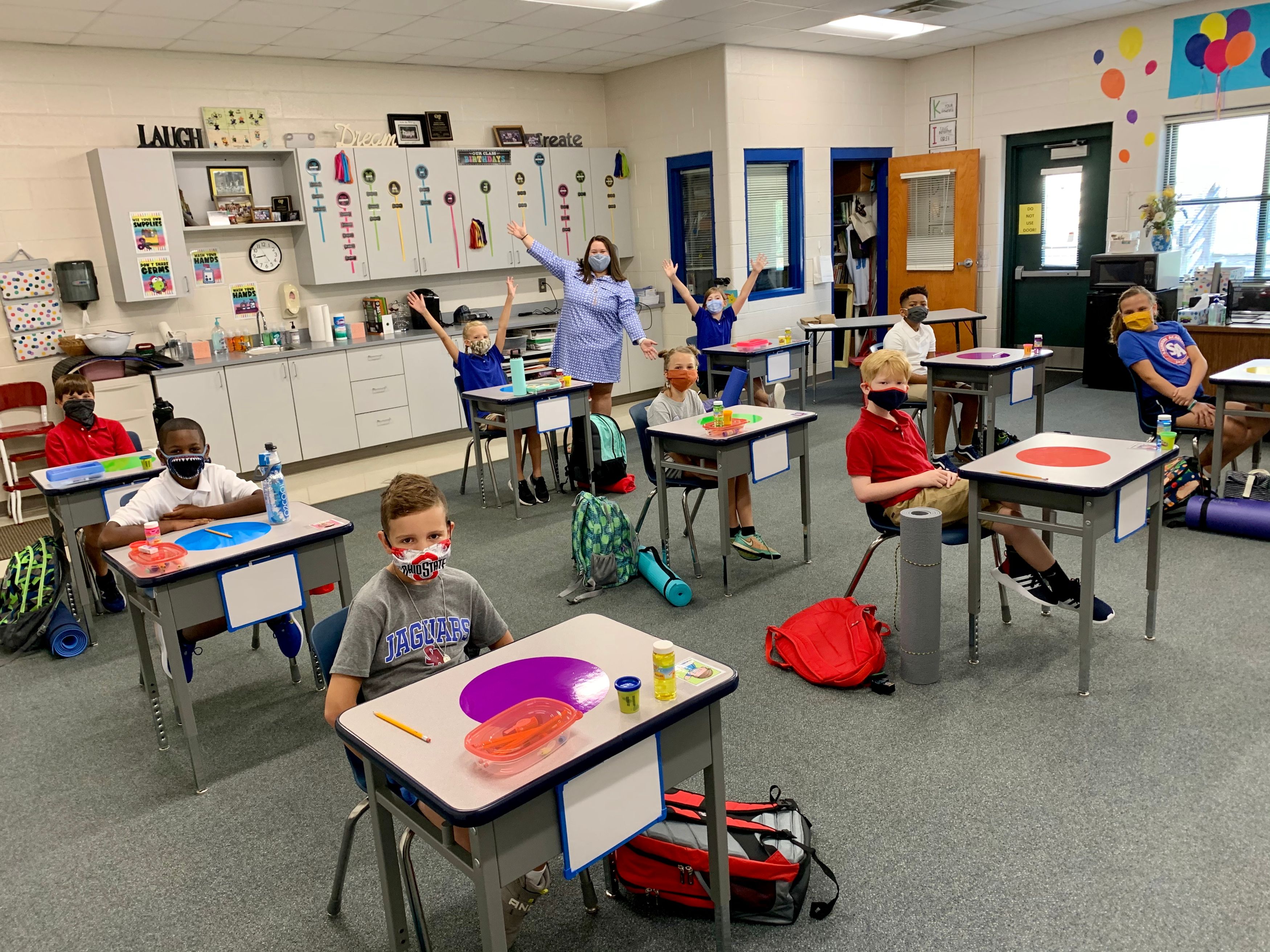 school buildings for just two days. And while the return to classes may look slightly different for those in private schools, all are embracing new cleaning practices. Salisbury Academy was pleased to reopen with students on campus five days a week. Classrooms at Salisbury Academy have been relocated and redesigned as needed to meet spacing requirements and provide for a healthy, engaging learning experience for students. Pictured here, a fourth-grade cohort and teacher Brooke Smith smile from behind their face coverings on the first day of school.
---
Salisbury Academy Congratulates the SA Class of 2020 and SA Class of 2016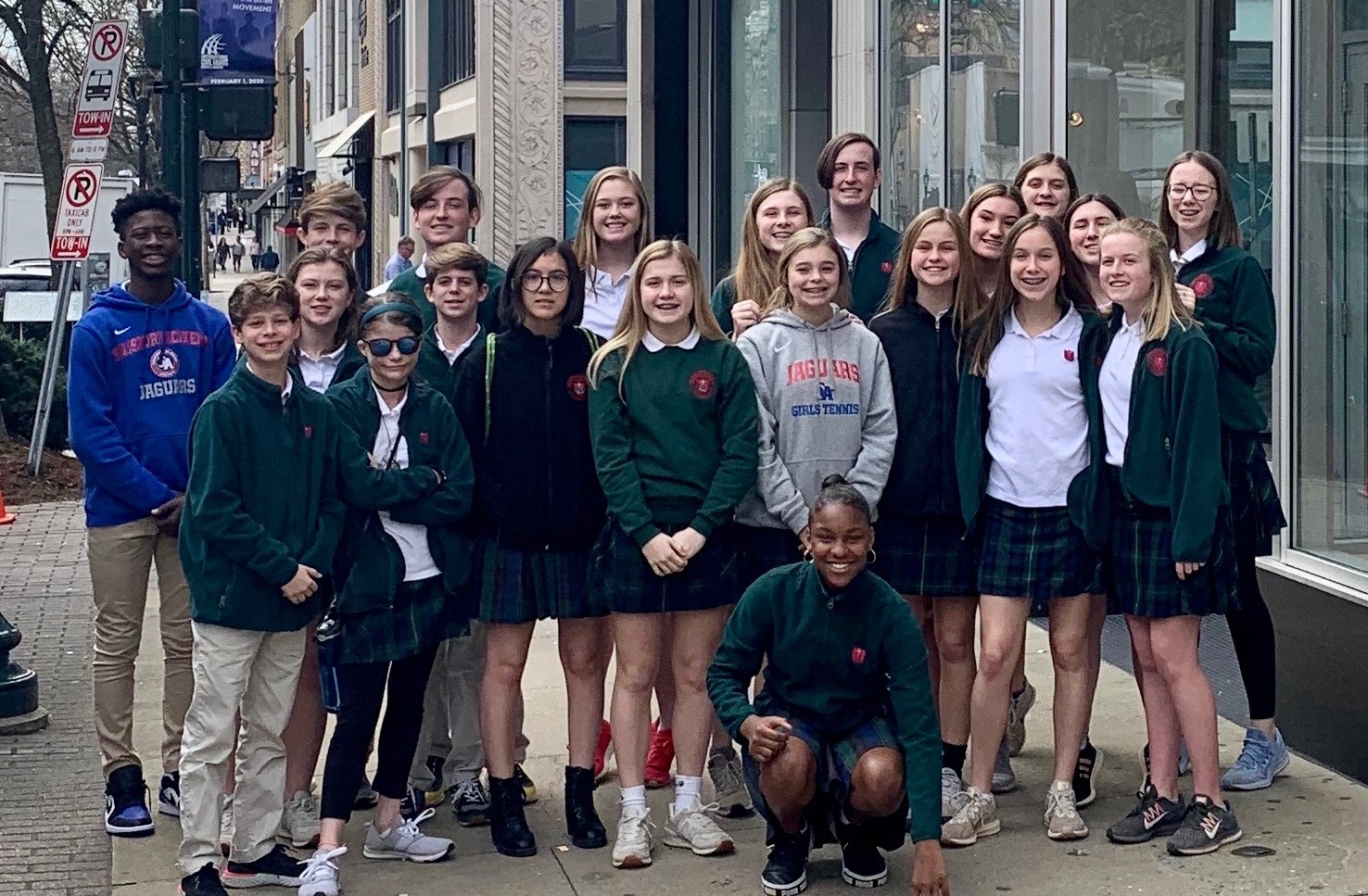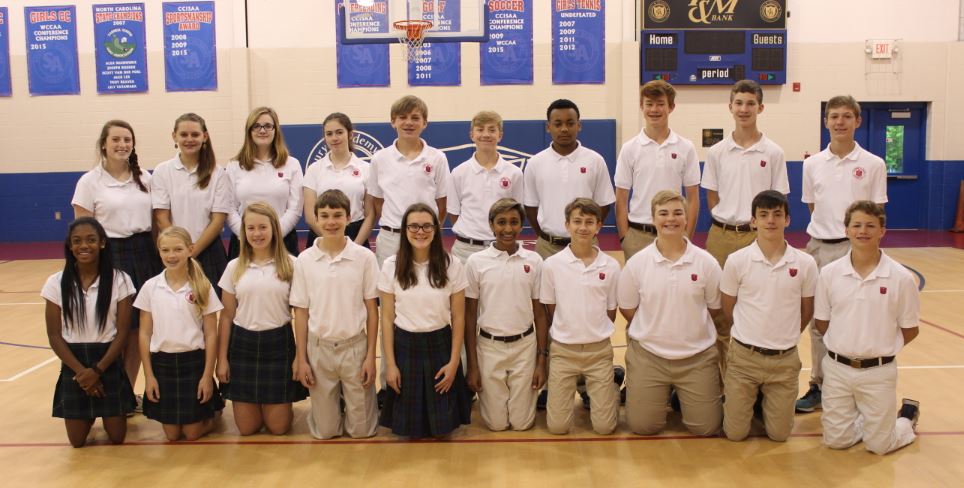 ---
Literacy Council Presented with Salisbury Academy Auction Gift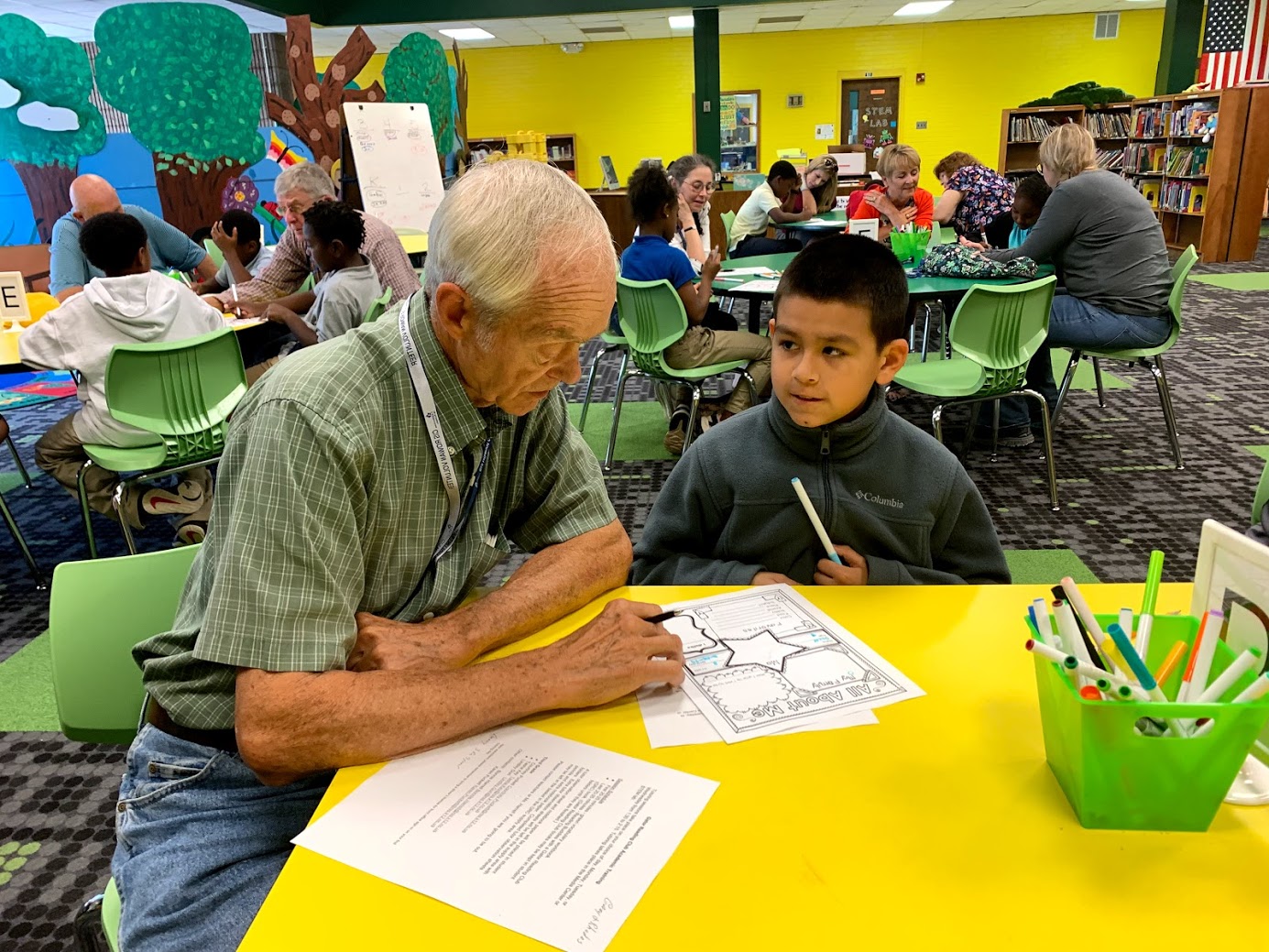 May 21, 2020 - As the featured non-profit for Salisbury Academy's online auction held the week of April 20, the Rowan County Literacy Council received $2,500 to be used without restriction toward their mission of improving the lives of adults, youth, and families by enhancing literacy and life skills.
"It's an honor to partner with fellow educators as part of this year's online auction, and we are thankful to support the Rowan County Literacy Council's meaningful work, especially during these challenging times," said Beverly Fowler, head of school for Salisbury Academy.
---
Salisbury Academy Holds Day of Service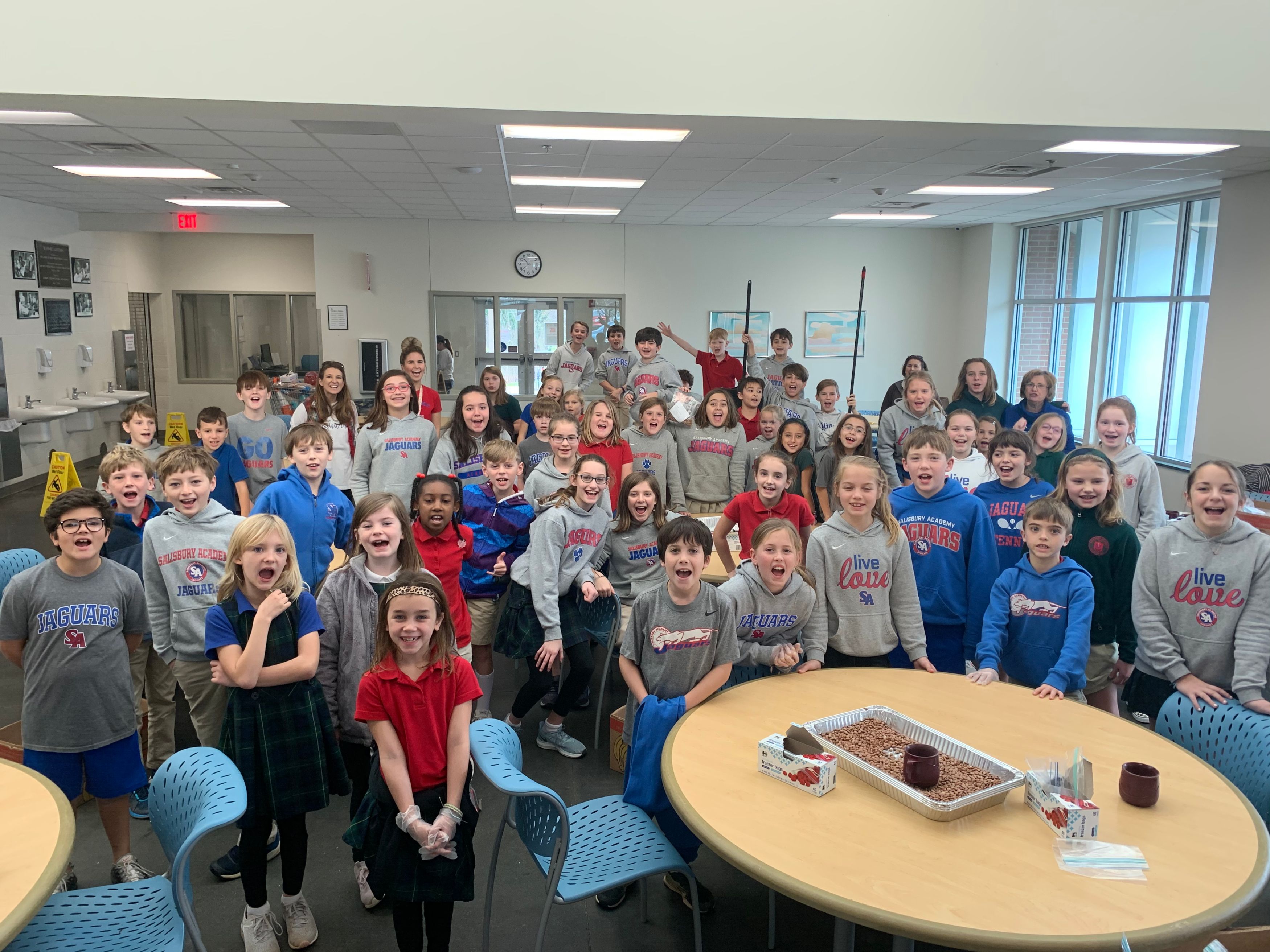 January 17, 2020 - Students from Salisbury Academy celebrated the legacy of the Rev. Martin Luther King Jr. on Thursday through a day of service. Students from grades three to eight went to Rowan Helping Ministries to clean, pack food and mix beans to be packed into bags. The academy created a day-of-service elective, called "exploratories" at the school, to organize the event as well.
---
Salisbury Academy Reaccredited by the Southern Association of Independent Schools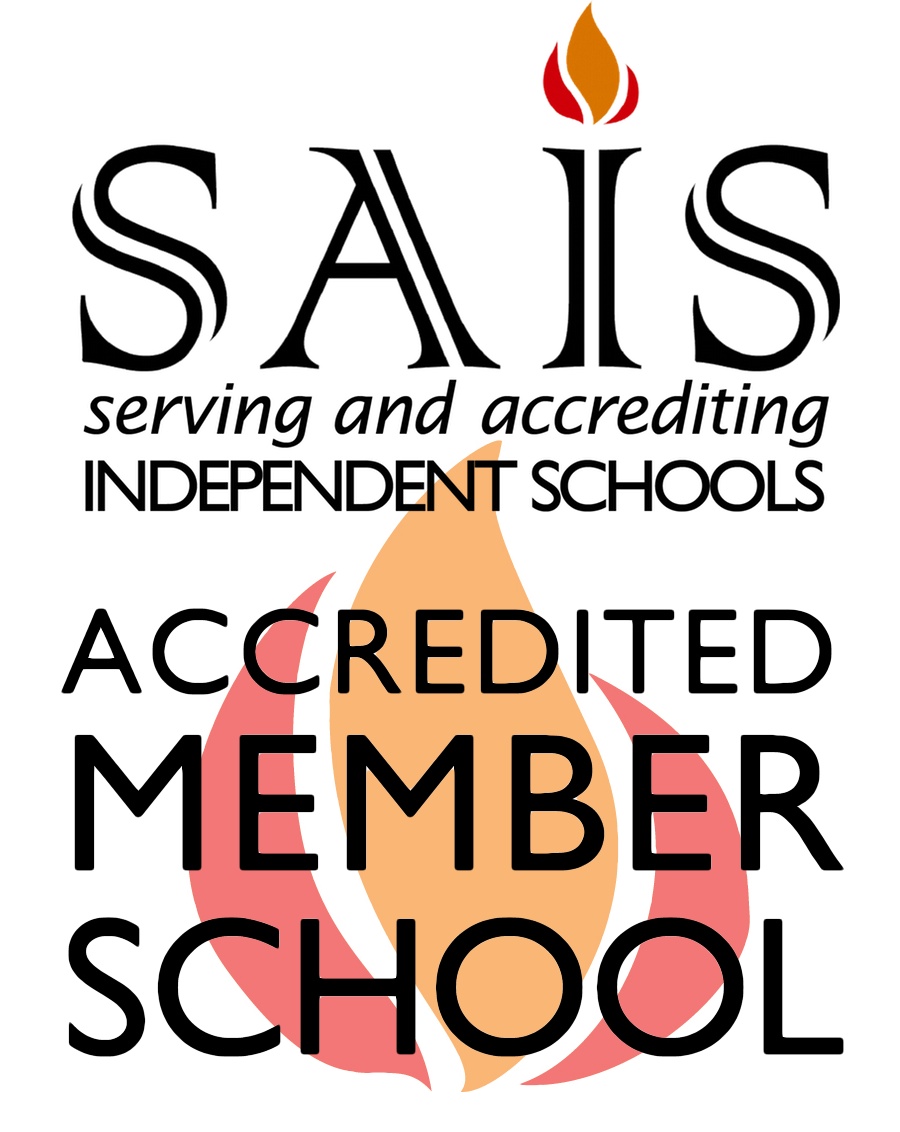 January 9, 2020 - Salisbury Academy has been reaccredited as a member of the Southern Association of Independent Schools. To earn accreditation from SAIS, Salisbury Academy complied with quality standards, was evaluated by an outside group of peer professionals, and implemented a school plan focused on strategic improvement and student performance in accordance with the school's mission: "Salisbury Academy inspires a love of learning and prepares passionate leaders through discovery, stewardship, community and faith."
---
Holiday Happiness Party delivers greatest gifts of all to RVO and Salisbury Academy
December 19, 2019 - Christmas comes early each year for Salisbury Academy students, staff and their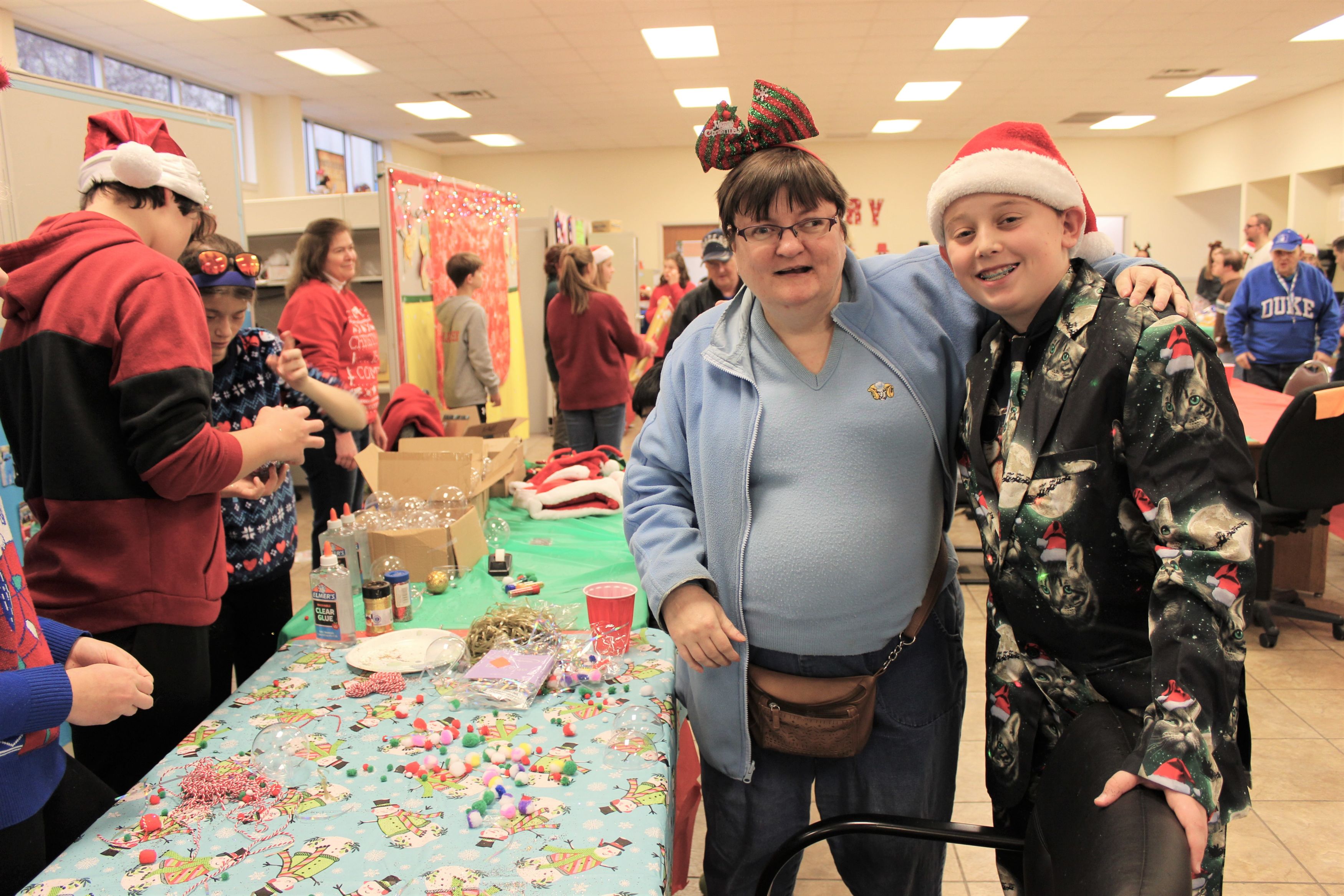 friends at Rowan Vocational Opportunities. At the annual RVO Holiday Happiness Party designed and led by Salisbury Academy's seventh- and eighth-grade students, everyone involved receives the gifts of smiles, acceptance and a sense of cheer that can only be the Christmas spirit.
"Our clients remember this party each year and start talking about it weeks in advance," said Gary Yelton, executive director for RVO. "They're always excited to know that Salisbury Academy will be coming."
---
Salisbury Academy Launches Jaguar Tracks Alumni Support Programming
October 31, 2019 - The high school years are a time of growth, finding independence, and self-discovery. Yet along with these positives, the process of applying for and preparing to go to college can be a source of frustration for students and their families.
"Knowing how, when, and where to apply, and even how to prepare in the years leading up to that point, is often overwhelming," said Allison Doby, director of admission and alumni support for Salisbury Academy.
---
The Journey Continues for Broyhill Scholar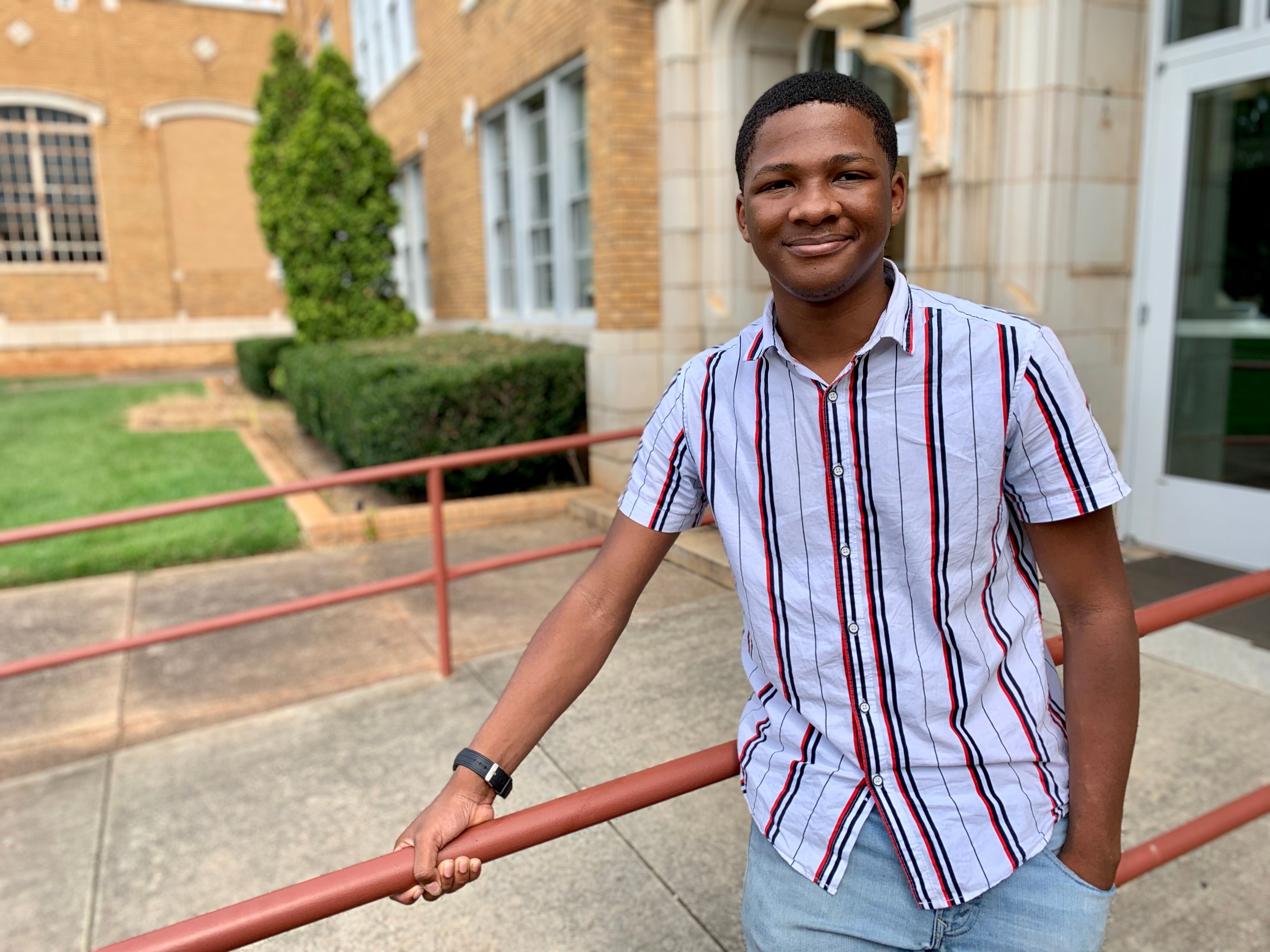 September 5, 2019 - Isaiah Woods is a man of impact on a journey in which his leadership skills are opening doors of opportunity. One of 116 Rowan-Salisbury high school students sent to the Broyhill Leadership Program over the past nine years on scholarships provided by Salisbury Academy, Isaiah says his experience at the three-day leadership camp was a key moment – and an unforgettable launch point – in his journey.
---
Salisbury Academy Back-to-School Highlights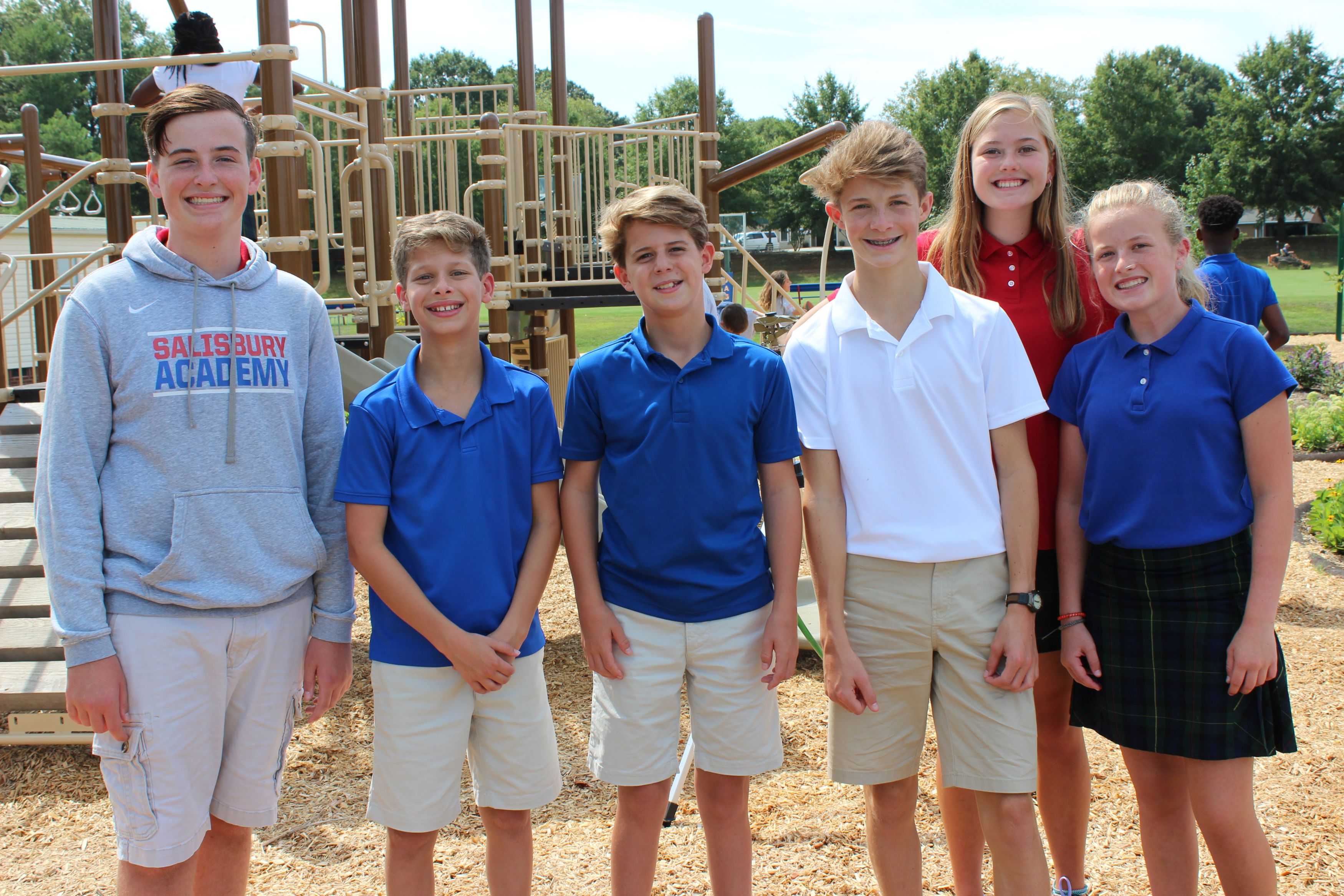 August 15, 2019 - Salisbury Academy welcomes the 2019-20 school year with a refreshed mission, programming expansion and grounds upgrades. This mission, coming in light of the school's upcoming reaccreditation cycle with the Southern Association of Independent Schools, reads "Salisbury Academy inspires a love of learning and prepares passionate leaders through discovery, stewardship, community and faith."
---
Salisbury Academy Welcomes New Members to its Board of Trustees
July 4, 2019 - Salisbury Academy has named four new members to its board of trustees: Mark Petty, Greg Shields, Maria Vandergriff-Avery, and LaSheka Walker.
---
Salisbury Academy Class of 2019 and Alumni Class of 2015 Move Onward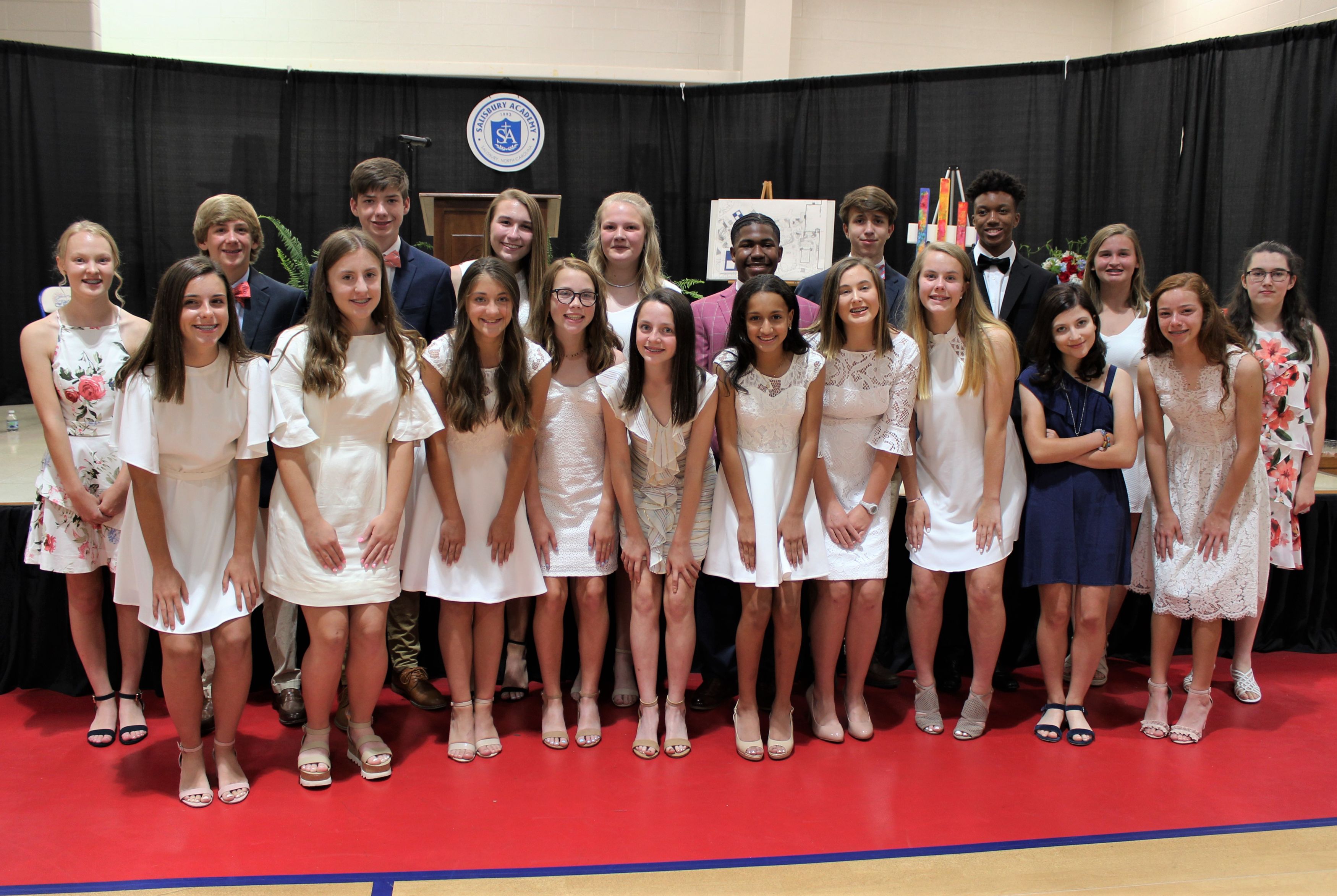 June 7, 2019 - Salisbury Academy congratulates their class of 2019: Miles Abramson, Damian Brandon, Katherine Burton, Jaiden Colbert, Kendall Colwell, Brooke Cunningham, Quinn Davidson, Rodina Eliwa, Wyatt Goodnight, Abigail Lawson, Kaylan Lowe, Harrison McCall, Gabriella Nagy, Leah Renten, Elsie Richter, Ann Hunter Robertson, Nathaniel Shaffer, Courtney Williams, Lucy Woods and Bailey Zino. read more
---
Community Care Clinic Presented with Salisbury Academy Bloom Gift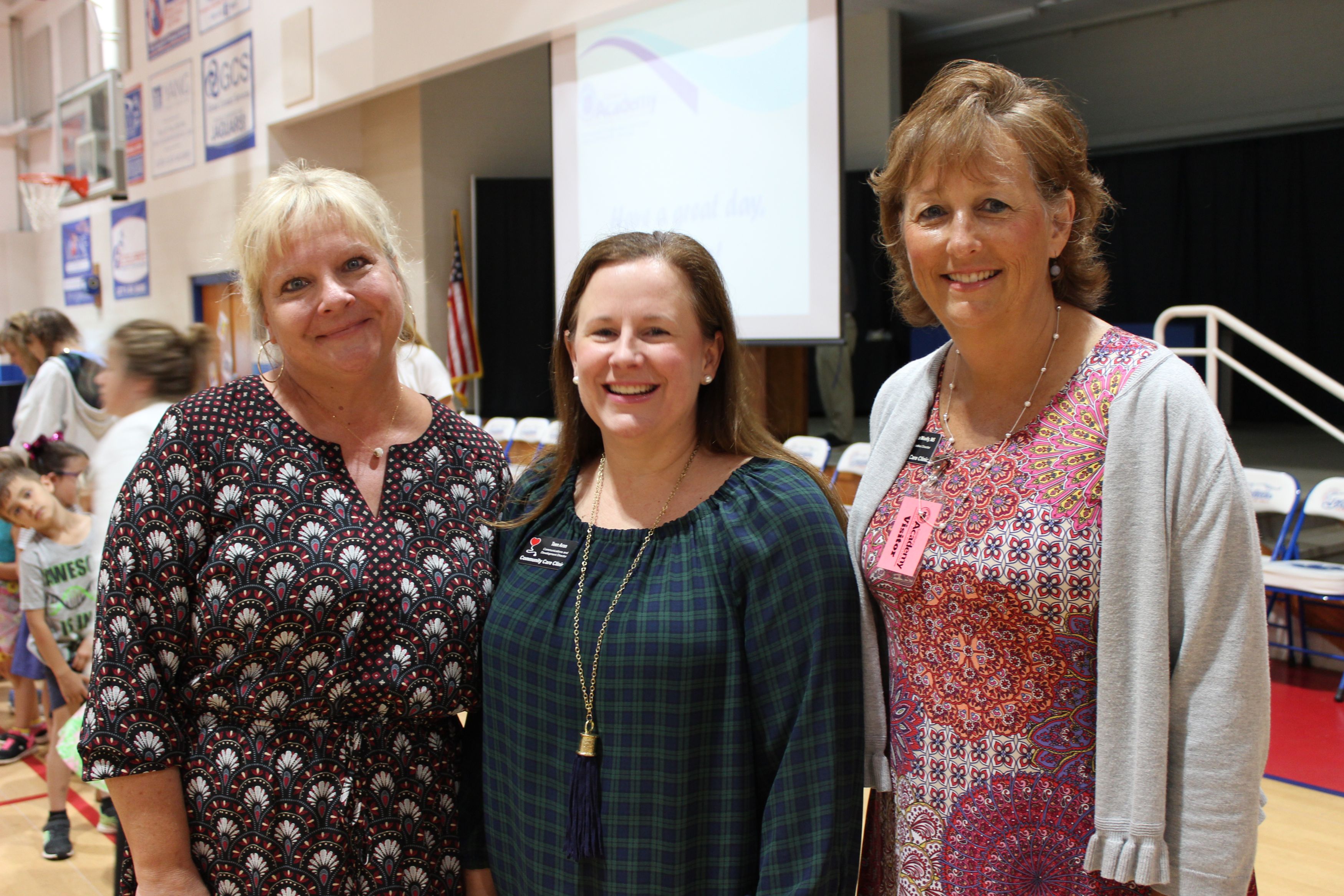 May 30, 2019 - As the featured nonprofit for Salisbury Academy's Bloom in Wonder gala held March 30, the Community Care Clinic of Rowan County received $2,500 to be used without restriction toward its mission of providing primary medical and dental care as well as prescription medications to qualified underserved and uninsured adults in Rowan County.
---
Land Trust Partners with Salisbury Academy to Enhance Wildlife Habitat
May 23, 2019 - Three Rivers Land Trust partnered with Salisbury Academy through the Land Trust's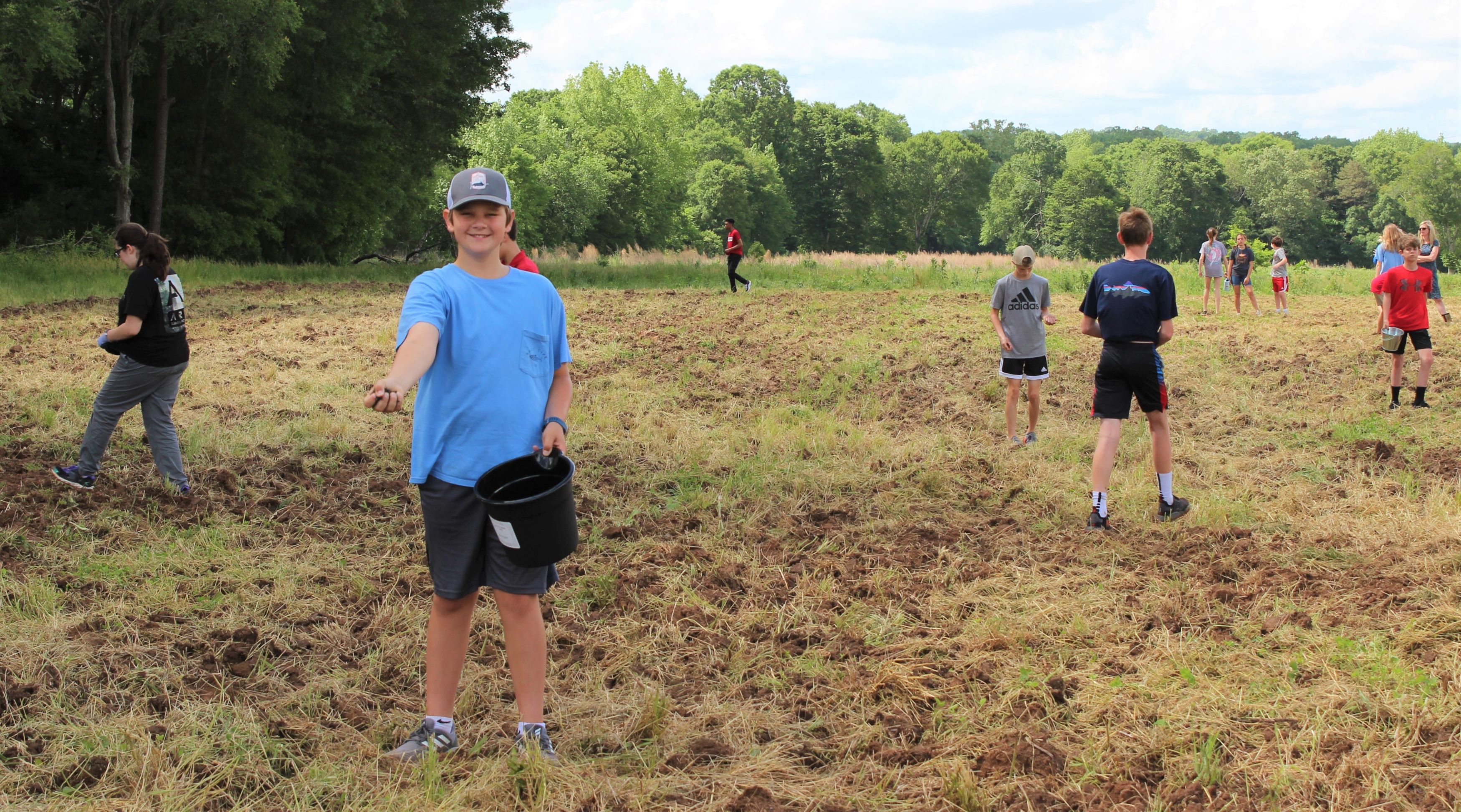 Leopold Society Program to work with 75 children in the sixth through eighth grades to enhance wildlife habitat. The students came to the Land Trust's Point Property in Davie County with Shea Overcash, a middle school science teacher at Salisbury Academy. Land Trust staff met with them from 10:15 a.m. to noon, as students helped plant sunflowers by scattering seeds over five acres of field that had previously been disked. Planting sunflowers benefits songbirds, butterflies and other pollinators.
---
Eighth-Graders Learn from Lincoln: SA students participate in the Lincoln Online Oratory Project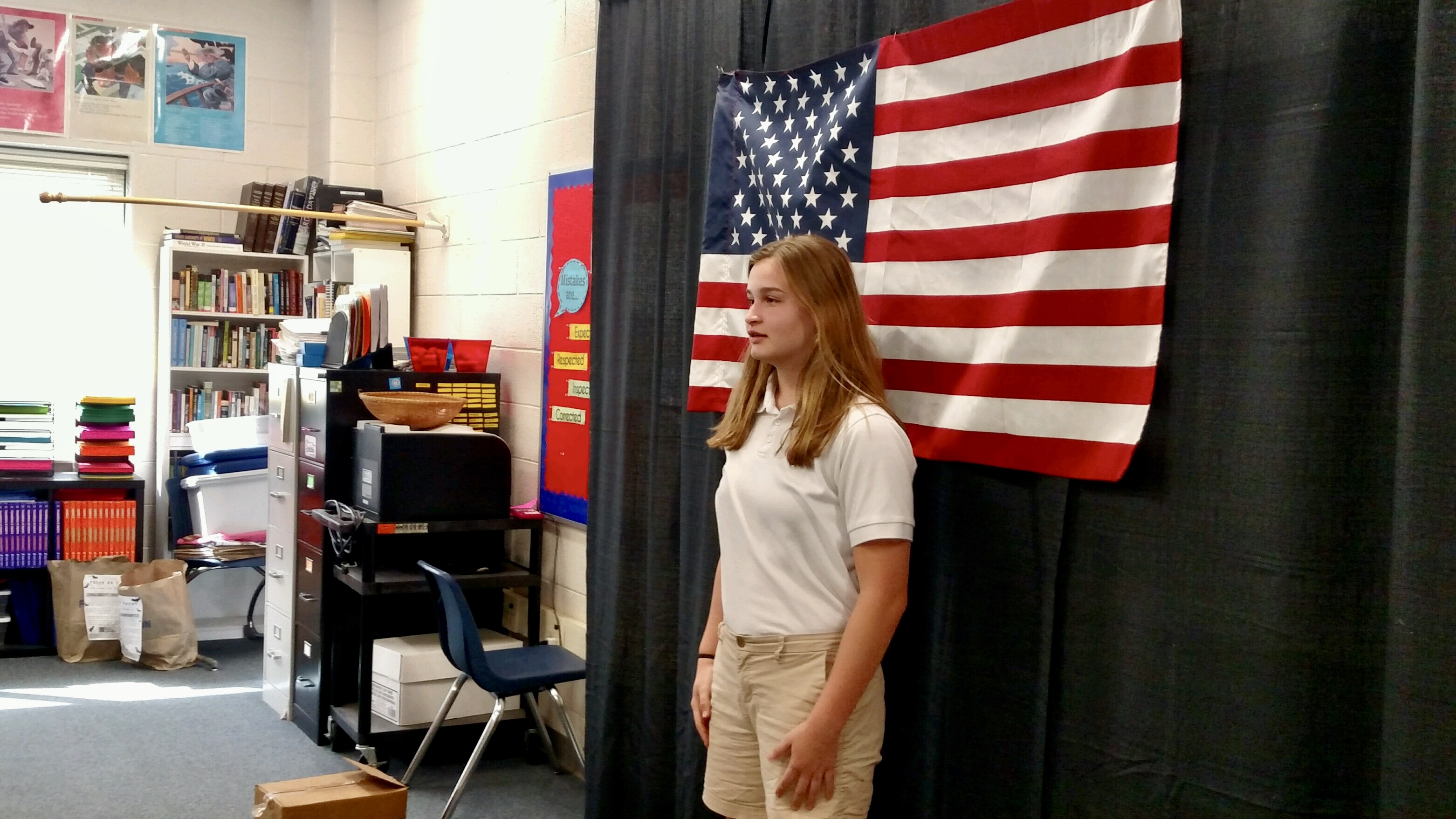 April 18, 2019 - History came to life for eighth grade students at Salisbury Academy as they studied and presented President Abraham Lincoln's first inaugural address in a video project as part of Ford's Theatre's Lincoln Online Oratory Project. "It's a new, fun and innovative way to learn speaking skills and history - completely hands-on and mostly student drive," said Bailey Zino, an eighth-grader at Salisbury Academy.
---
Salisbury Academy Holds 'We Are Able' Camp for Kids with Special Needs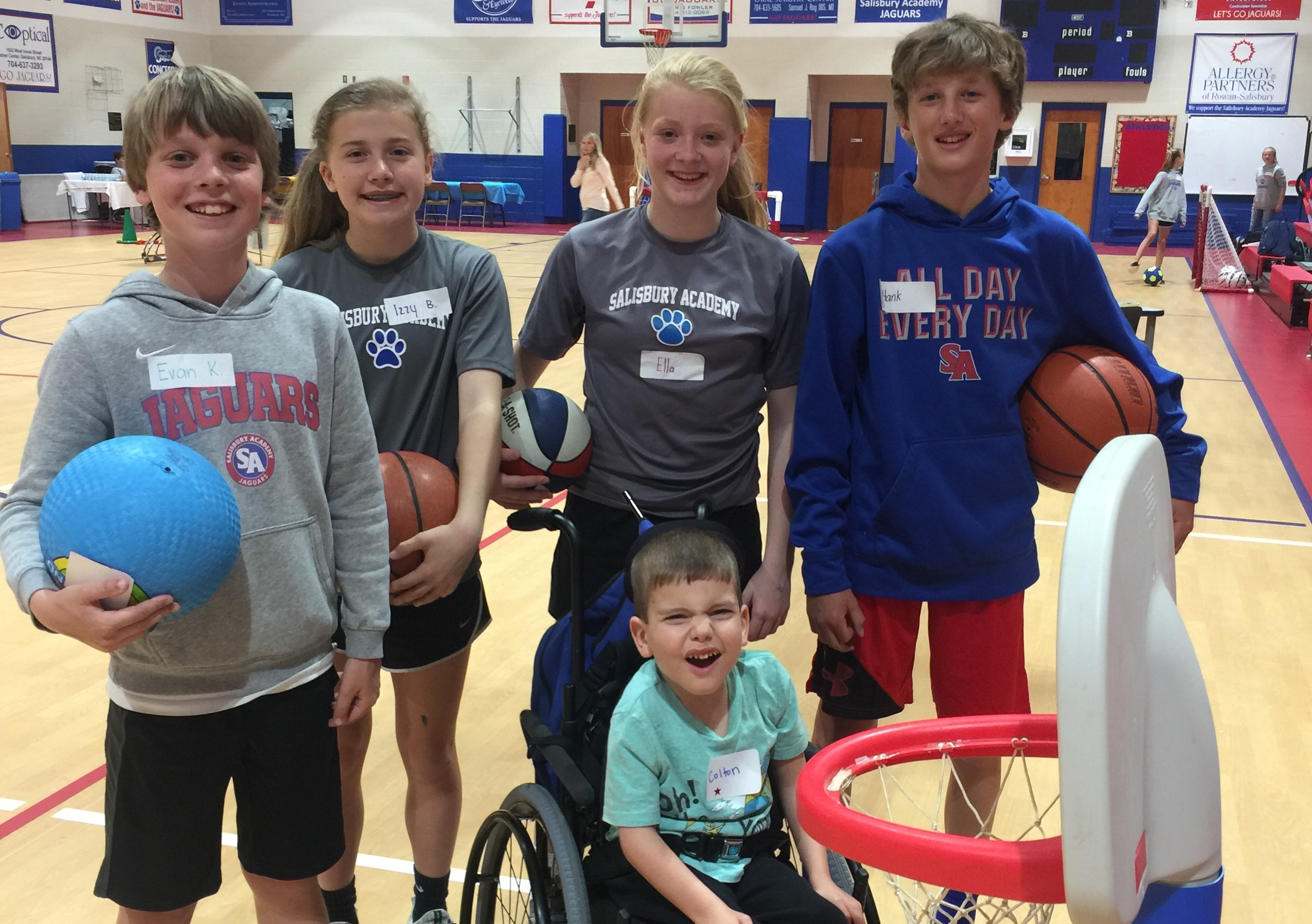 April 11, 2019 - Decked out in a green, frog-themed raincoat, 8-year-old Bradley Barlow entered the halls of Salisbury Academy last Friday clutching his mother's hand tightly. Quiet and wide-eyed, he approached a waiting welcome desk just paces from the entrance. And he was greeted with multiple smiles.
---
Salisbury Academy Holds 10th Annual Bloom Gala
April 4, 2019 - Salisbury Academy's 10th annual Bloom in Wonder Gala was a whimsical adventure and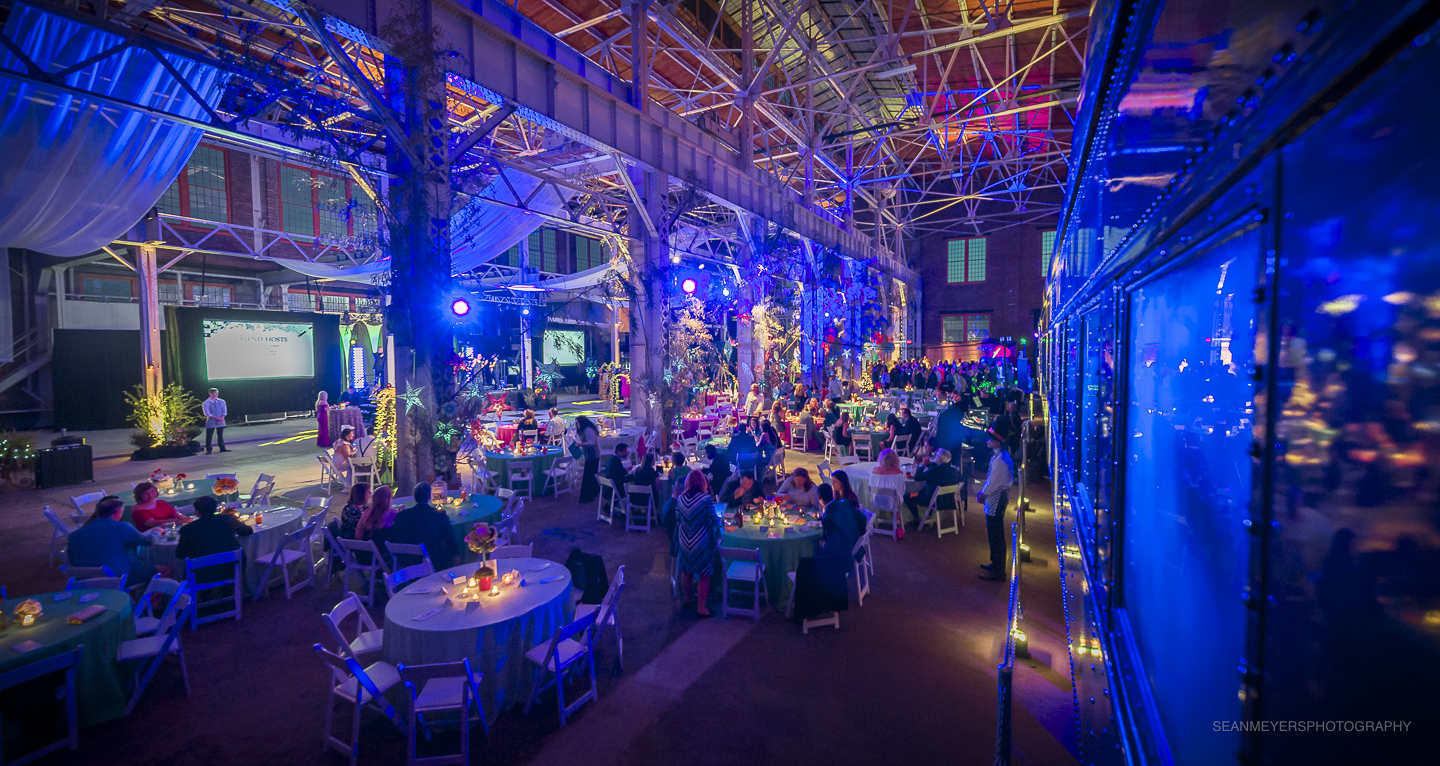 festive showing of community support for education and other local needs. Held March 30 at the Back Shop at the N.C. Transportation Museum, Bloom in Wonder brought 300 people together for an evening that included dining, dancing, a live auction, and upbeat music from The Band Punch. The gala was set among lights, trees, oversized flowers and pops of color that accented the historic setting of the Back Shop.
---
When Student Becomes the Teacher: SA Eighth-Grade Leads Exploratory on Art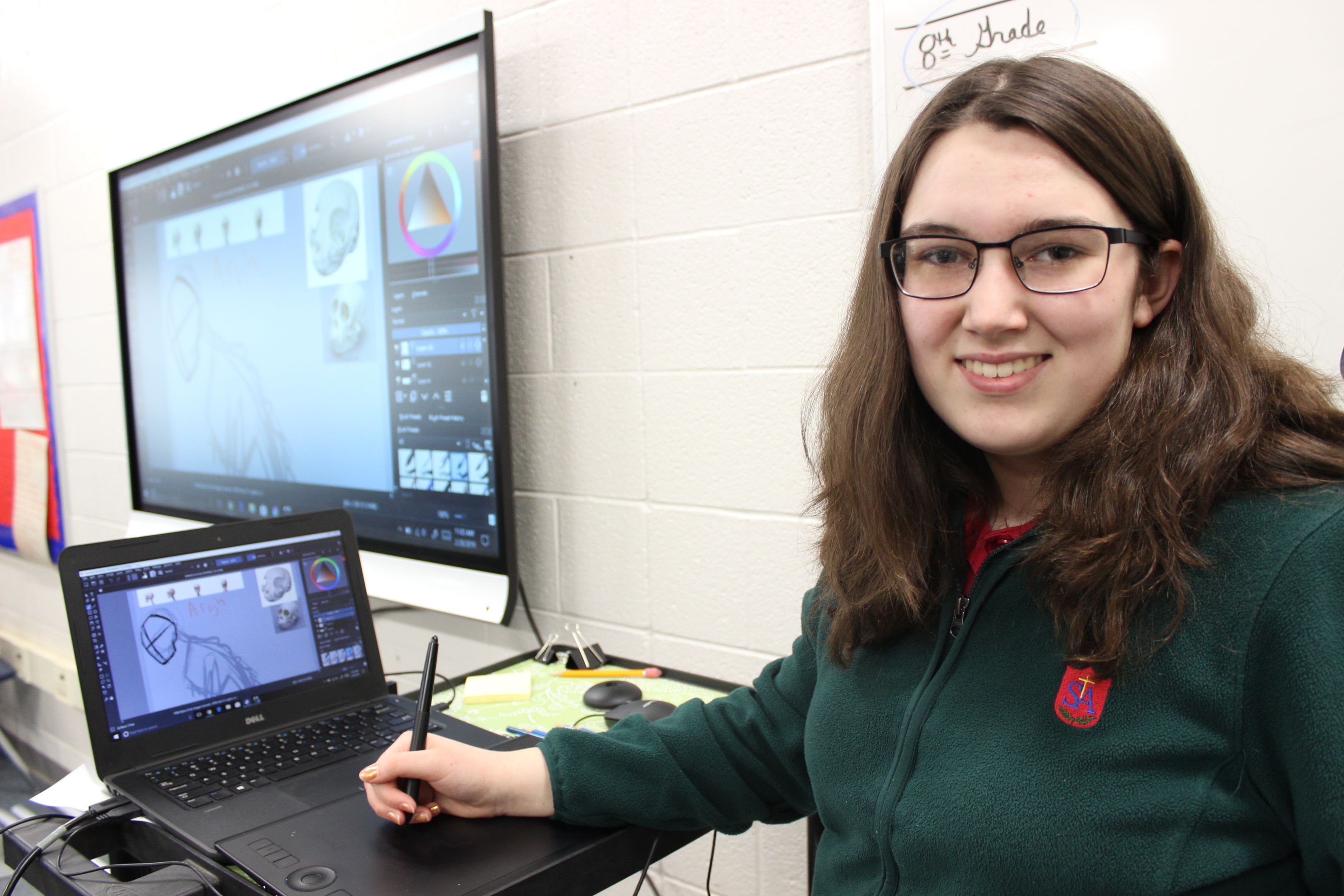 March 7, 2019 - Elsie Richter is creating her own masterpiece by helping her peers create works of art. An eighth-grader at Salisbury Academy, Elsie had a bright idea in one of her middle school elective classes, called exploratories, last year.
"I remember it hit me, and I said, 'Hey, what if I led my own exploratory?'" Elsie says.
After sharing the idea with the middle school division director and getting approval on her concepts, Elsie's class began to take shape. Coding and programming are passions of Elsie's, so she first considered the idea of teaching computer animation before settling on the topic of mixed-media art.
---
Salisbury Academy Advisory Delivers Valentines and Warm Meals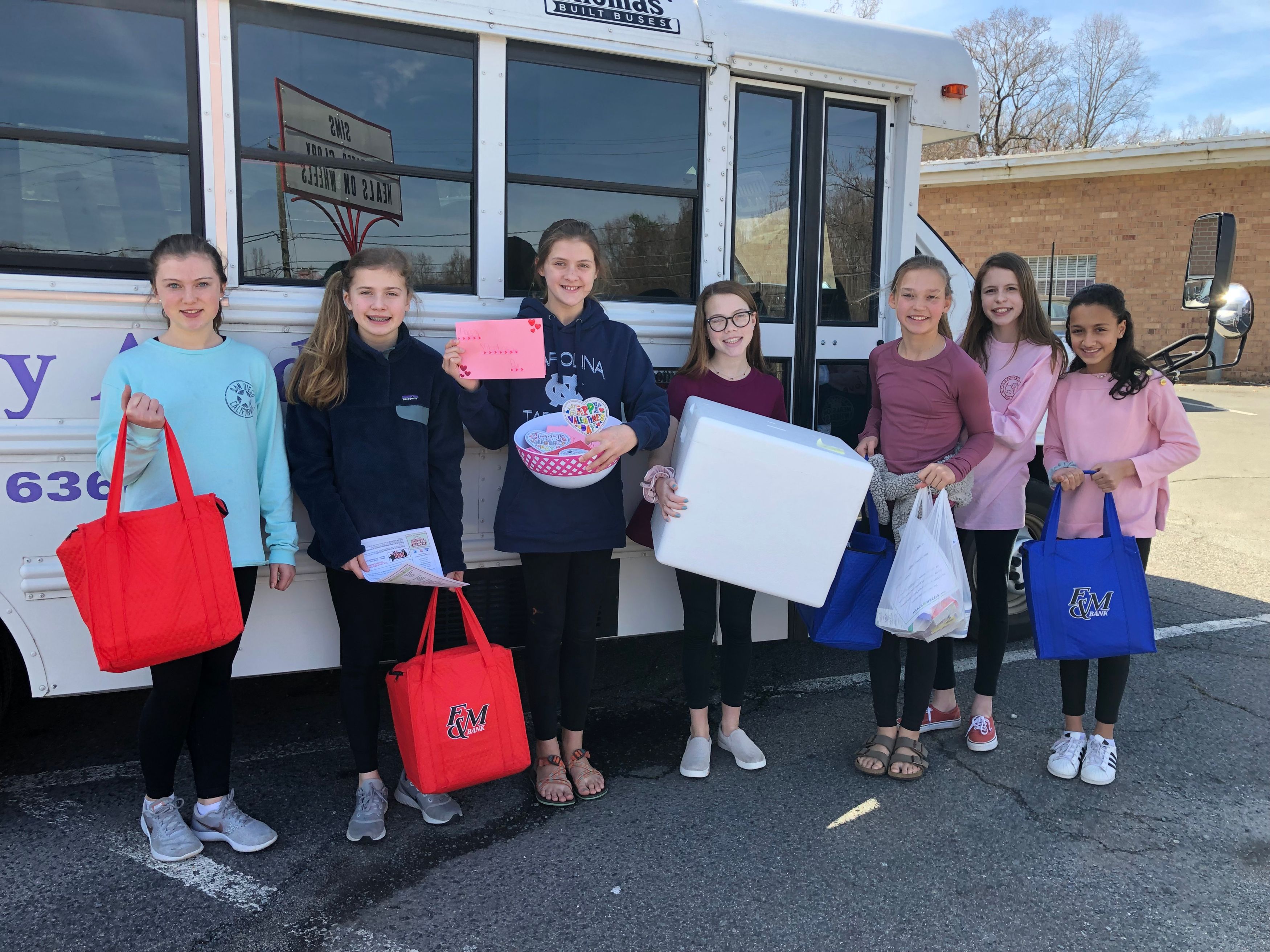 February 21, 2019 - This Valentine's Day, a group of middle school students from Salisbury Academy shared smiles, Valentines and warm meals in a delivery for Meals on Wheels.
As part of the middle school advisory program in which students meet weekly in small groups to build camaraderie between students and teachers, set goals and build teams, advisory students also carry out community service projects.
---
Salisbury Academy Enrichment Programming Nurtures Student Interests and Passions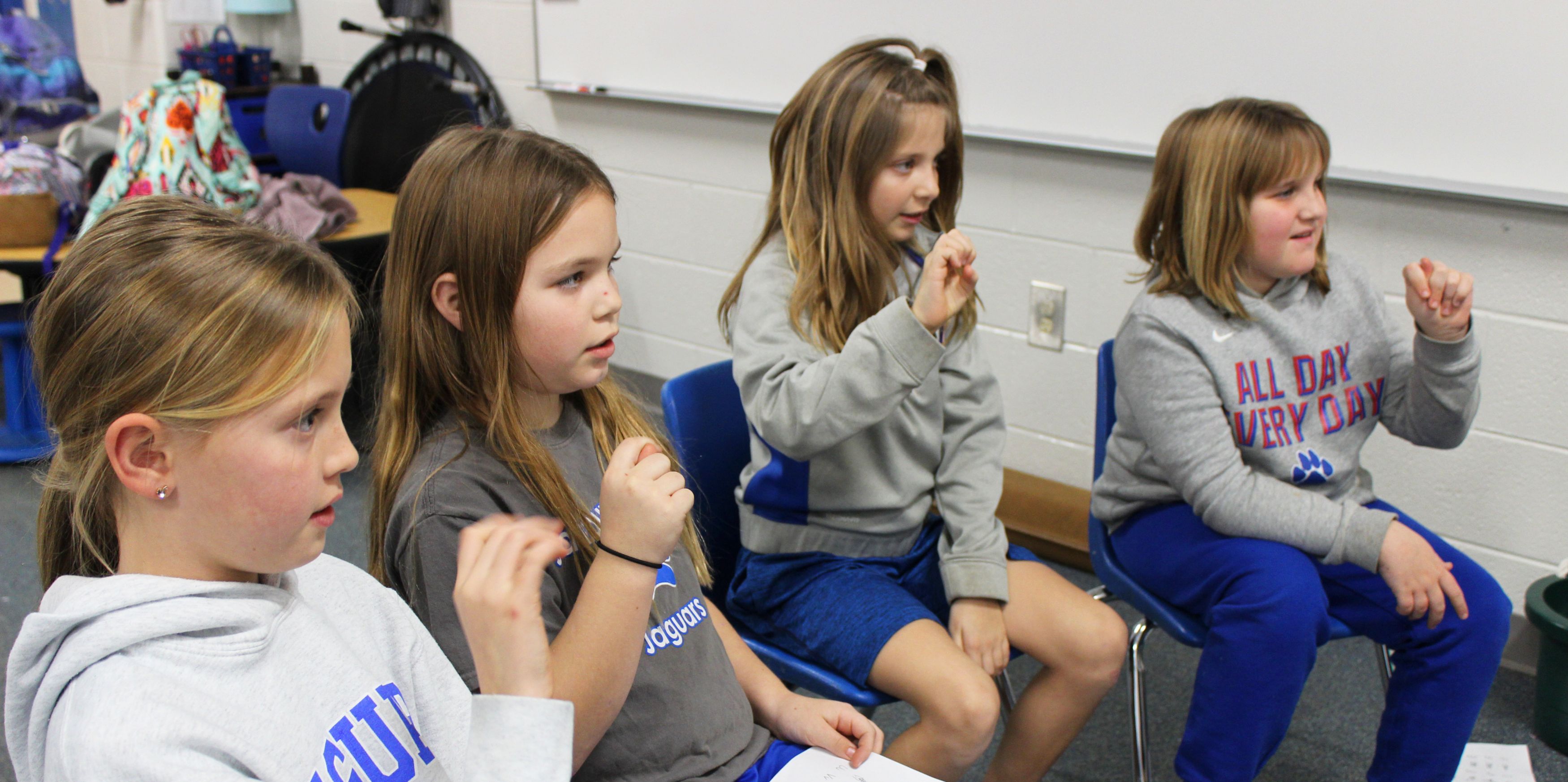 February 14, 2019 - Fueling student passions while providing parents with opportunities for their children in the hours outside of school, Salisbury Academy launched enrichment programming this year. A mix of the arts, STEM, and other areas of interst, enrichment offerings at the school change each semester, are offered by age group, and are led by area experts.
---
Jonathan Hetterly Presents on Resiliency in Kids at SA Community Speaking Event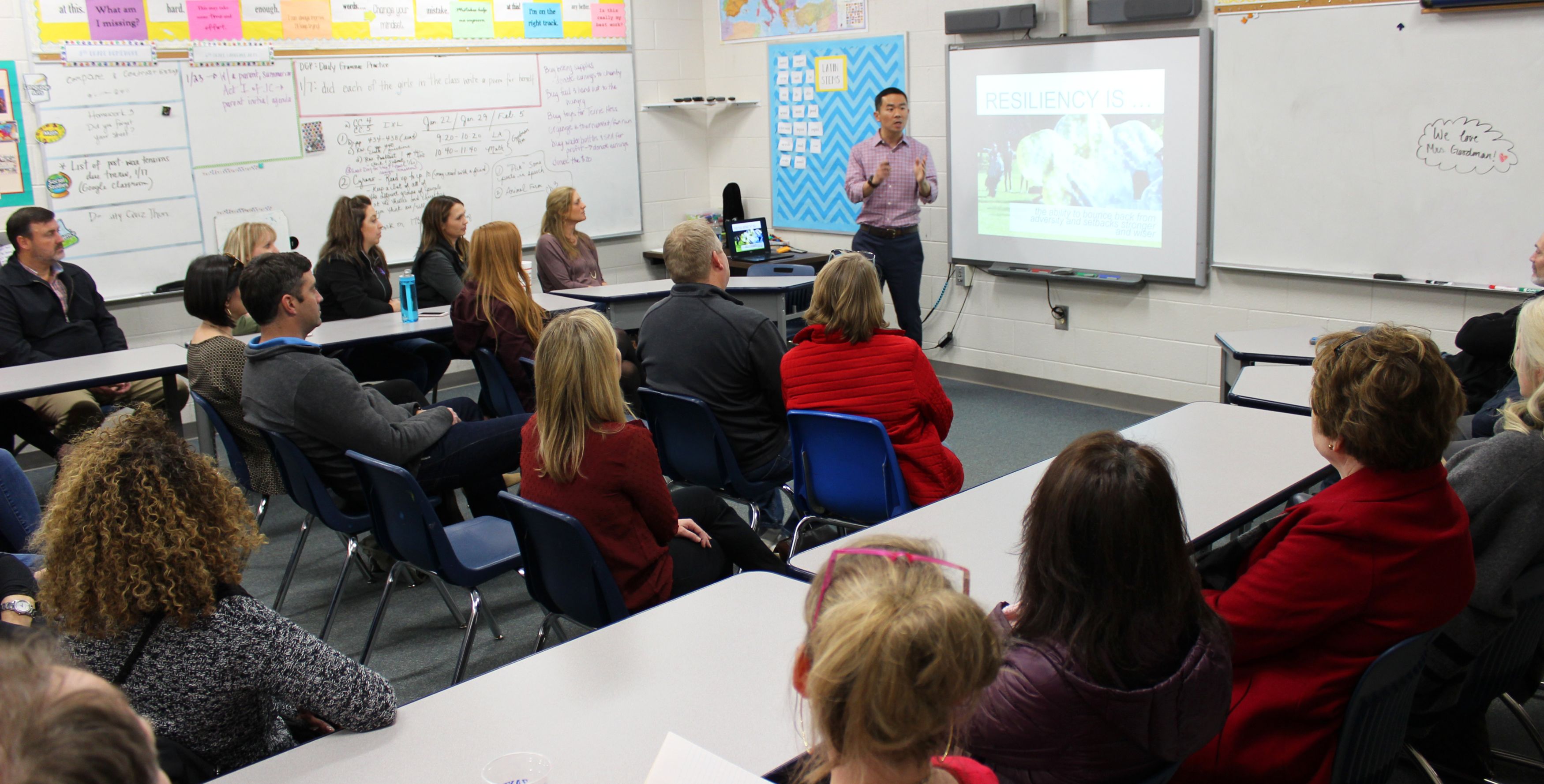 January 31, 2019 - Counselor and adolescent mental health expert Jonathan Hetterly of Southeast Psych in Charlotte spoke on resiliency and how parents can prepare children for success as adults at Salisbury Academy recently. In today's world where mental health far outweighs academics as the primary reason that children don't succeed, kids need space to figure life out, to learn, fall down, and get back up, Hetterly said. It is through these experiences that they learn resiliency, or the ability to bounce back from adversity. View Hetterly's Jan. 24 presentation slideshow here.
---
Muddy Sneakers, Salisbury Academy Partner in Community Hike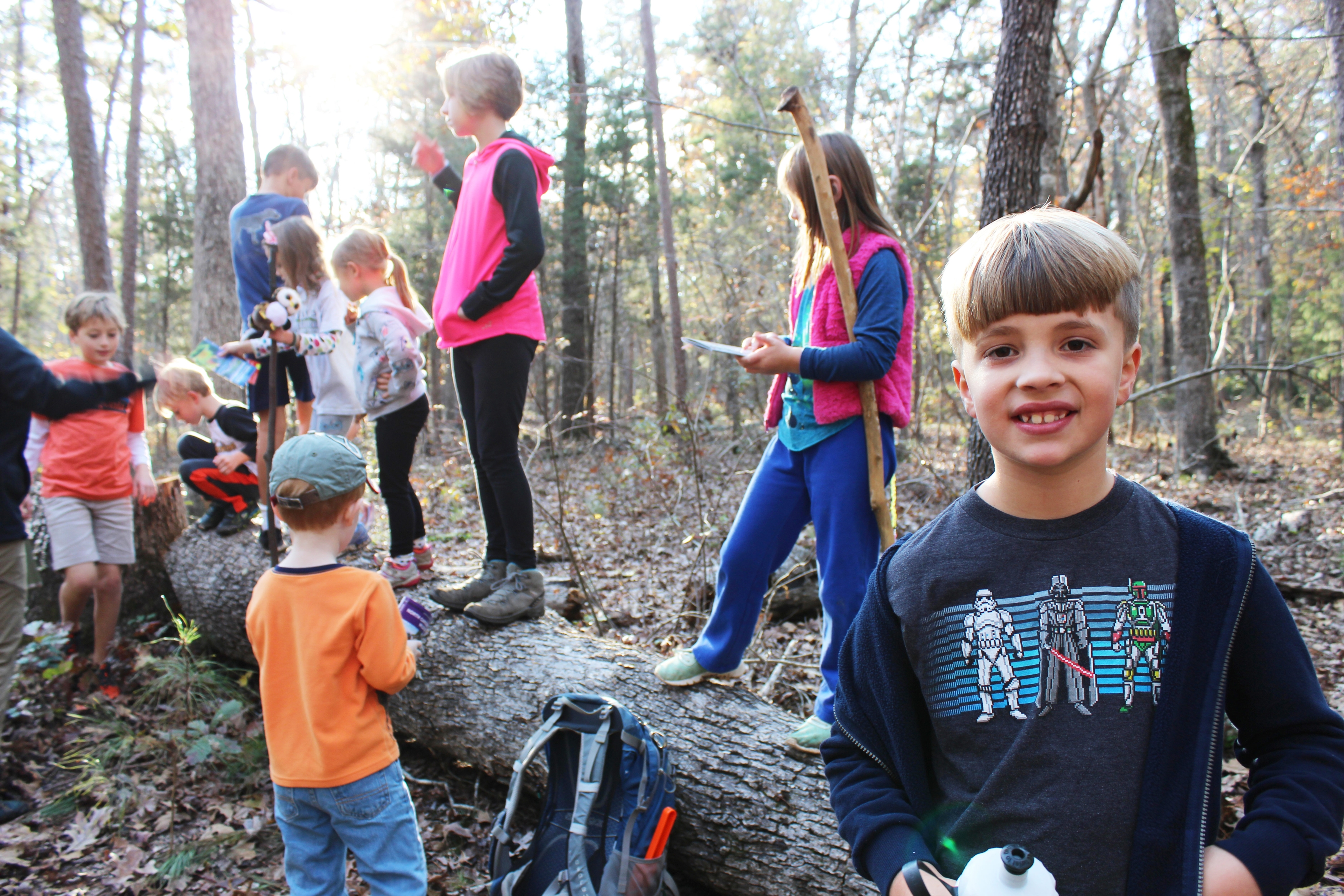 November 26, 2018 - Hikers hit the trails of Eagle Point Nature Preserve on a beautiful autumn afternoon in an outing organized as a partnership between Muddy Sneakers and Salisbury Academy.
"Seeing families and friends explore the preserve together was such a delight," said Elise Tellez, Piedmont field office director for Muddy Sneakers.
---
Catawba Partnership Sparks Scientific Connections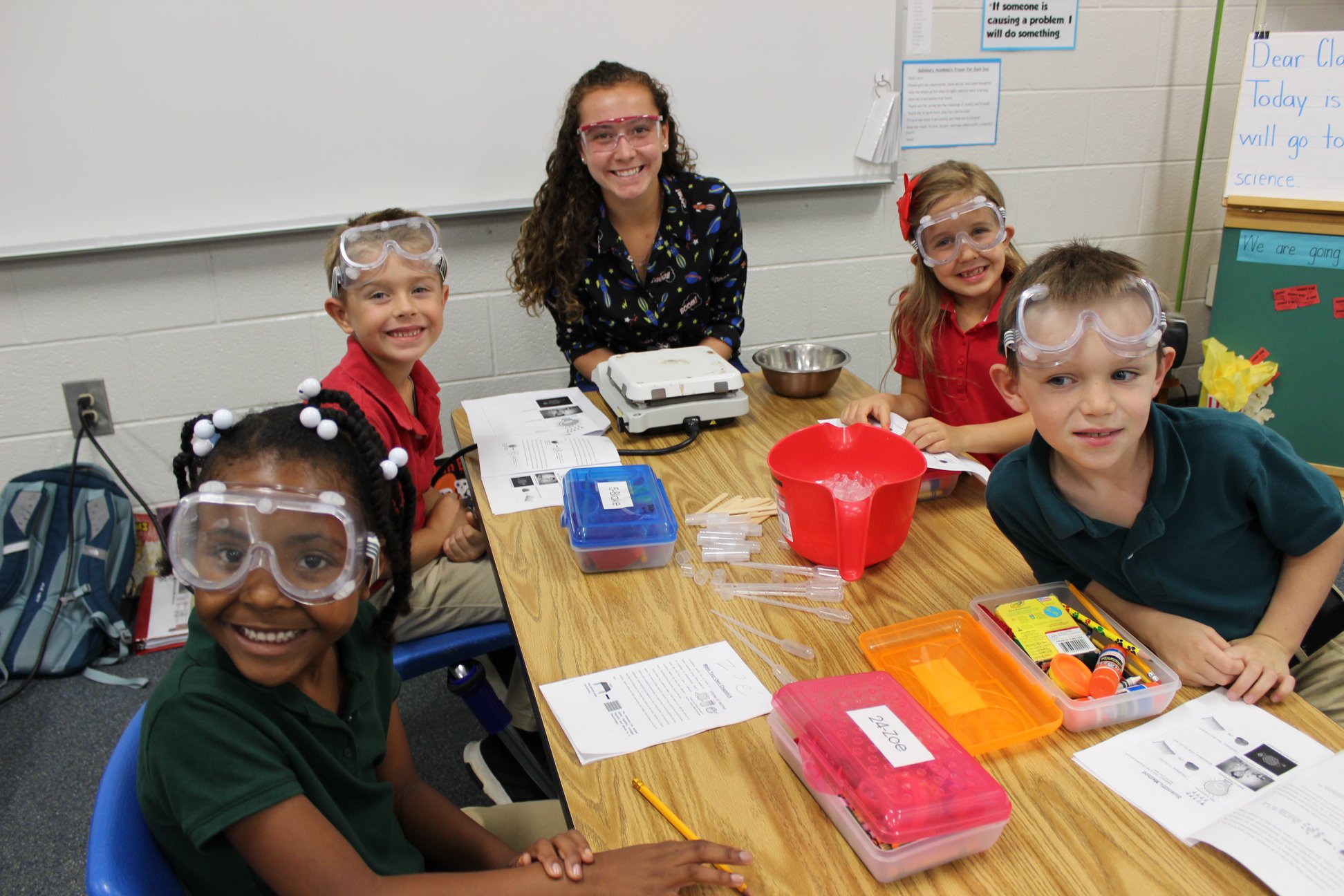 October 25, 2018 - Catawba College's science department is bringing new angles and applications into the classrooms of Salisbury Academy's young scientists. Over the past two weeks, first- and seventh-grade students enjoyed presentations and hands-on labs that tie directly into their science classes. Professor ChaMarra Saner and students from her chemical calculations class at Catawba led Salisbury Academy's first-grade students in a lab about matter through the creation of all-natural chapstick...
---
Salisbury Academy Recognizes its 2018 Broyhill Scholars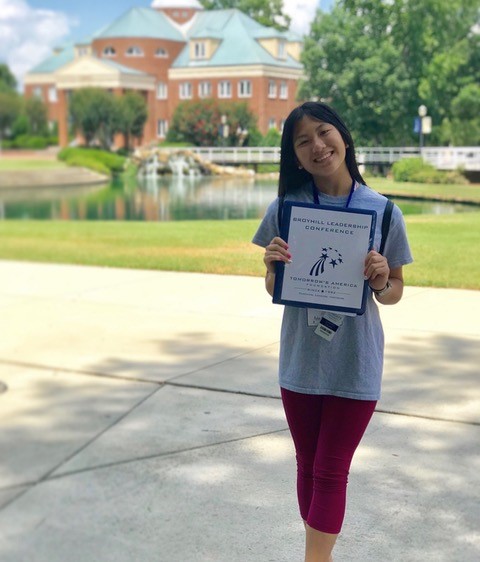 September 27, 2018 - Rowan County has gained ten more young leaders, driven to lead and inspired to make a positive difference in their community.As part of its strategic mission to develop leaders and stewards of the community, Salisbury Academy, through its Broyhill Leadership Scholarship program, provided scholarships for ten students from Rowan-Salisbury high schools to attend this year's five-day Broyhill Leadership Conference.
---
Salisbury Academy Celebrates 'See You at the Pole'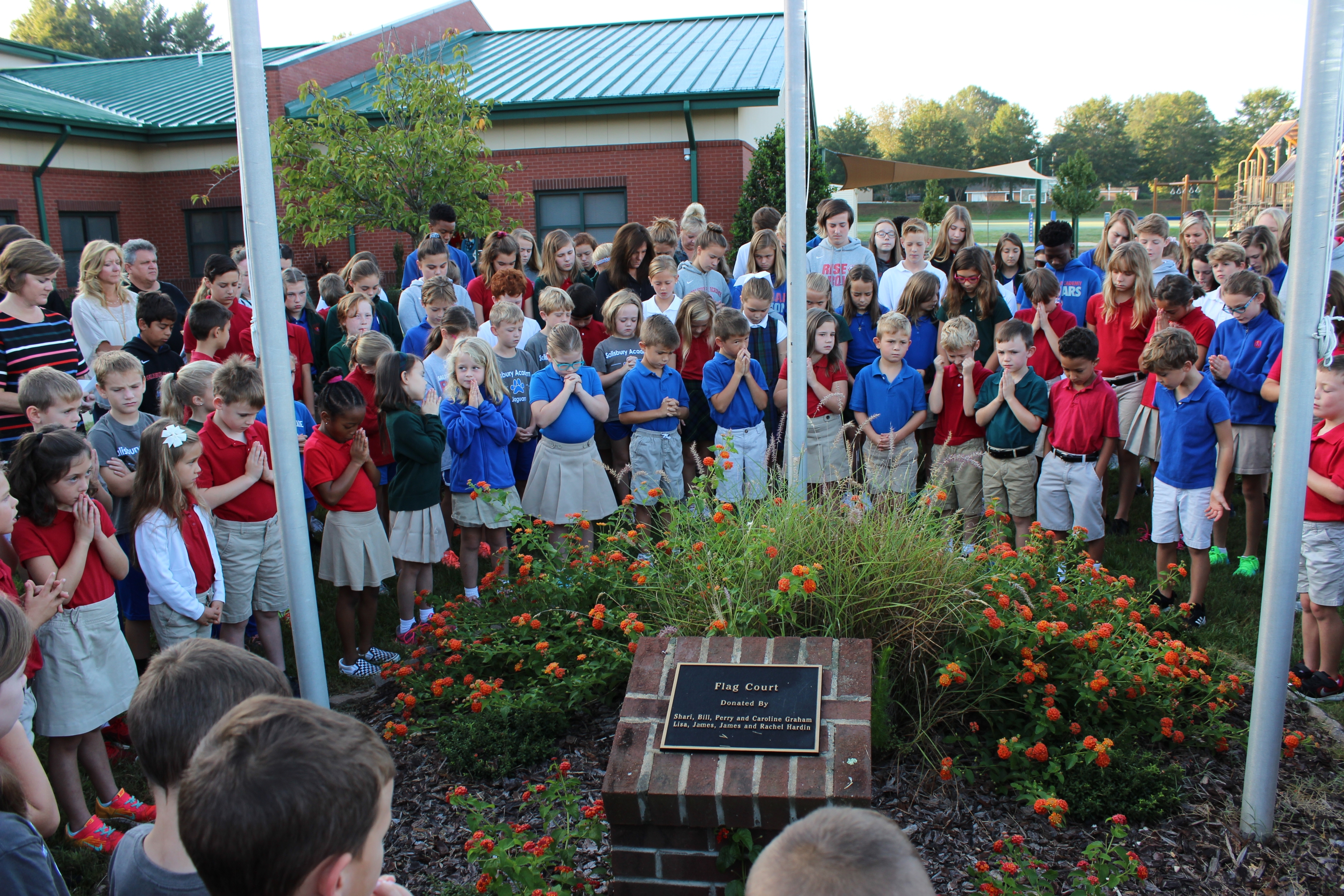 September 27, 2018 - In a meaningful school-wide tradition, Salisbury Academy's students and staff gathered for their annual "See You at the Pole" gathering on Wednesday. Held on the fourth Wednesday of September, the student-led rally brings millions of students together in prayer across the globe.
---
Salisbury Academy and Muddy Sneakers Parnership Bring Outdoor Exploration to Summer Program
August 2, 2018 - Each Wednesday at Salisbury Academy's summer program, campers arrive with a special set of essentials: bug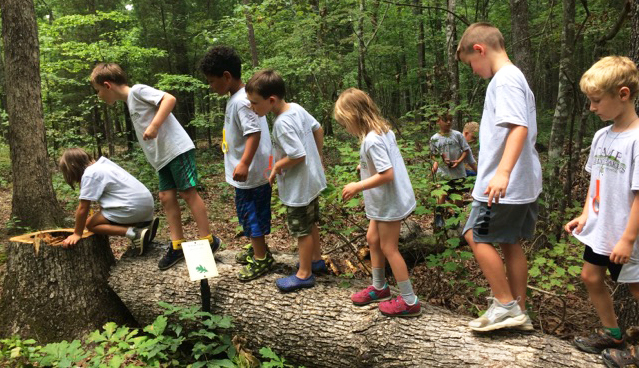 spray, sunblock, a bag lunch and a curiosity about where the next outdoor discovery will be. Will it be a new insect under a rock? A colorful fungi beside a trail? Anything is possible on Muddy Sneakers Outdoor Expedition Day.
Thanks to a new partnership between Salisbury Academy and the environmental education organization Muddy Sneakers, every Wednesday at the summer camp is an off-site expedition day to a variety of parks and natural sites such as Boone's Cave Park, River Park at Cooleemee Falls and Eagle Point Preserve.
---
Salisbury Academy Announces New Board Leadership for 2018-19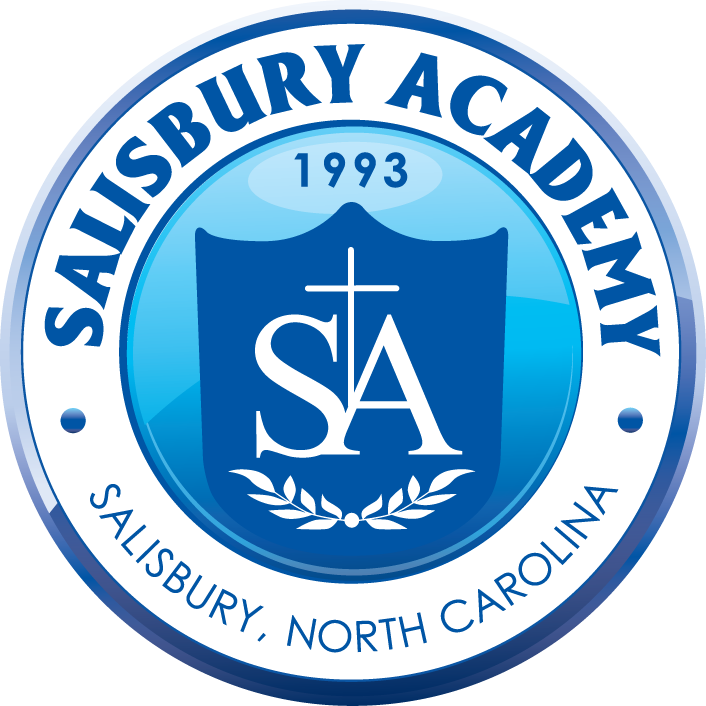 July 26, 2018 - Salisbury Academy has new leadership on its board of trustees for the 2018-19 school year. Benjamin Ott will become president. Originally from Pennsylvania, Ott earned a bachelor's degree in biology from Penn State, a medical degree from the University of Pittsburgh and completed a residency in family medicine at the University of Virginia. read more
---
Salisbury Academy Graduates the Class of 2018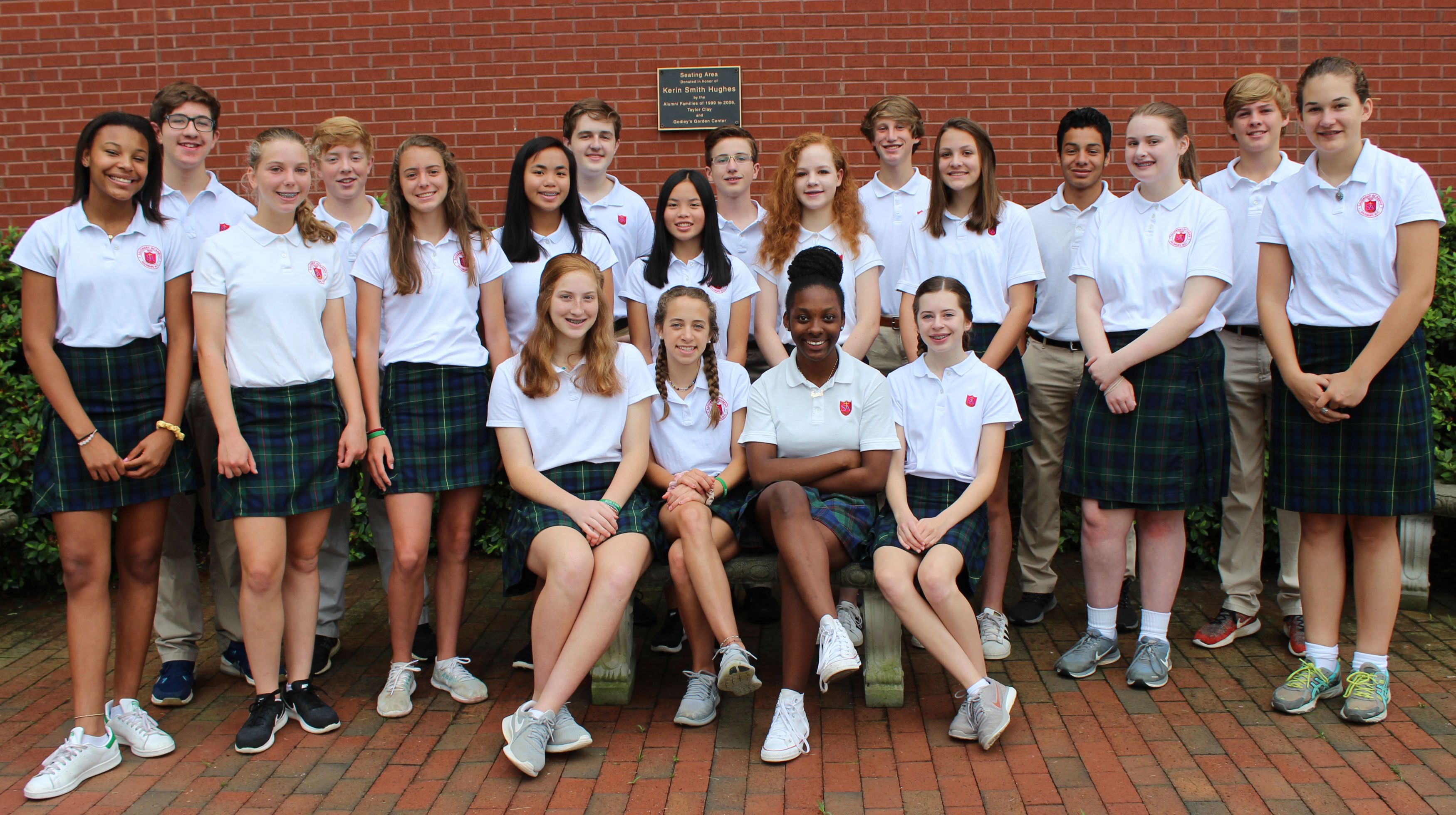 June 10, 2018 - Members of the Salisbury Academy Class of 2018 will move on to Cannon School, East Rowan High School, Jesse C. Carson High School, Rowan County Early College and Salisbury High School after their recent graduation.
---
Lighting a Spark: SA looks to 2018-19
May 10, 2018 - With every new school year comes new opportunity for growth, and Salisbury Academy
is leveraging the upcoming year's opportunity to light a spark. In August, the school will open the SA Spark Center, a combination of science labs, art room and a new maker space.
Repurposed from what is currently the junior kindergarten and kindergarten building, the Spark Center will be a place where students are free to invent, solve problems, and explore while discovering their interests and a lifelong love of learning.
---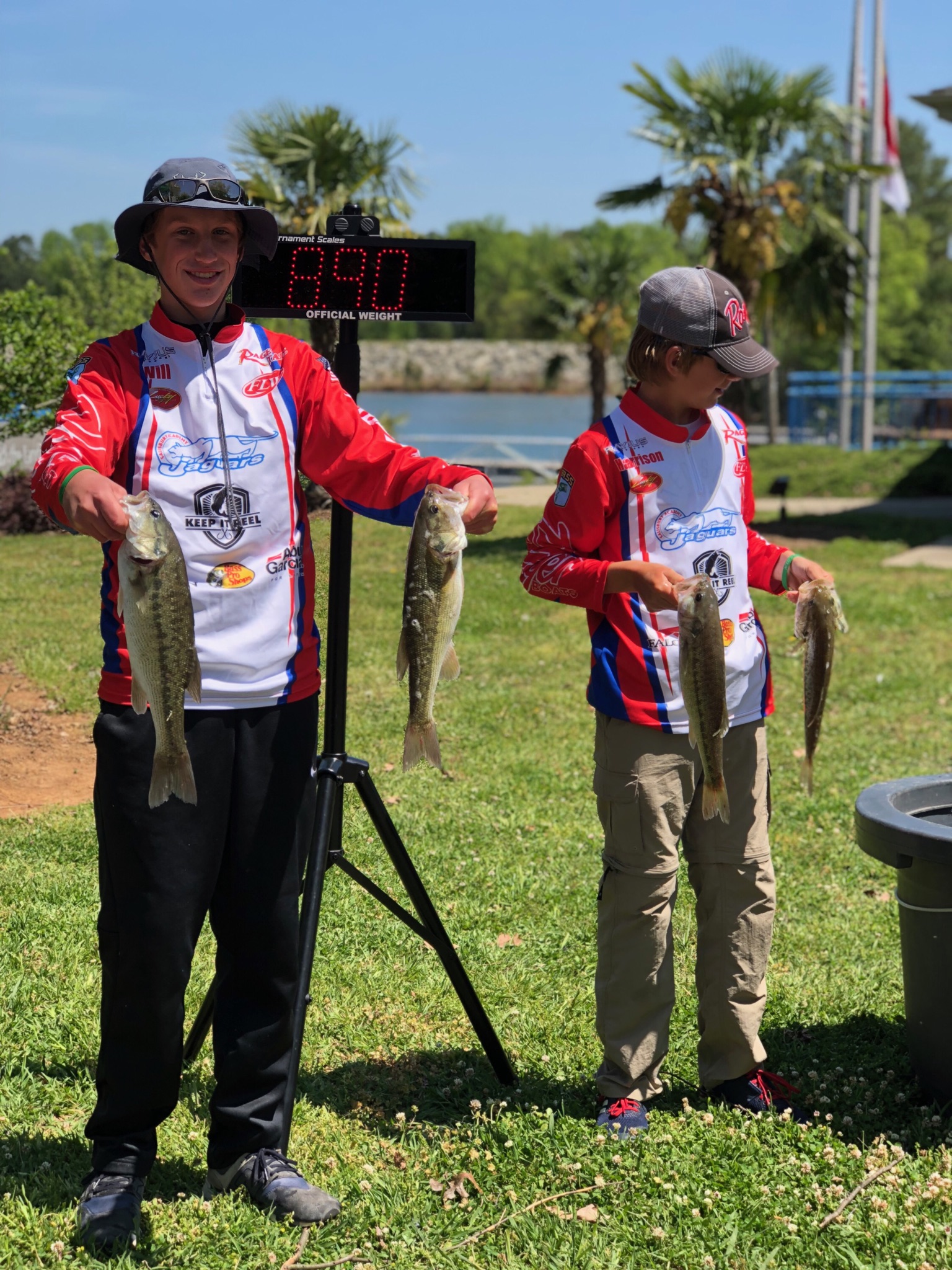 Salisbury Academy Anglers Qualify for Bassmasters National Championship
May 5, 2018 - The first year of the Salisbury Academy Bass Fishing Club has been one for the history books — no fishermen's tall tales or exaggerations required. Inspired by teachers and with an enthusiastic group of middle school anglers, the club has offered a new means for students to get out into nature and develop a passion for the outdoors. In addition to enjoying group fishing at Corriher Lake and trips to Bass Pro Shops for fishing seminars, student anglers competed in the North Carolina Junior High Tournament Trail on nearby lakes.
---
Bloom Gala Celebrates 25 Years of Salisbury Academy
March 22, 2018 - Salisbury Academy's ninth annual Bloom gala on March 17 served as a joyful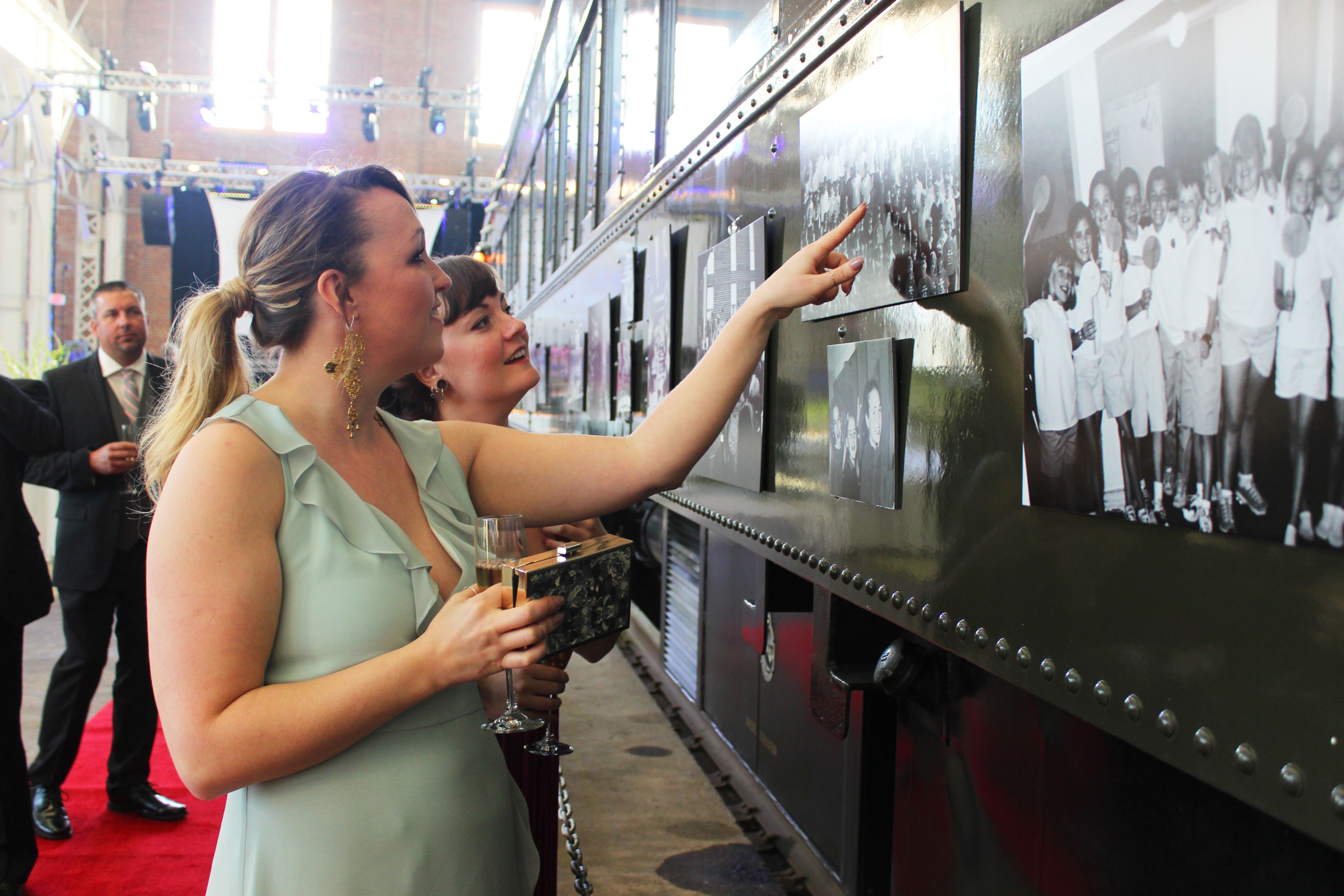 reflection on the school's history and a celebration of the community that has supported the school's mission and culture for a quarter century, school officials said.
Held in the Back Shop of the N.C. Transportation Museum, Bloom in Celebration brought 350 people together for an evening of sharing memories and learning about the latest news at the school, all while enjoying food, dancing and a live auction.
---
Salisbury Academy Devotes a Day to Community Service
March 15, 2018 - Just as the words on the banner painted by junior kindergartners read, Salisbury Academy students told the community,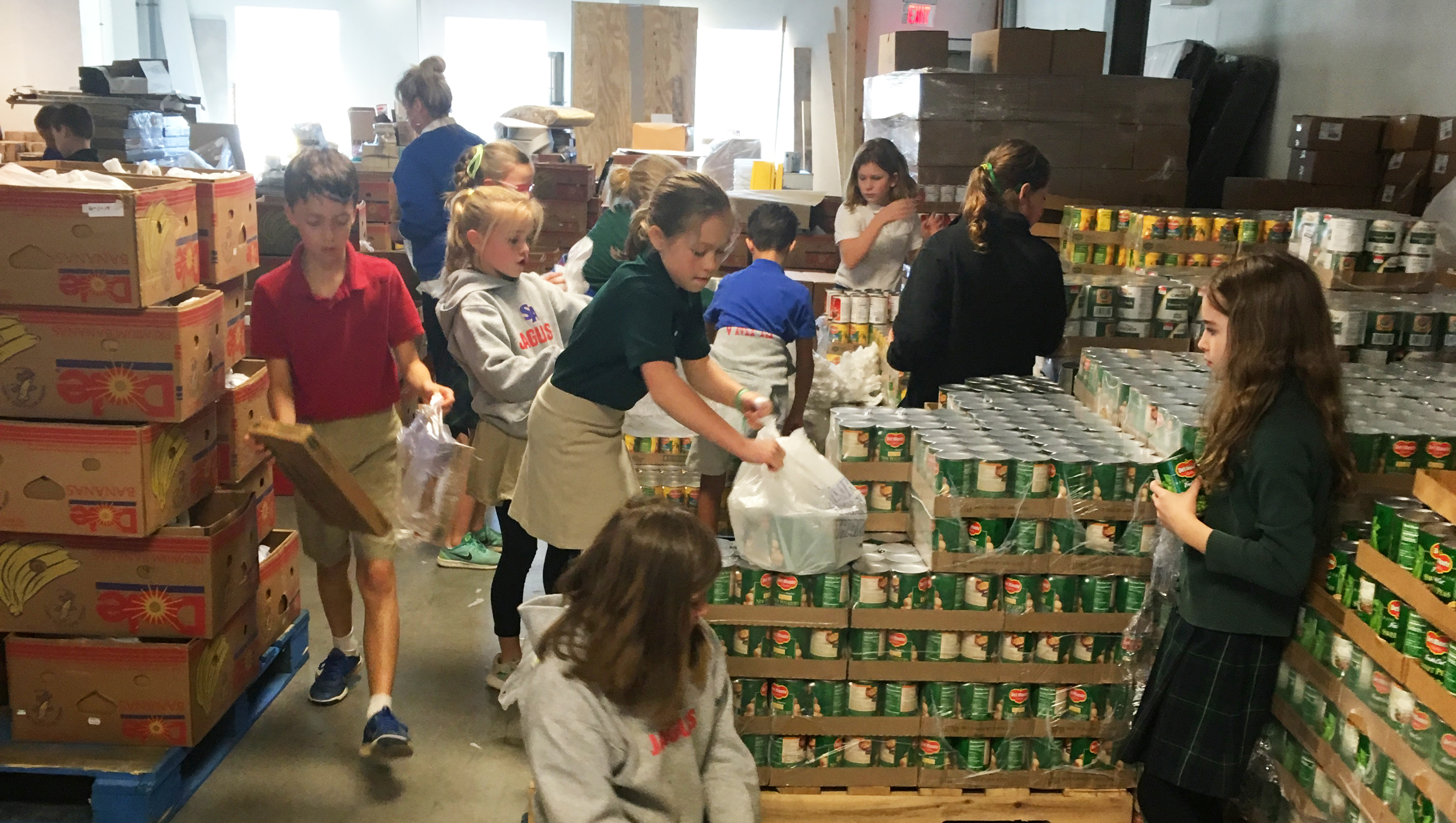 "Somebody loves you!" in a recent schoolwide day of service.
Held in honor of Salisbury Academy's 25th year, the day celebrated a commitment to caring for others.
At Carillon Assisted Living, third-grader Emma Ott played the piano for residents while her peers held up the student-made banner. Emma was one of several students who played the piano. A chorus of second- and third-grade students also performed.
---
Middle School Advisories at Salisbury Academy Offer Support and Connections
March 8, 2018 - Designed to strengthen relationships among middle school students and their teachers across grade levels,
Salisbury Academy's middle school advisory program brings students in grades six through eight together in small groups for weekly meetings and lunches. In addition to meetings, advisory groups build camaraderie through team-building challenges and the "drafting" of fifth-graders to join advisory groups each spring. At a typical middle school advisory meeting at Salisbury Academy, advisers and students discuss everything from goal setting to schoolwork and the ups and downs of life in general.
---
Volunteers Help LandTrust Plant 5,000 Trees
February 20, 2018 - Volunteers with the LandTrust for Central North Carolina planted 5,000 hardwood trees in a former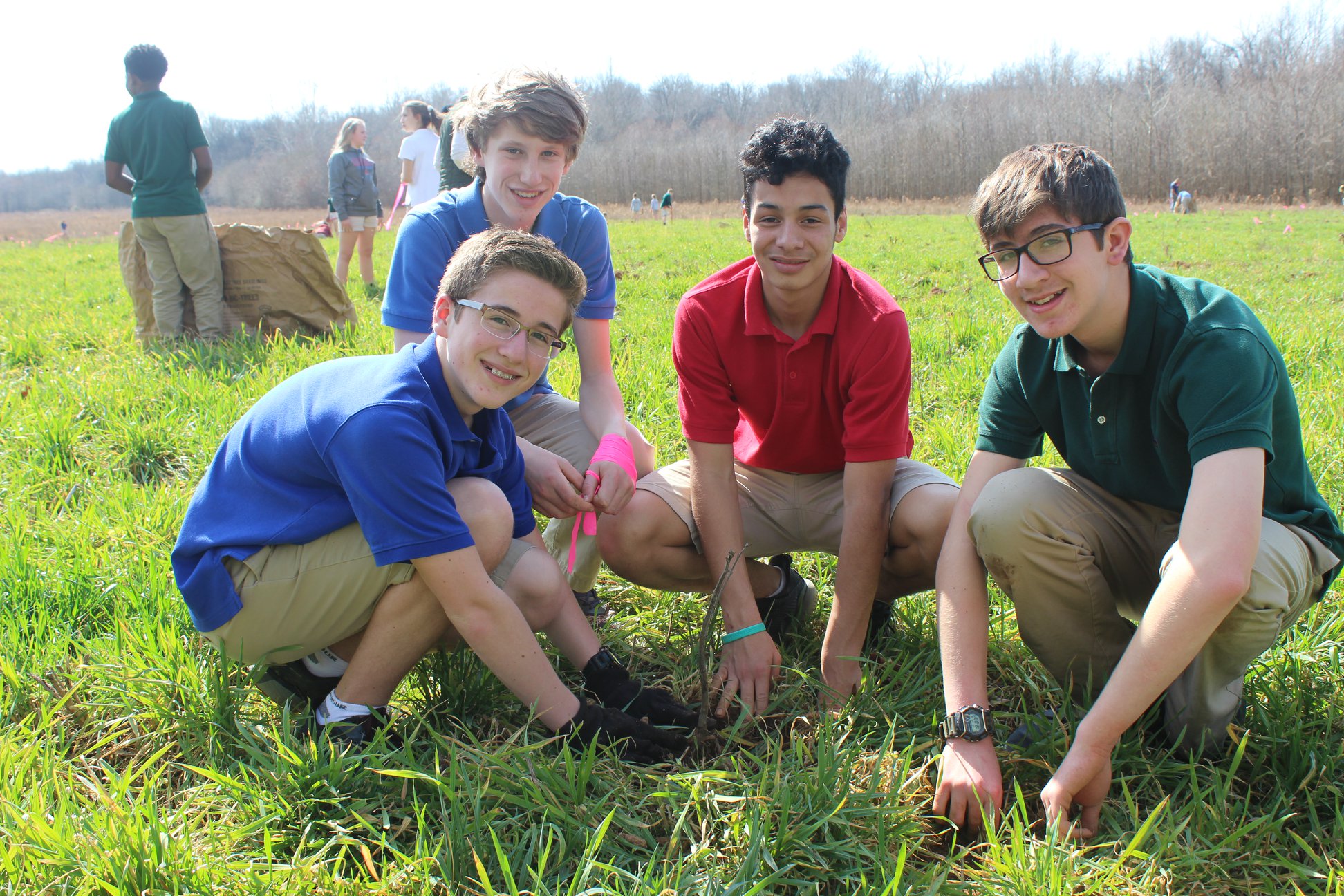 farmfield on its Two Rivers property in Davie County on Friday and Saturday. The 153 volunteers came from near and far to join the effort to establish a bottomland hardwood forest that will provide a buffer to enhance water quality just north of the water intake for the city of Salisbury. Corporate volunteers from Michelin, Wells Fargo and Mountain Khaki participated, as well as students from Salisbury Academy, a LandTrust Leopold Society School, and Catawba College. Boy Scout troops 10 and 178 of Cabarrus County also helped plant the trees on Saturday.
---
Devorah Heitner Presents at Salisbury Academy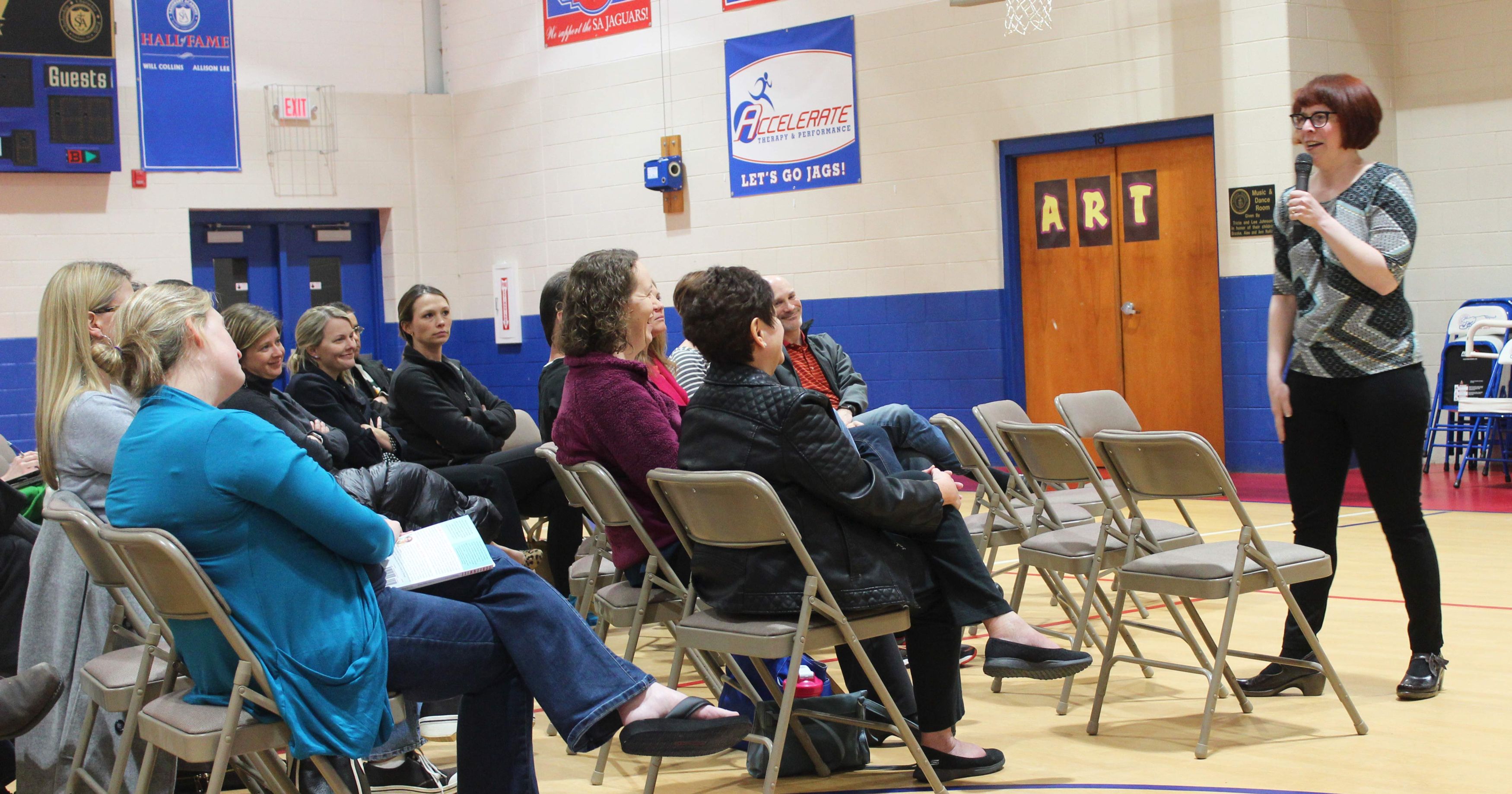 February 15, 2018 - In a community presentation hosted by Salisbury Academy, "Screenwise" author Devorah Heitner presented on helping kids thrive in their digital world. The presentation is part of Salisbury Academy's ongoing speaker series on the many aspects of developing whole, happy children.
---
Salisbury Academy Bloom in Celebration Gala to be Held March 17
February 8, 2018 - Celebrating the 25th year of Salisbury Academy, the Bloom in Celebration gala will be held March 16 at the North Carolina Transportation Museum. This is the ninth annual gala for Salisbury Academy and will offer guests a festive evening celebrating the history of the experiential school.
---
Nathan Wyatt Comes Home to SA: His Journey from Student to Teacher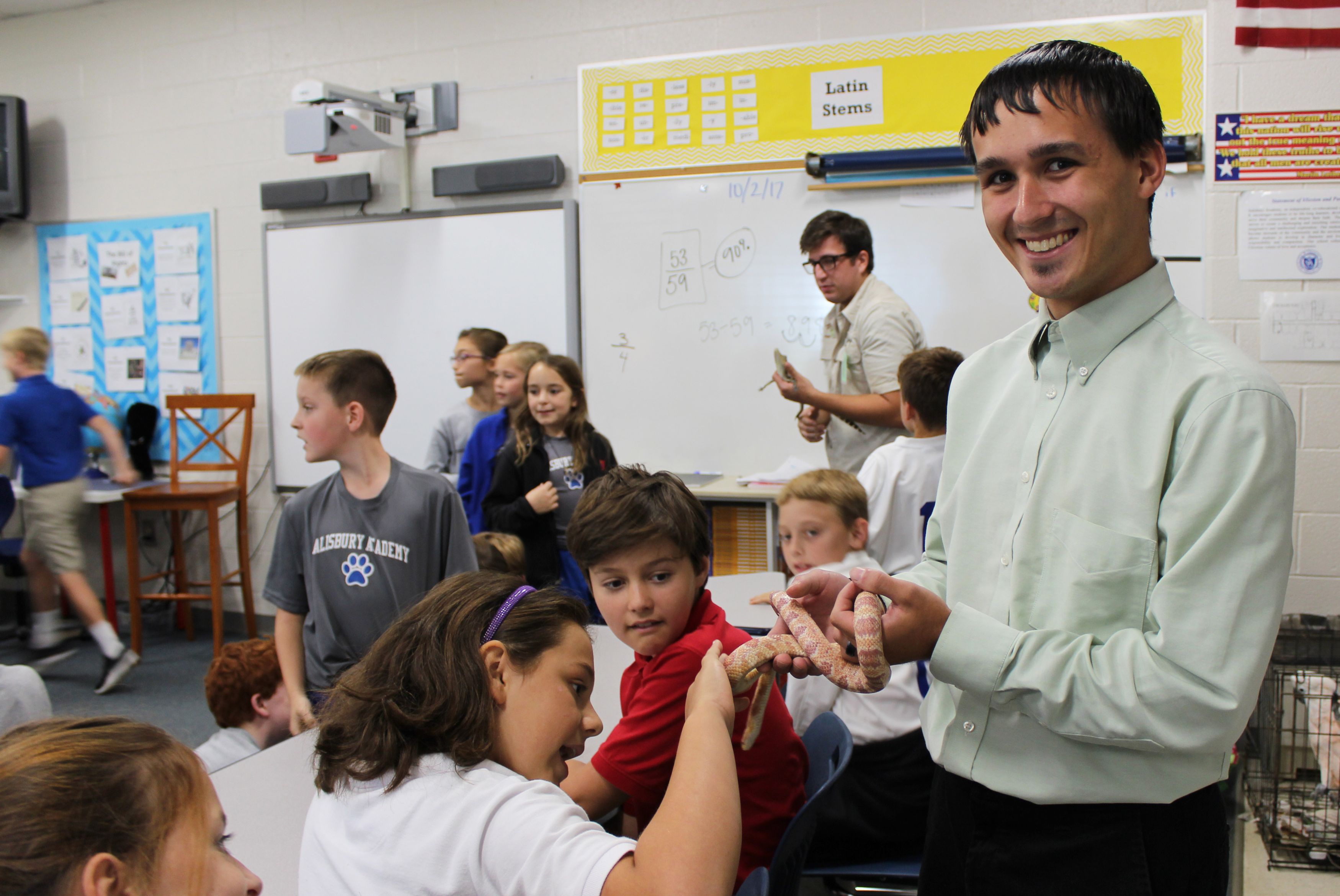 January 26, 2018 - For third grade teacher Nathan Wyatt, a walk through the halls of Salisbury Academy inspires much more than thoughts of lesson plans and upcoming class activities. A Salisbury Academy student for 10 years before graduating in 2009, Nathan shares that each day brings with it "full-circle" connections.
---
Student Art at Salisbury Academy Honors MLK and the Spirit of Collaboration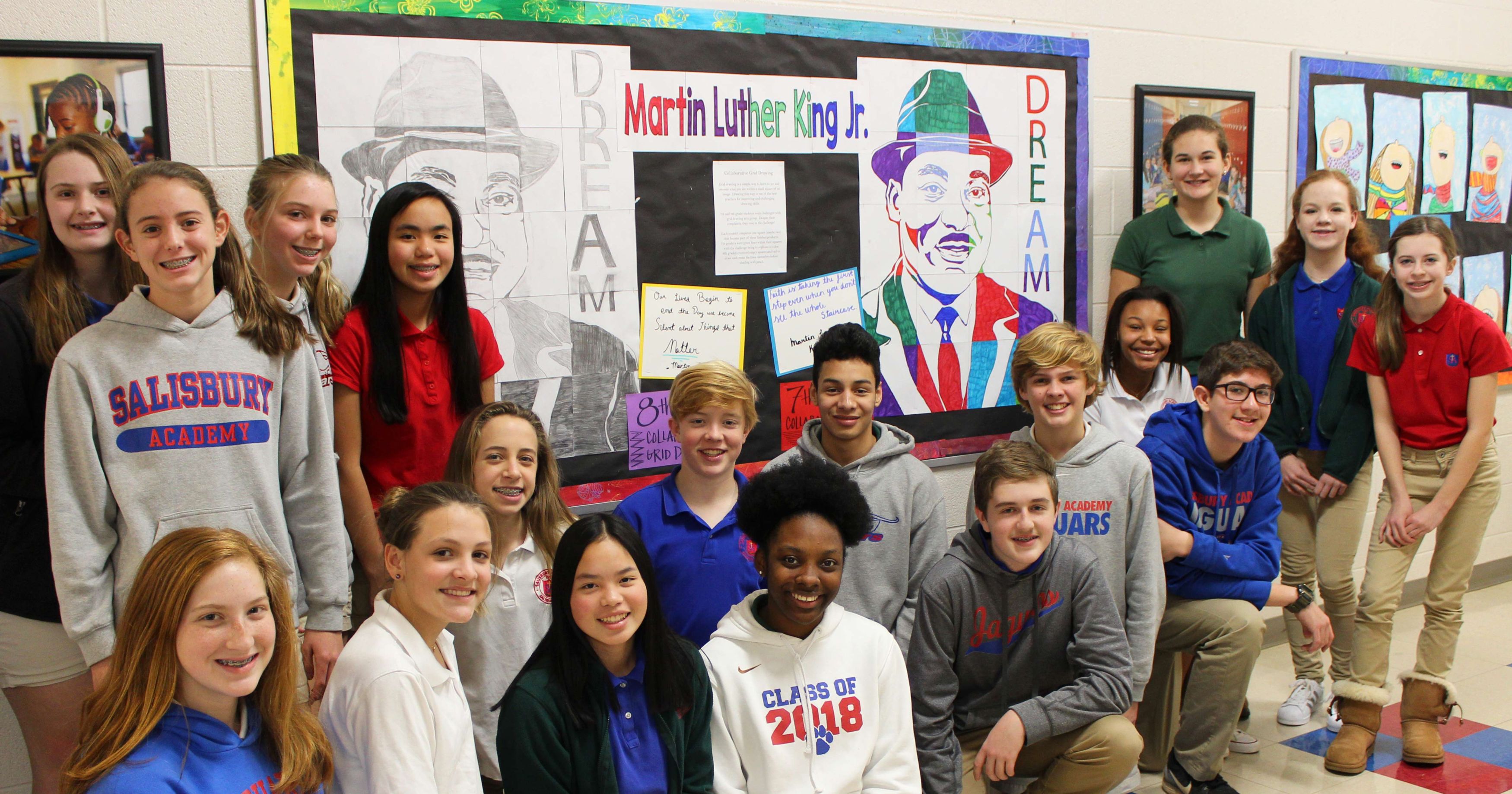 January 18, 2018 - Honoring Dr. Martin Luther King, Jr. and his meaningful work and progress as a civil rights leader, seventh- and eighth-grade art students at Salisbury Academy created two collaborative grid portraits of the historic figure.
---
Salisbury Academy Carolers Visit Trinity Oaks and Other Area Retirement Communities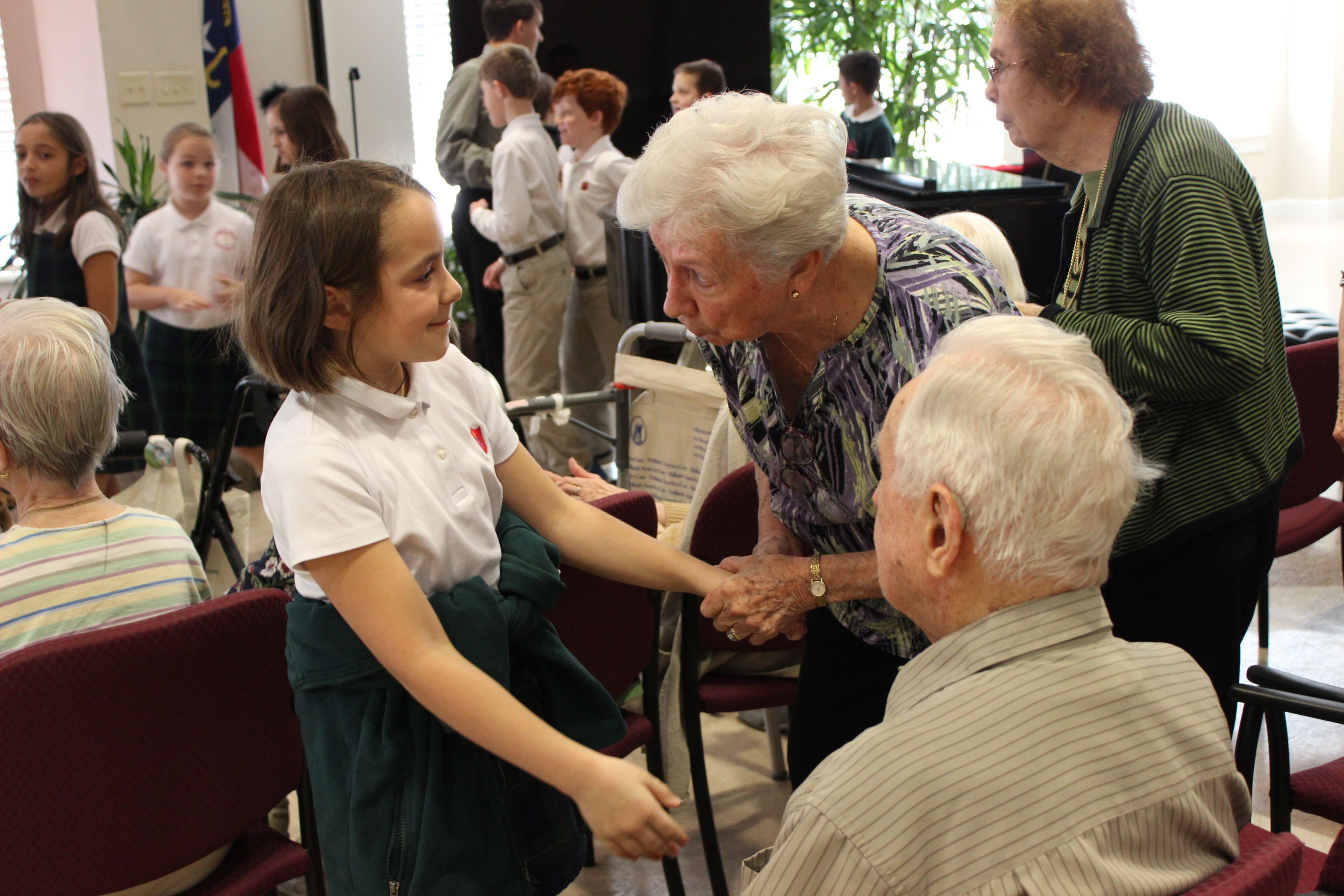 December 7, 2017 - As Salisbury Academy's third-grade Christmas carolers began to sing at a recent visit to the apartments at Trinity Oaks, the holiday memories rushed back in all their joy and glory for Trinity Oaks resident Marjorie Haworth. "Oh Christmas Tree," "Jingle Bells," "We Wish You a Merry Christmas" are all songs that Haworth directed her choral students in singing over the course of her career teaching elementary music in Shelby.
---
The Meaning of Thanks - Salisbury Academy Students Explore History of the First Thanksgiving
November 23, 2017 - Ask a first-grader at Salisbury Academy about the first Thanksgiving, and he will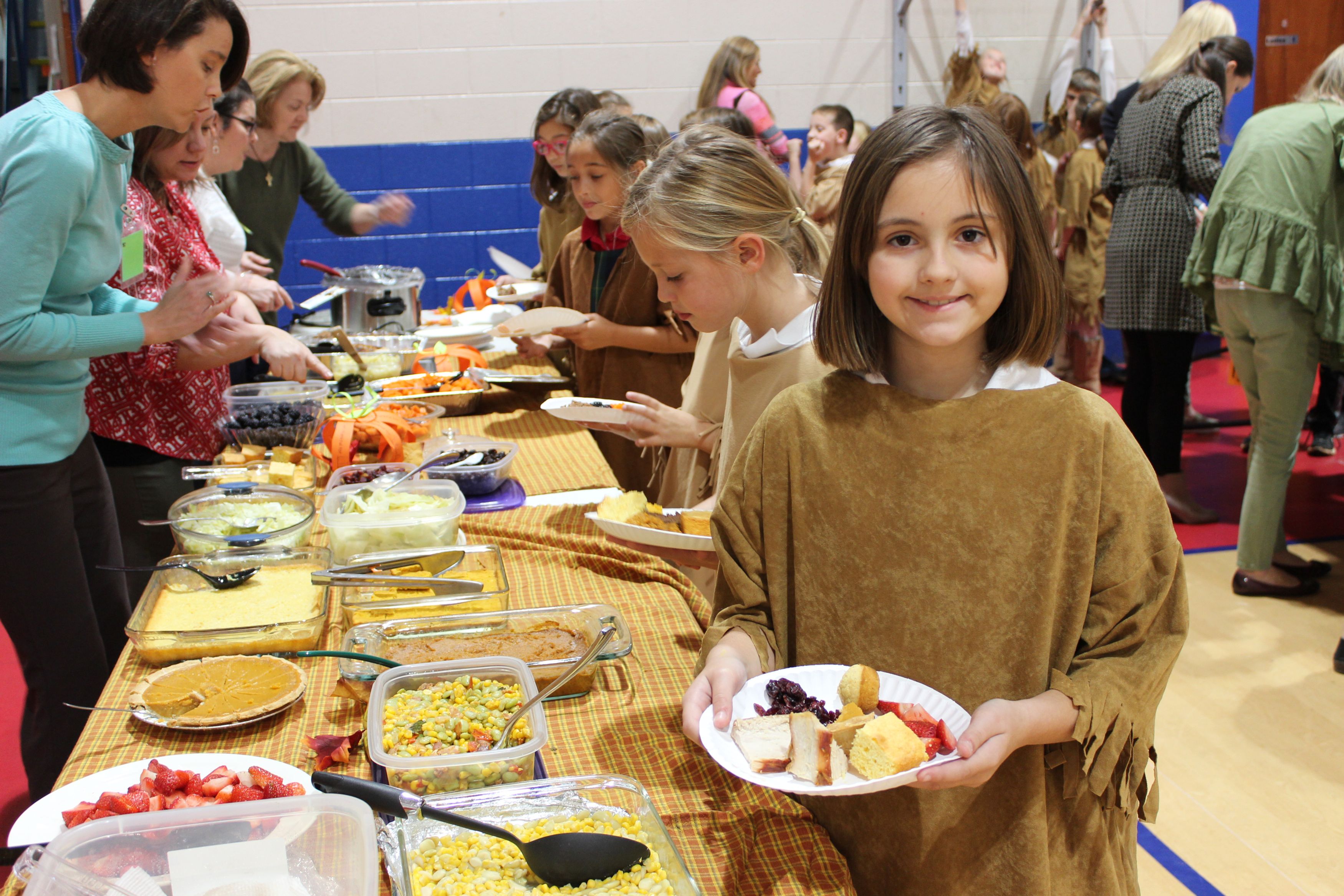 enthusiastically share details on the pilgrims' voyage on the Mayflower and what life was like in the new colony. Talk to a third-grader about Native Americans, and she will give you insights into their culture, food and customs.
With appreciation for the history of the first Thanksgiving, pupils in the two grades put on their pilgrim and Native American costumes for Salisbury Academy's annual Thanksgiving feast last week.
Academy Celebrates 25 Years of Growth
November 17, 2017 - How do you ensure that a dream lasts a quarter of a century? You invite others to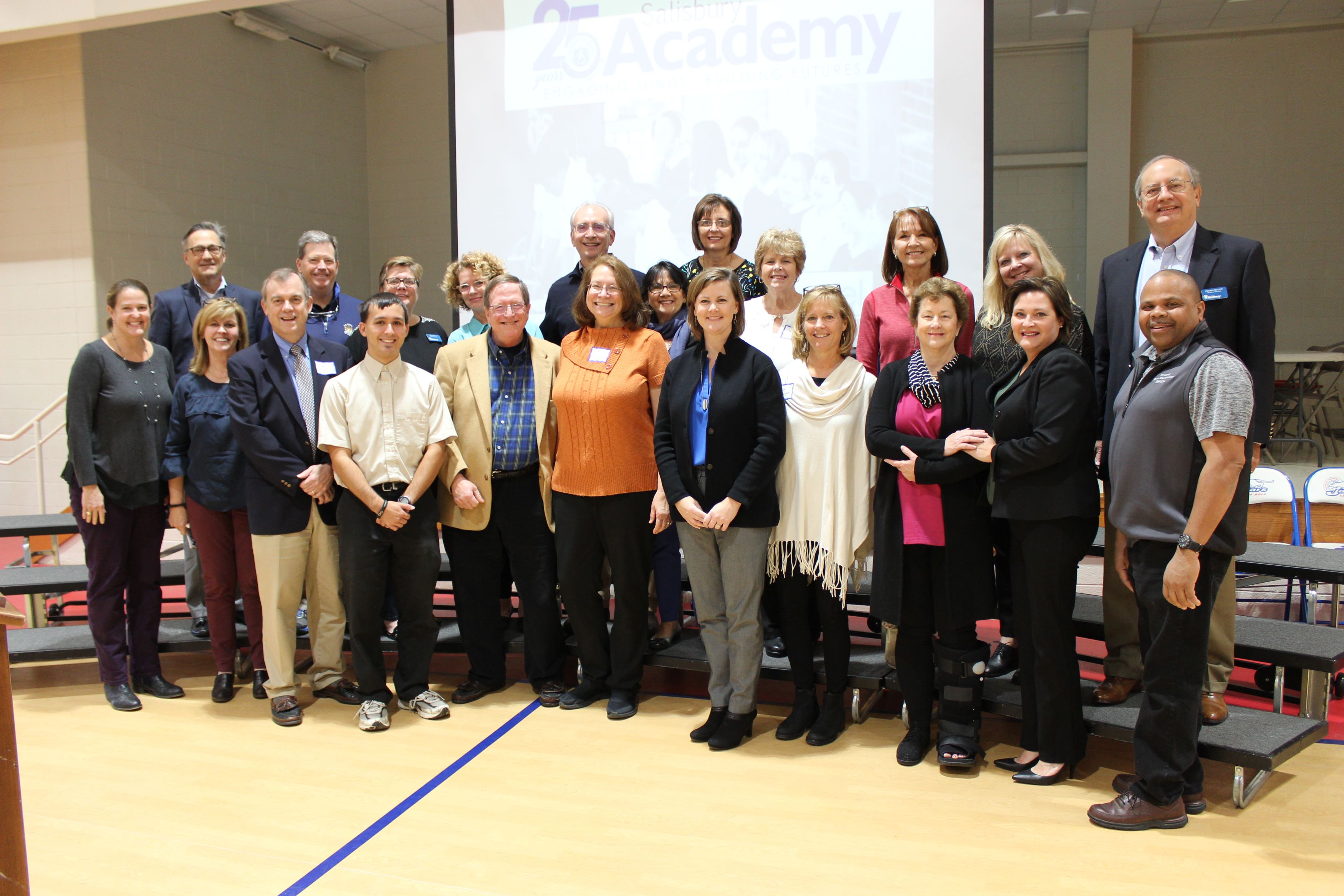 share it.
Thursday morning, family and friends of Salisbury Academy gathered to celebrate a dream that became a reality and the school's 25th birthday. Head of School Beverly Fowler called the anniversary "a great day of celebration."
---
Salisbury Academy Students Review Anne of Green Gables Performance
November 9, 2017 - "I recommend this show because of the beautiful scenery and costumes. They put a lot of hard work on lines and scenes and costumes. I would tell my favorite part but I don't want to tell my favorite part because no spoilers." — Ruthie Mauro
"I love 'Anne of Green Gables' because it was creative. The costumes were beautiful. The background was awesome. All the people were great." — Adalyn Yost
---
Pumpkin Painting Brings Community Friends Together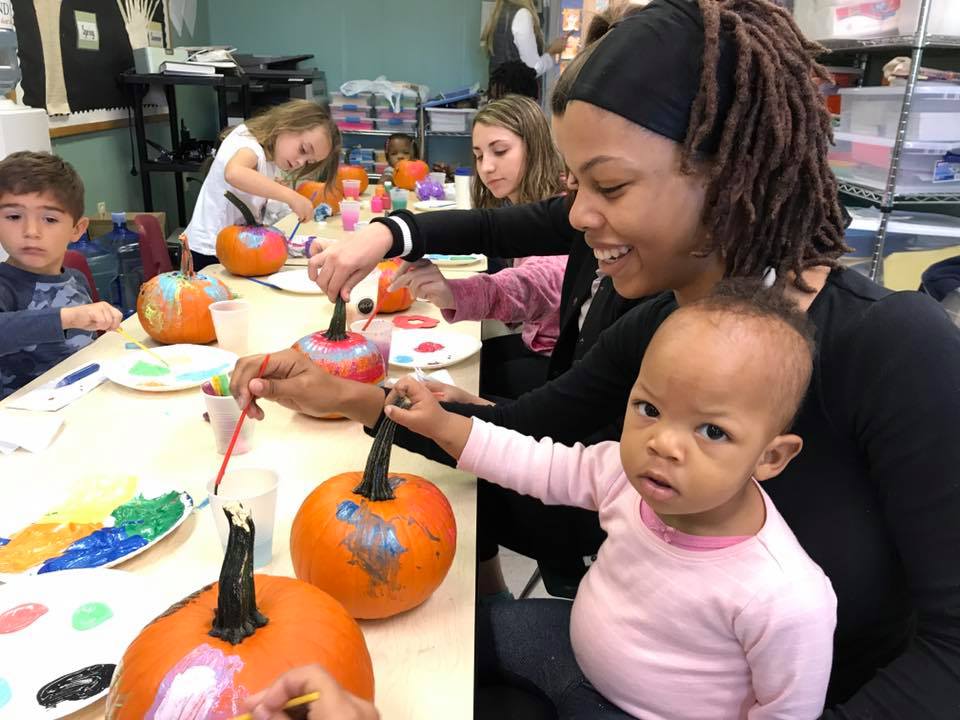 November 2, 2017 - The simplest traditions are often the most meaningful, and this is certainly true for the children and families who participate in the annual Footprints in the Community pumpkin painting. Hosted by Salisbury Academy each year and attended by Footprints participants and Salisbury Academy students, the morning of decorating pumpkins serves as a celebration of friendship, creative arts and the joy of fall.
---
Salisbury Academy Students Recognized by NC Department of Environmental Education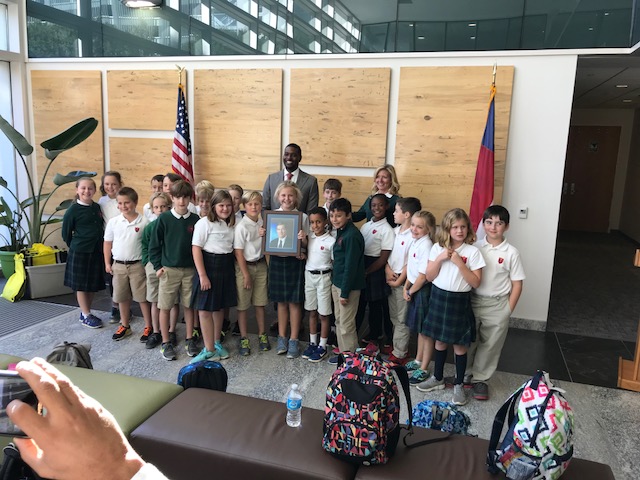 November 2, 2017, RALEIGH - Michael Regan, secretary of the N.C. Department of Environmental Quality, recently met with fourth-grade students from Salisbury Academy who were visiting from Raleigh. Students, their teacher and parent chaperones arives by train and toured the state Capitol, the Museum of History, the General Assembly, the Museum of Natural Sciences, and the Executive Mansion. Their final stop was the Department of Environmental Quality's Green Square building for a visit with Regan.
---
Salisbury Academy Broyhill Scholars Emerge as Leaders
September 21, 2017 - Rowan County has gained twelve more young leaders, driven to lead and inspired to make a positive difference in their community.As part of its strategic mission to develop leaders and stewards of the community, Salisbury Academy, through its Broyhill Leadership Scholarship program, provided scholarships for twelve students from Rowan-Salisbury high schools to attend this year's five-day Broyhill Leadership Conference.
---
"Buddies" Make Young Learners Feel Special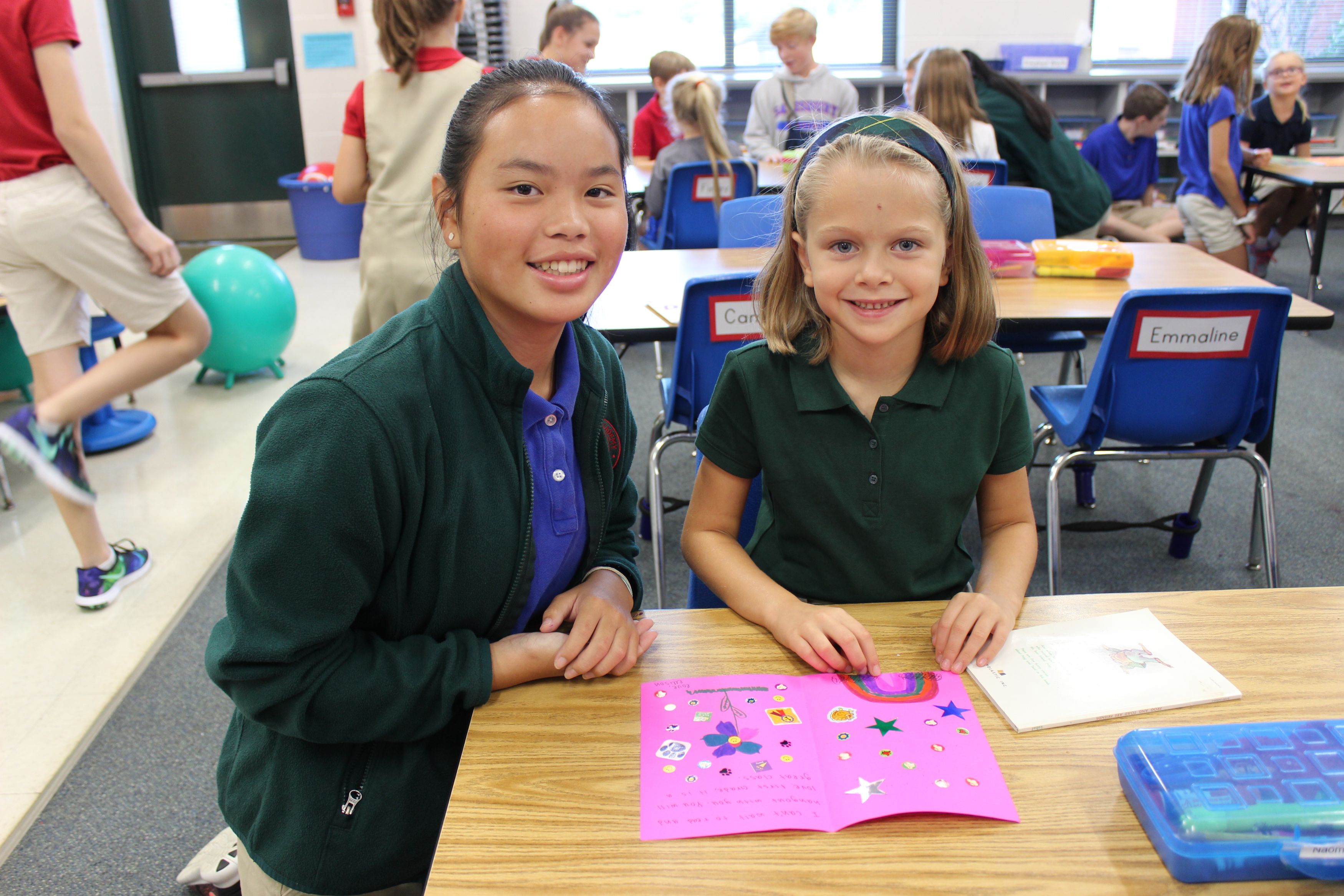 September 7, 2017 - In the first full week of school, first-graders at Salisbury Academy were welcomed to the "big school" by their eighth-grade buddies. Eighth-grade students read to their younger peers and presented them with "welcome to the big school" cards. The first of many meetings that the two grades will have over the course of the year served as an opportunity for the students to meet their buddies, introduce themselves and share in some reading fun.
---
Salisbury Academy Reading Specialist Gains Advanced Certification
July 13, 2017 - Salisbury Academy reading specialist Melissa Brown recently earned an advanced certification in readi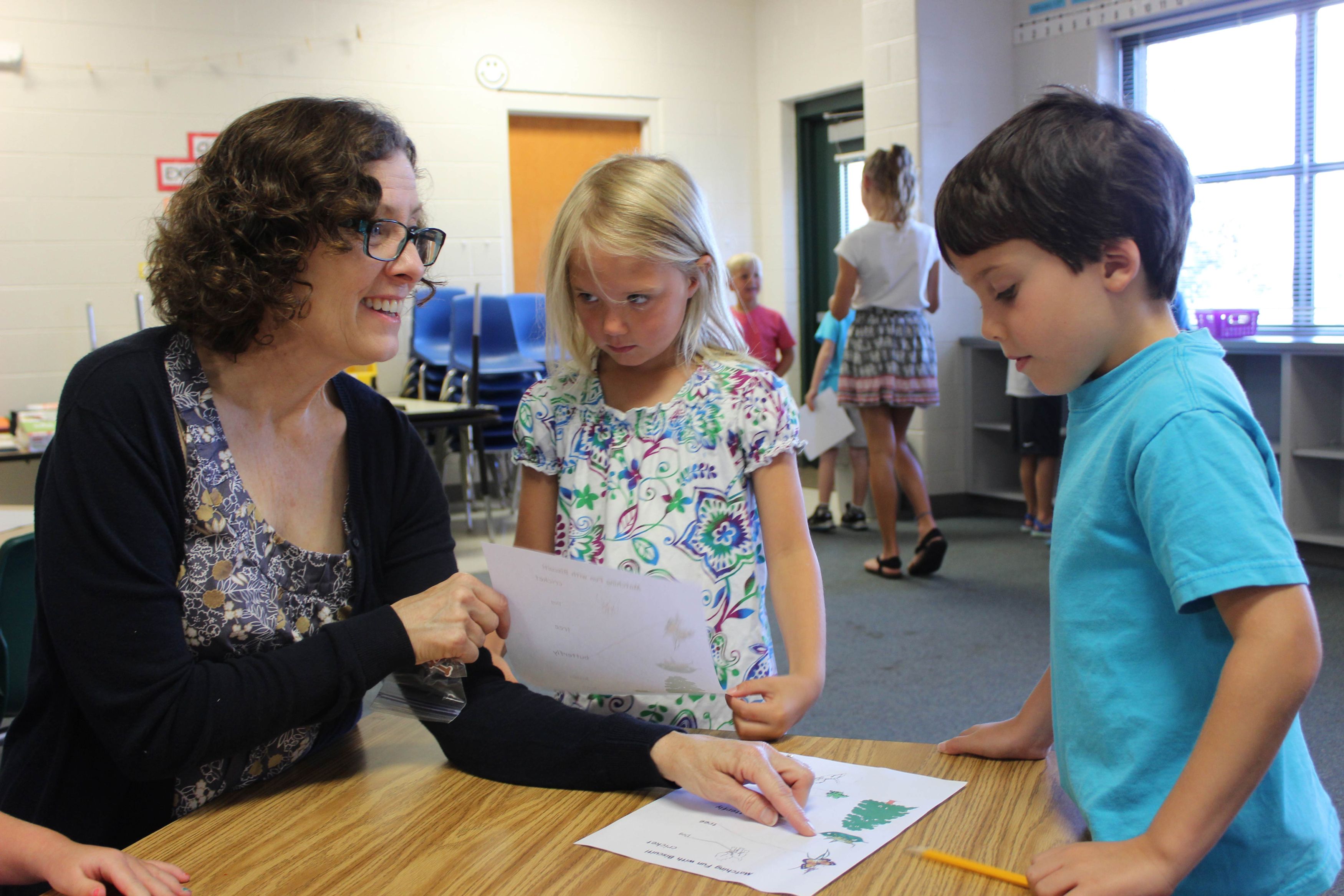 ng instruction. Brown earned the Institute for Multisensory Education Orton-Gillingham certification. She is the only registered tutor in the Salisbury area with this certification. Brown and other literacy educators with the distinction are certified in an advanced understanding of phonological awareness and multisensory strategies for reading, writing and spelling, among other key strategies for literacy education based in the Orton-Gillingham phonics methodology.
Salisbury Academy Named NC Green School of Excellence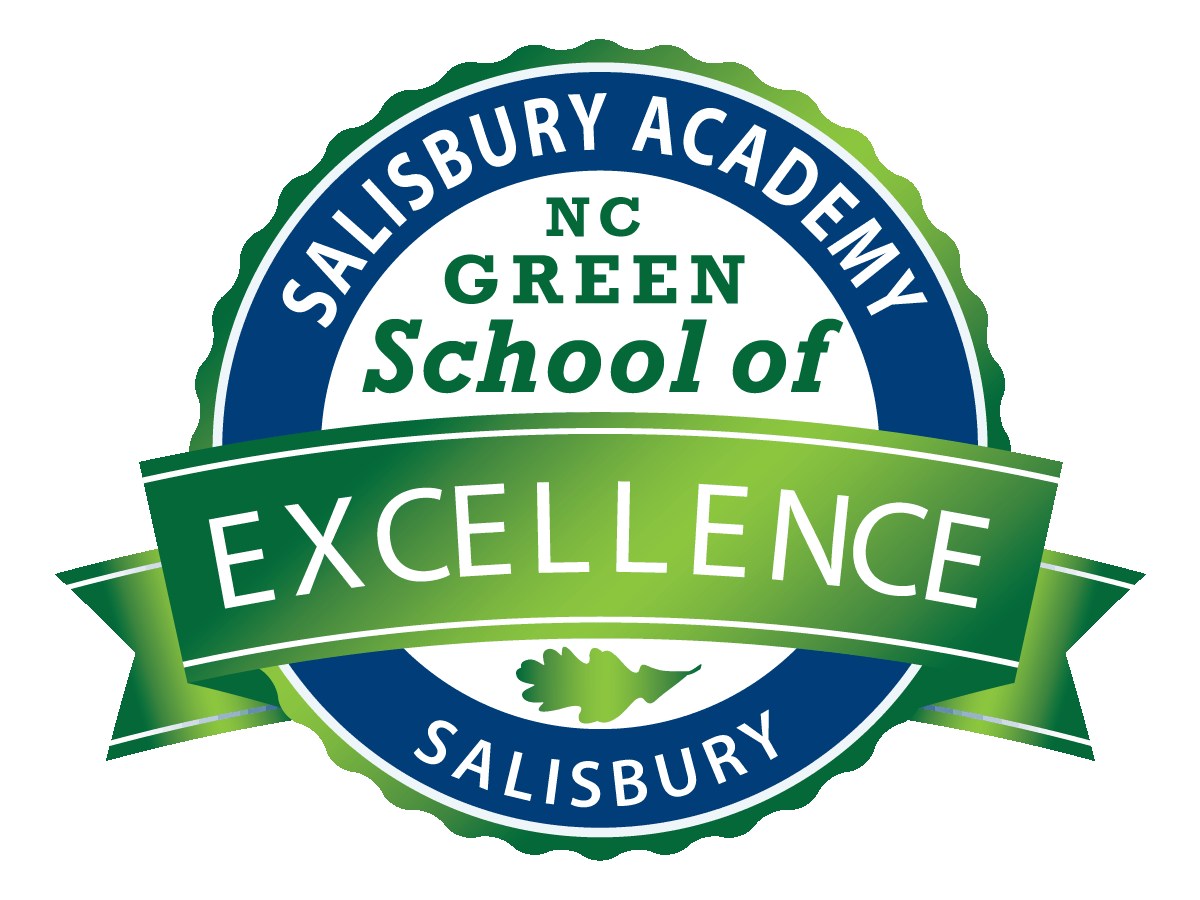 June 15, 2017 - Salisbury Academy was named an N.C. Green School of Excellence this spring, making it one of only five in the state to hold that disstinction. Eight other schools received award. The Green Schools Program, under the auspices of the Center for the Environment at Catawba College, confers the awards.
"I am so proud of our two advancing schools and seven newly recognized schools," said Katie Cavert Ferrell, coordinator of the program. "It is not easy with limited resources, budget constraints and only a finite amount of time. But the teachers have found creative, inspiring ways to integrate the exploration of nature into their daily lessons, and the students are committed to making a positive impact in their own schools and communities."
---
Salisbury Academy Breaks Ground on Outdoor Learning Space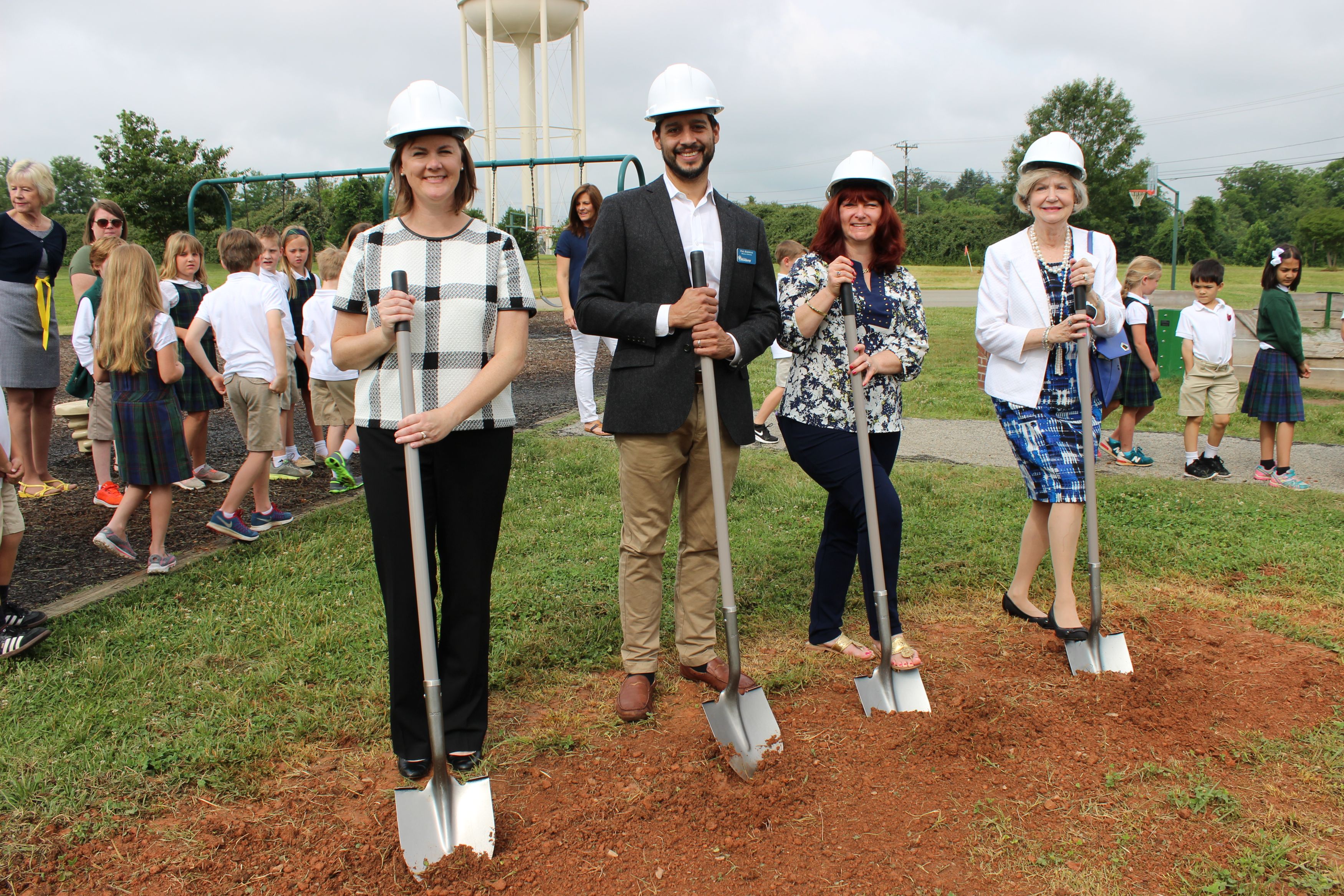 June 1, 2017 - Shovels went in the ground with a cheer from students, faculty, staff and community supporters in a groundbreaking Tuesday for construction of Salisbury Academy's Outdoor Learning Space. The groundbreaking paid tribute to donors, volunteers and visionaries who have worked to bring the project to reality. View video of groundbreaking
---
Salisbury Academy Donates Bloom Funds to Prevent Child Abuse Rowan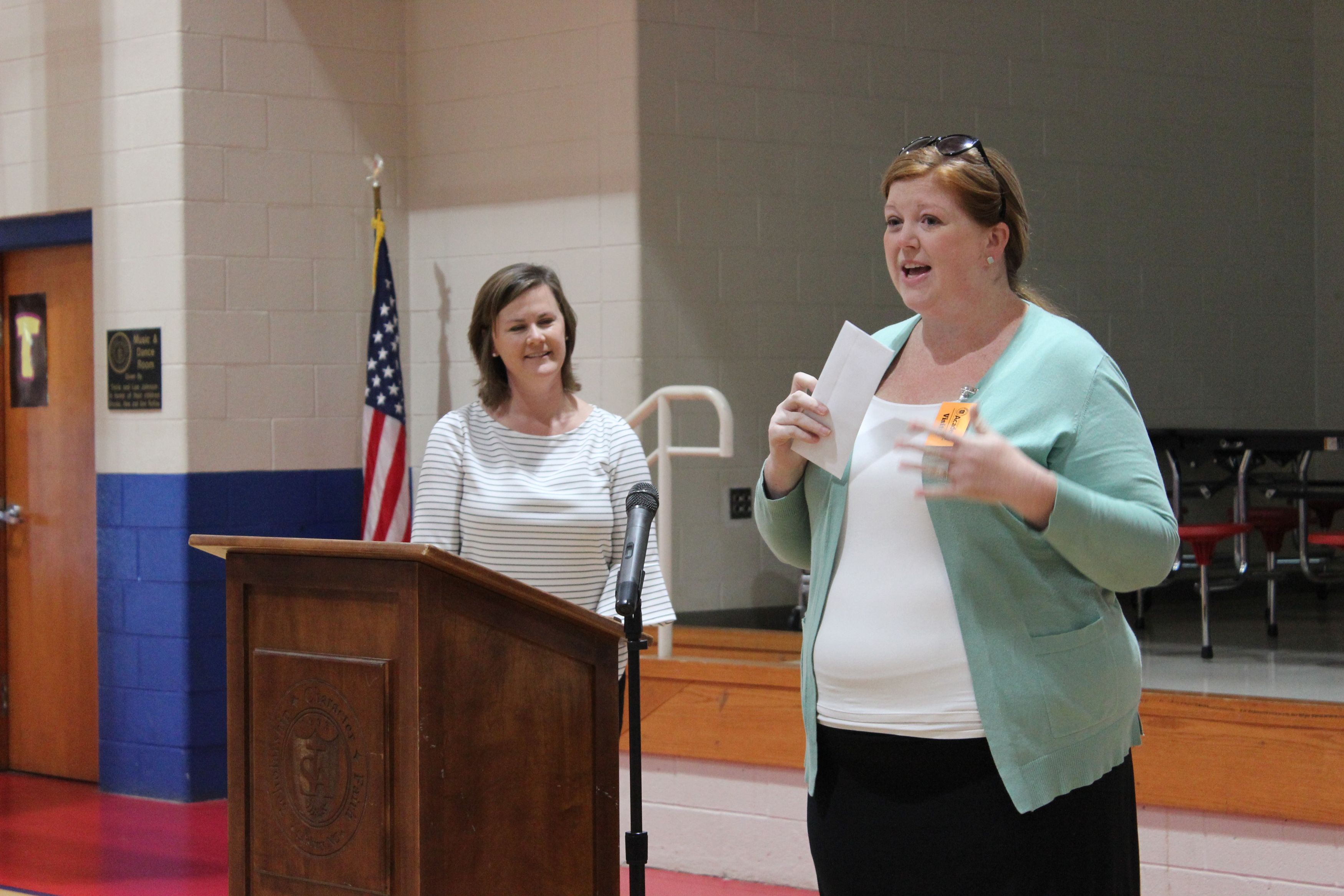 May 28, 2017 - Prevent Child Abuse Rowan's executive director was all smiles as she took to the podium at Salisbury Academy's chapel gathering in early May. "Nothing makes me happier than kids helping kids," said Beth McKeithan after accepting a check on behalf of the organization from the Salisbury Academy Bloom gala proceeds. "Without the strong partnership with Salisbury Academy, we would not be where we are today."
---
Salisbury Academy Students Create Battery Disposal Program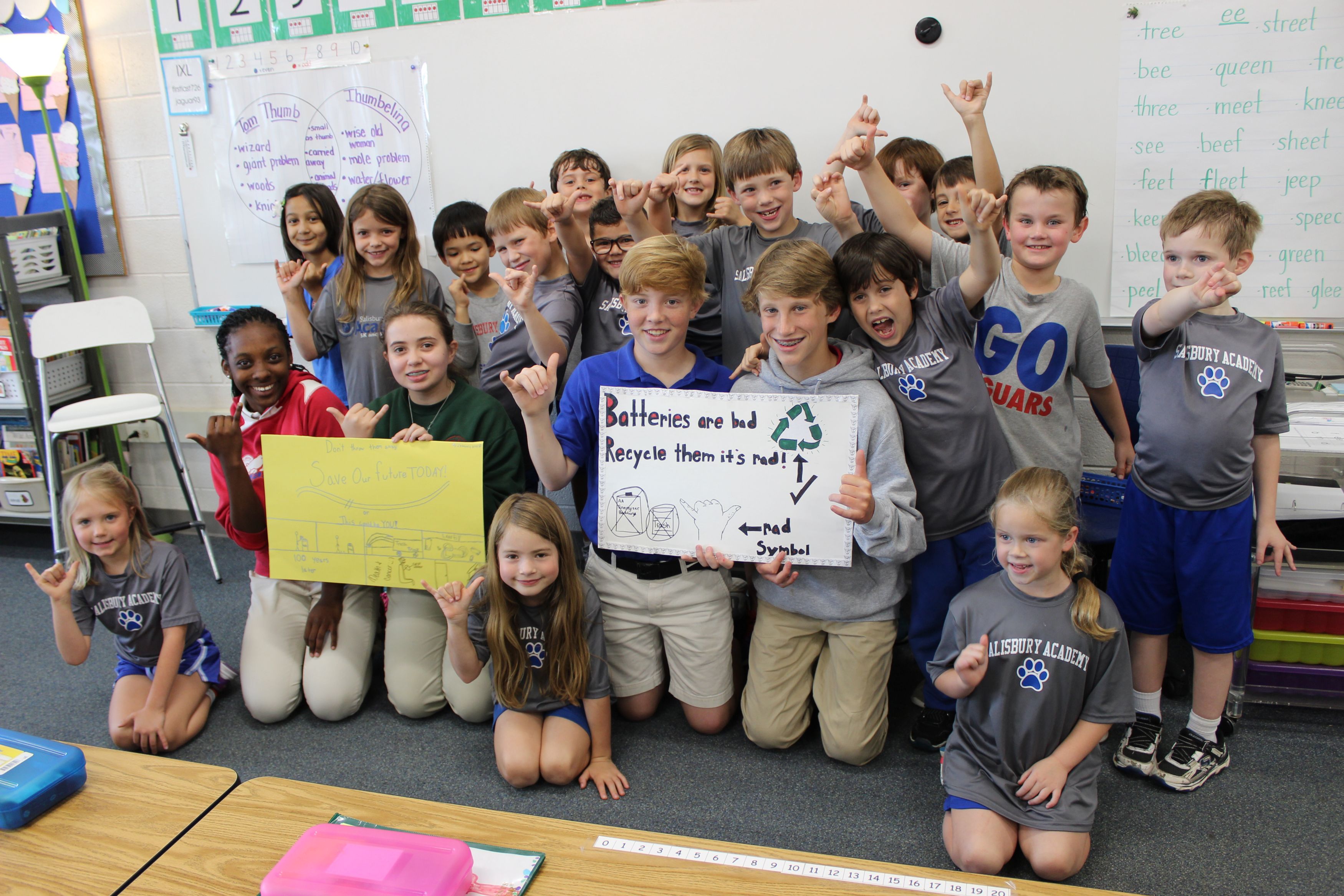 May 4, 2017 - Salisbury Academy students are taking the protection of soil and water resources into their own hands. After discussing soil and groundwater in a recent science unit, seventh-grade students learned about the dangers of battery toxins leaching into the ground and water resources. They learned that if batteries are disposed of properly, the negative effects on the environment can be largely avoided.
---
Jaguar Journal, Spring 2017: Outdoor Learning Space Update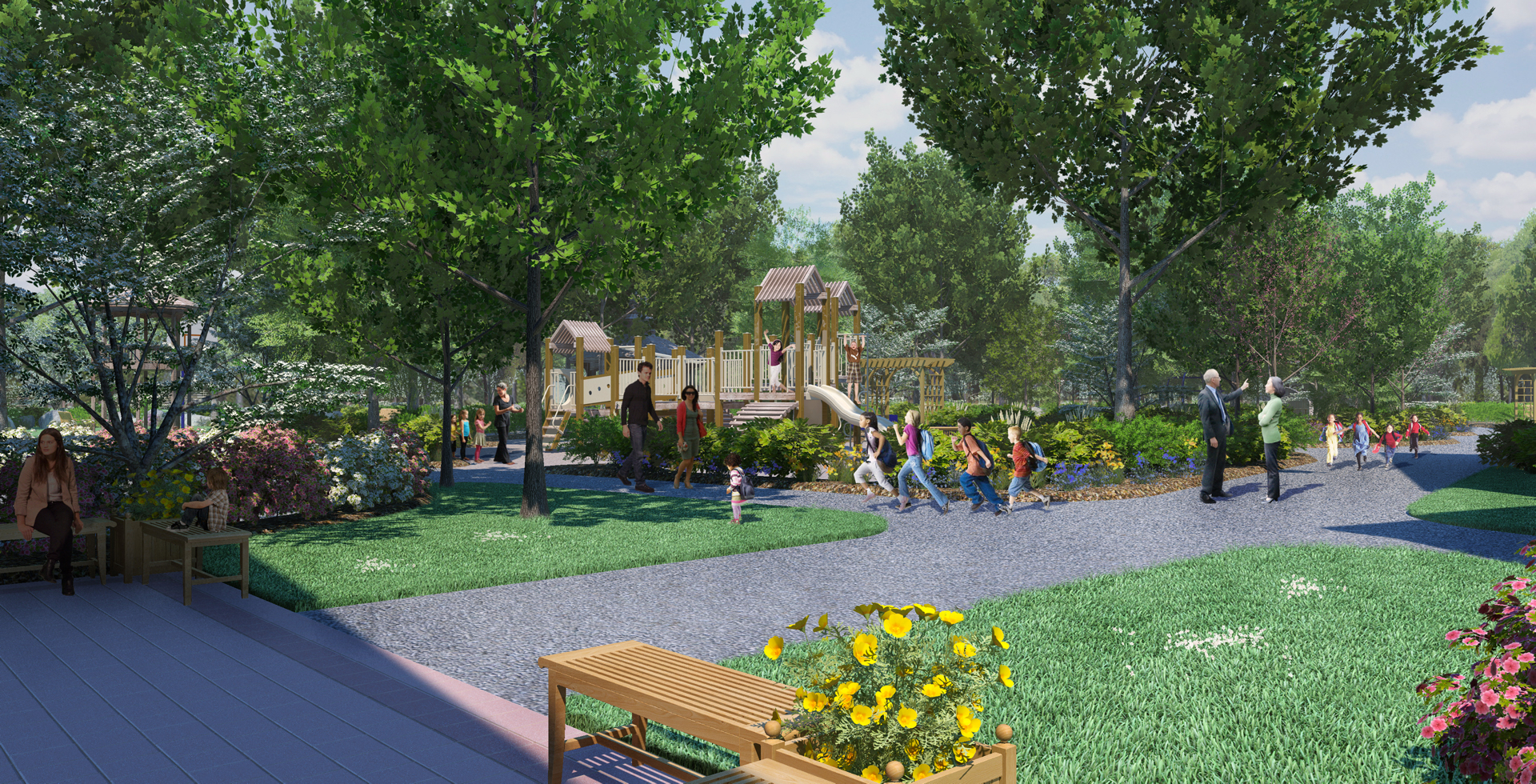 April 12, 2017 - Salisbury Academy's Outdoor Learning Space is on its way to becoming a reality! Until now the project has been in a silent phase of fundraising. Salisbury Academy is now actively fundraising and seeking community support so that we can get shovels in the ground this spring. We are happy to announce that Salisbury Academy has raised $338,000 to date. This is just under $100,000 away from the amount required for us to break ground this spring on phase one of our Outdoor Learning Space.
---
Salisbury Academy Students Take a Step Back in Time
March 30, 2017 - Salisbury Academy's fourth-graders traveled back in time to visit historical figures in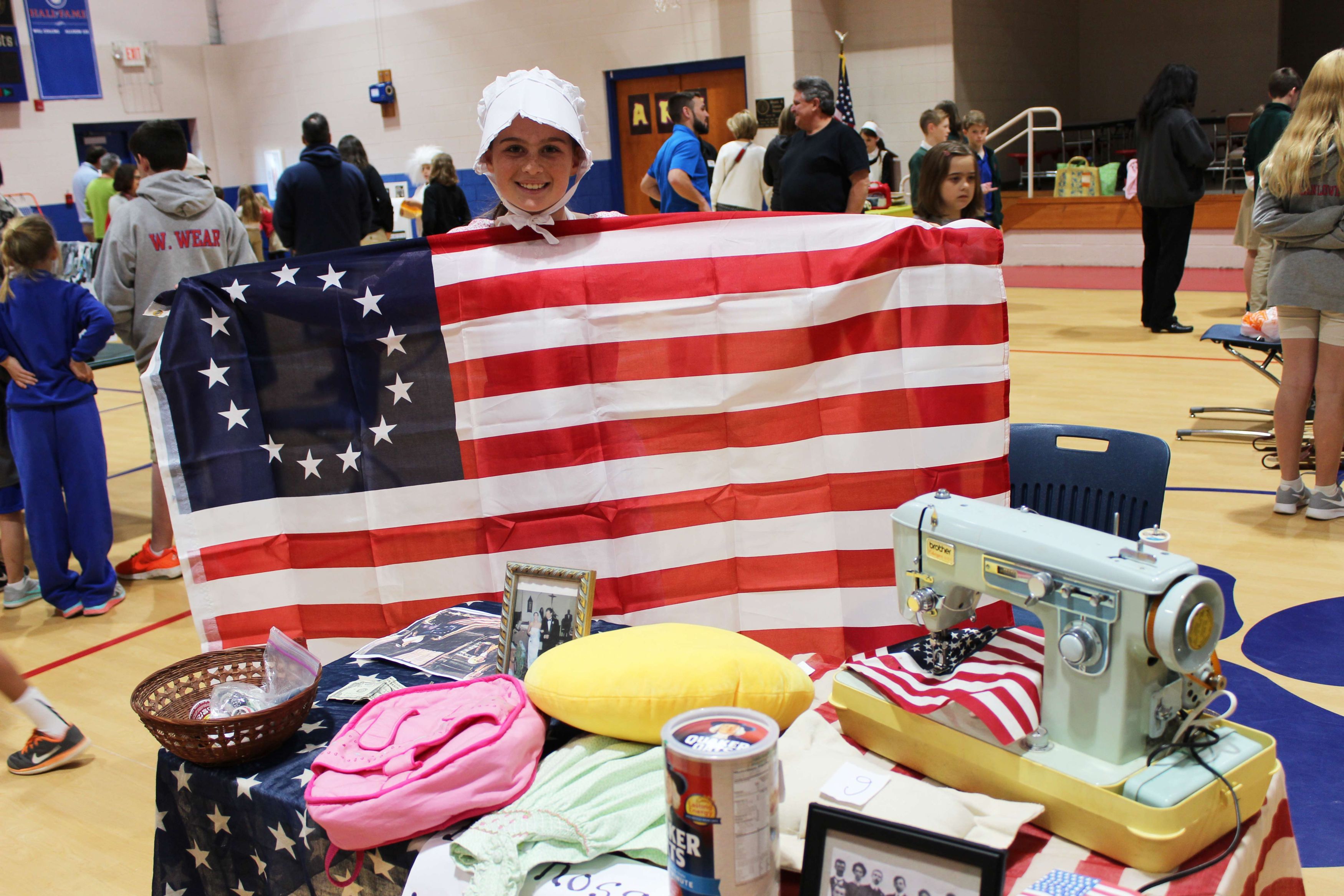 their recent "Time Machine Museum." Figures represented were diverse in the time periods in which they lived and in their contributions to society. They included Martin Luther King Jr., Sacagawea and Neil Armstrong.
For the project, each student read a biography on a historical figure and created a first-person oral presentation to share with visitors and classmates. When asked why they identified with their particular chosen figures, students were thoughtful in their answers.
---
Salisbury Academy's Bloom Industrial Gala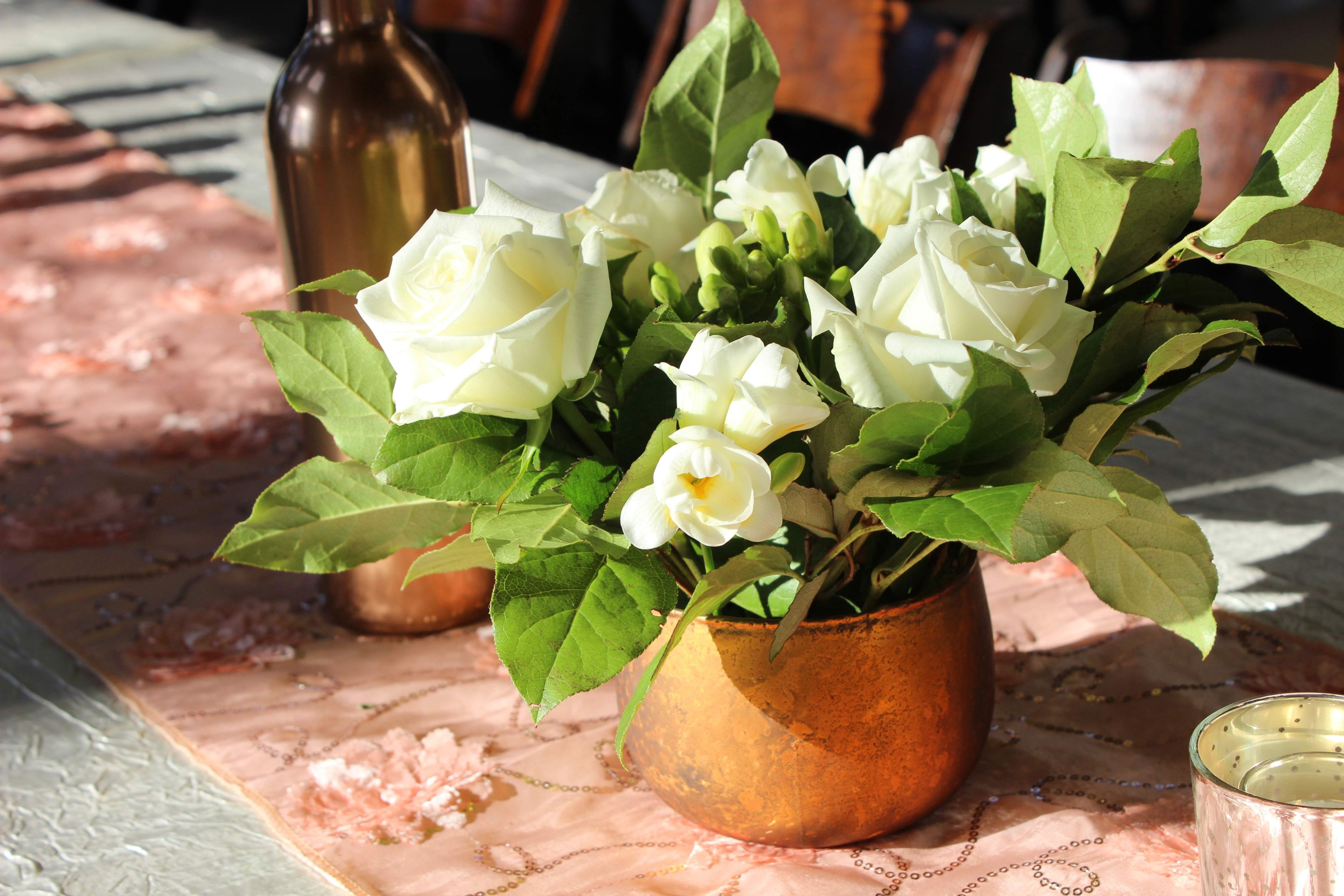 March 26, 2017 - It was a dazzling trip back in time to Spencer's past and a festive showing of community support for education and other local needs at Salisbury Academy's eighth annual Bloom gala on the evening of Saturday, March 18. Held at the newly refurbished Back Shop at the N.C. Transportation Museum, Bloom Industrial brought 350 community members together for an evening which included food and drink, a live auction, and dancing to music from The Band Punch.
---
Salisbury Academy Eighth-Grader Maggie Dees Awarded Sisters Merit Scholarship to Salem Academy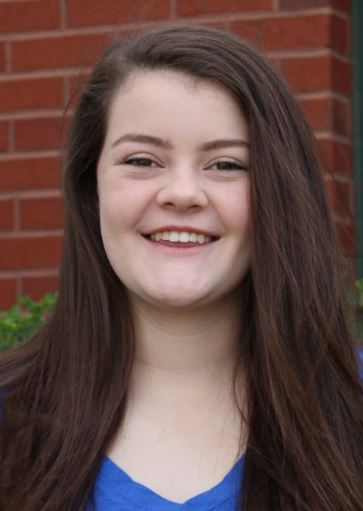 March 16, 2017 - Maggie Dees, an eighth-grader at Salisbury Academy, has been awarded the Sisters Merit Scholarship to Salem Academy in Winston-Salem. Salem Academy is an all-girls, college-preparatory school with a mission of fostering the intellectual, spiritual, social and physical growth of young women.
"Maggie Dees is an outstanding young woman with a bright future. She is curious, engaged, and passionate about what she loves," said Wynne Overton, associate director of admission for Salem Academy.
---
In Another's Footsteps: Salisbury Academy students address world problems
February 2, 2017 - Making a difference in the world is more than a hot topic at Salisbury Academy — it's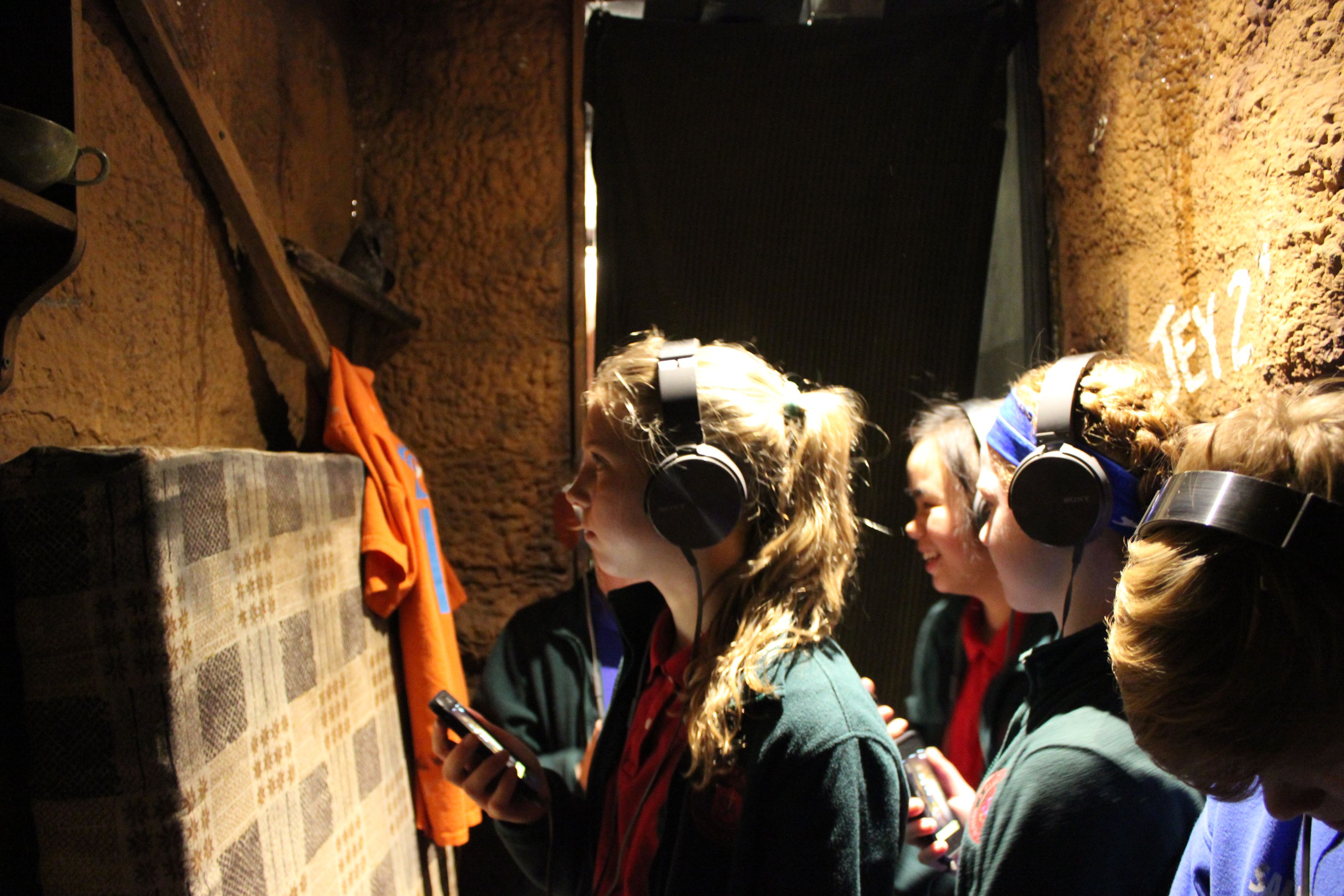 an all-in passion for positive change. Over the past three weeks, middle school students have pondered, identified and formed plans to solve world problems in their weekly Discovery Labs.
The question being asked: How do we springboard from our school's local community outreach to make an impact on larger global struggles?
---
Boom Gala Goes Industrial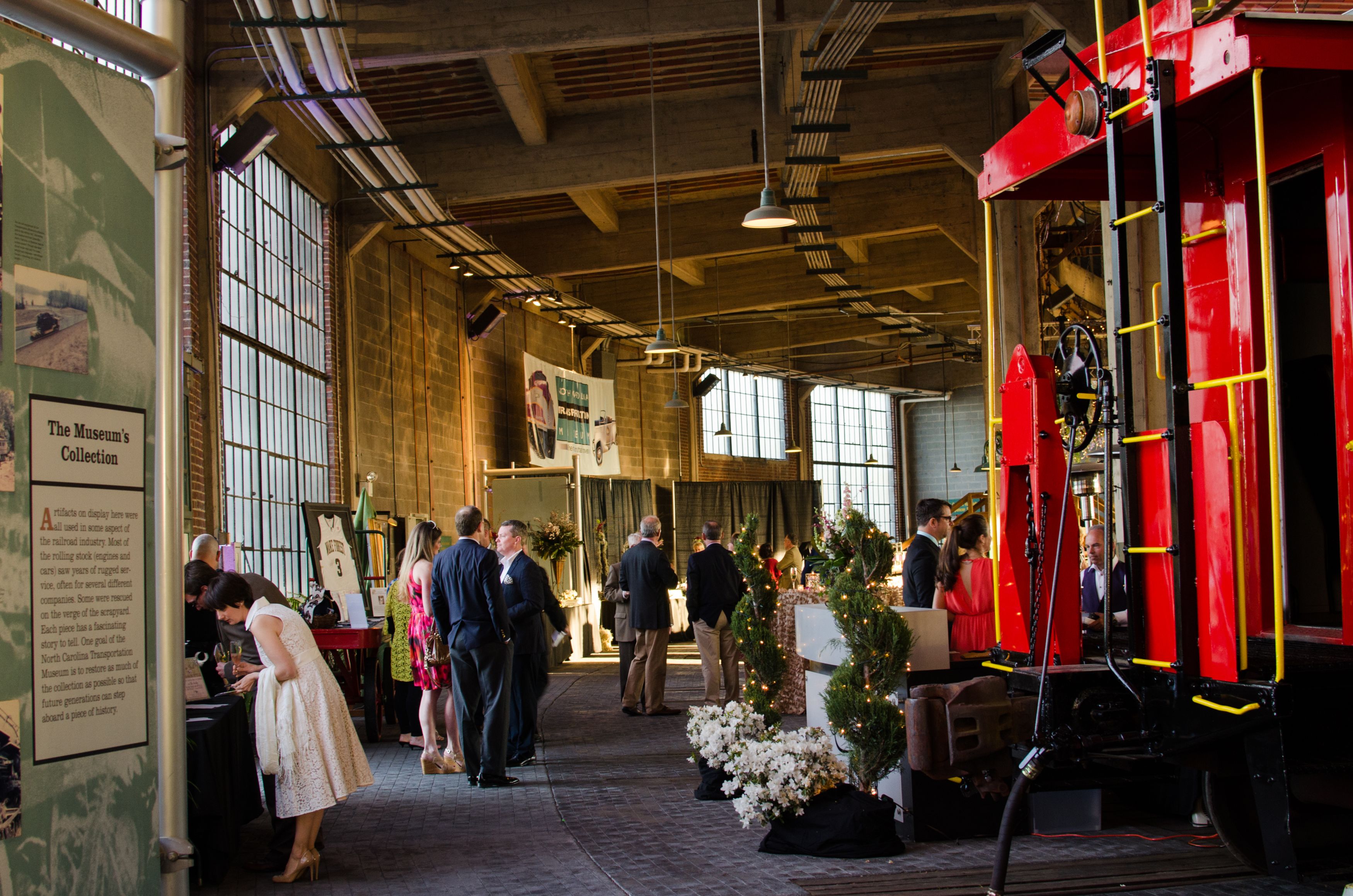 January 28, 2017 - Salisbury Academy's upcoming Bloom Gala on March 18 brings local history to life through its electrifying theme and location: Bloom Industrial, set in the N.C. Transportation Museum's newly refurbished Back Shop.
---
Salisbury Academy Serves as Pilot Group to LandTrust's Leopold Scholar Program
January 23, 2017 - The first Leopold Society event occurred on Jan. 17, when 22 Salisbury Academy students in seventh grade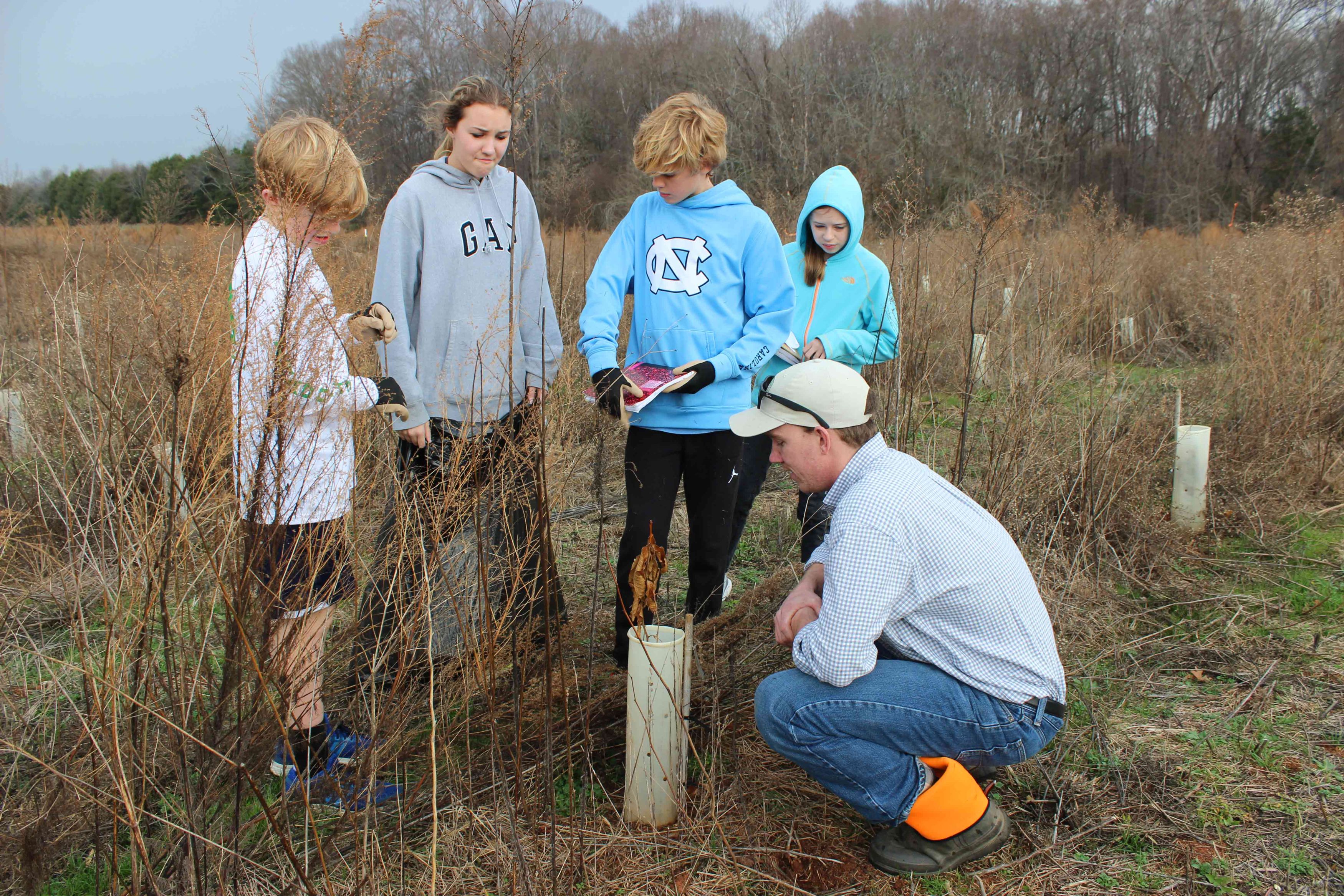 were introduced to the Kerr 2 Property — a 19.2-acre tract of land in Rowan County. In 2015, this LandTrust property was converted into an American chestnut restoration site in partnership with The American Chestnut Foundation.
"This project is a beautiful partnership that will ensure our students develop a love for nature and a true understanding of the impacts of conservation efforts, so that they can continue on as adults saving and protecting the spaces they love," SA science teacher Alexandra Shadroui said.
---
Basketball Without Boundaries: JLT Fieldhouse program takes flight at Salisbury Academy
January 12, 2017 - Connecting with and mentoring the younger generations has always come naturally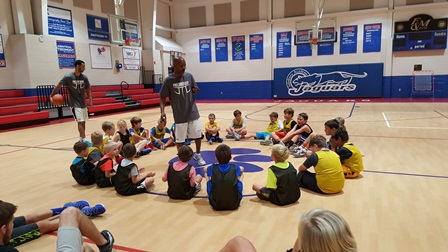 to Antwaun Thompson. It's simply who he is. Having witnessed years ago a lack of mentorship in today's society, Antwaun discovered that basketball — his greatest passion — was an inspirational avenue through which he could help children better themselves.
---
Salisbury Academy Brings Cheer to Trinity Living Center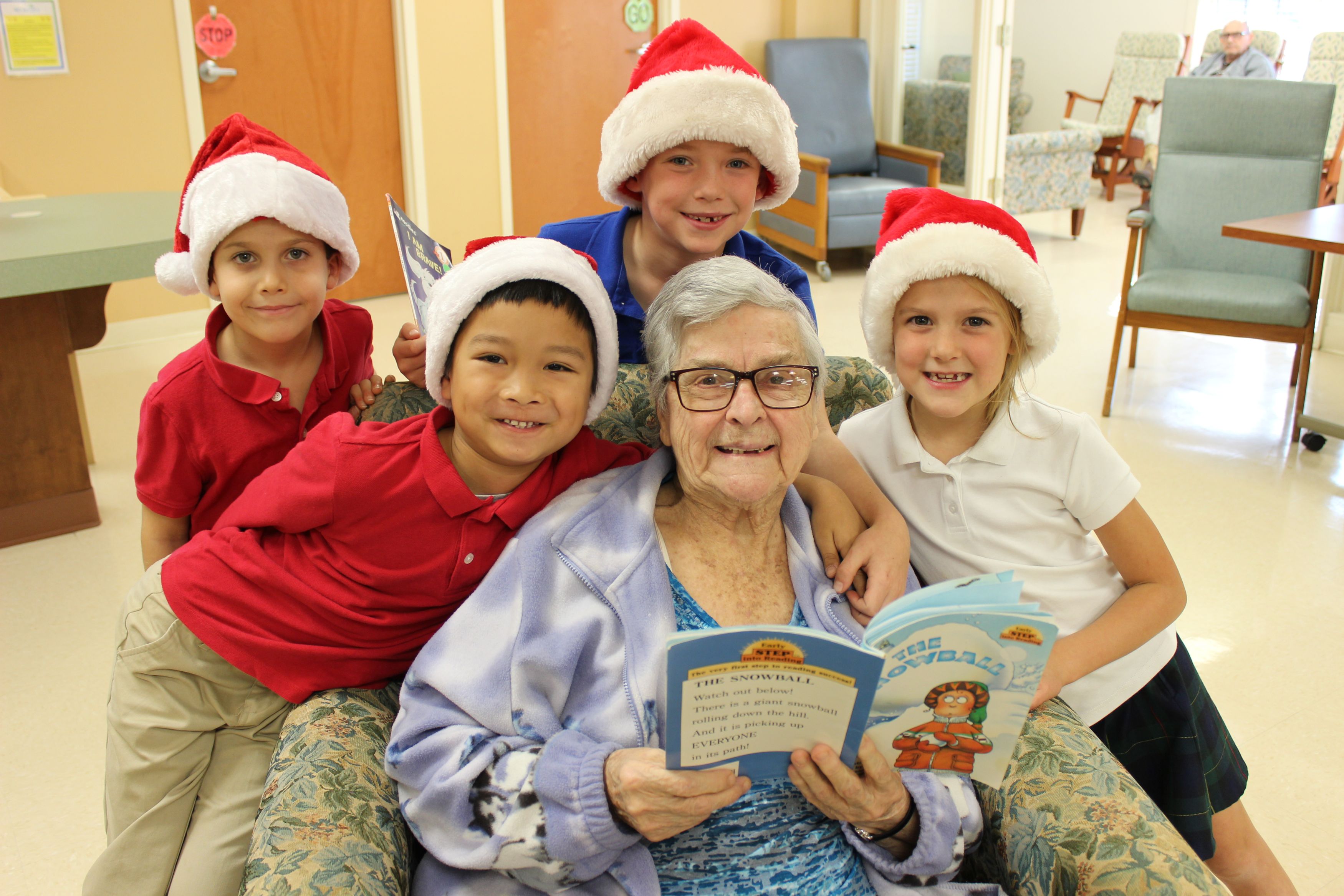 December 22, 2016 - For one of the participants at Trinity Living Center's adult day services program, it's hard to remember much about a typical day due to the advancement of her Alzheimer's disease. But when Salisbury Academy's first-graders come for their monthly book buddies visit, she can recount her day to her husband with enthusiasm.
---
Salisbury Academy Awards Broyhill Scholarships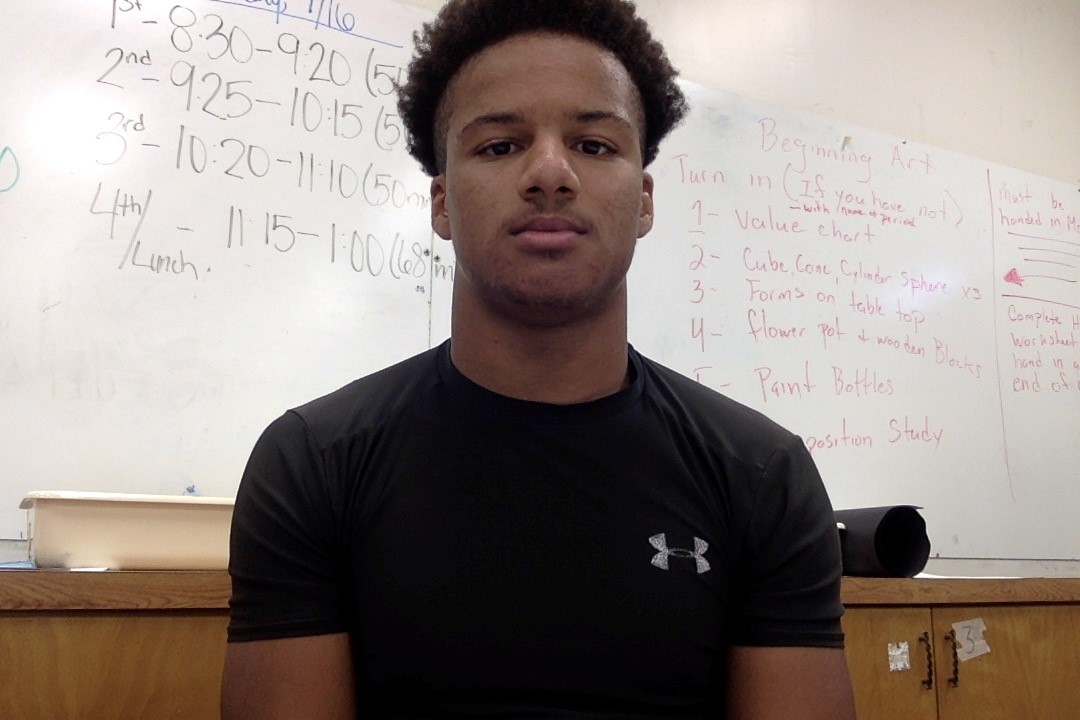 December 15, 2016 - As part of its strategic mission to develop leaders and stewards of the community, Salisbury Academy, through its Broyhill Leadership Scholarship program, provided scholarships for nine students from Rowan-Salisbury high schools to attend this year's five-day Broyhill Leadership Conference.
---
SA Students Review the Norvell Theatre's "Elf"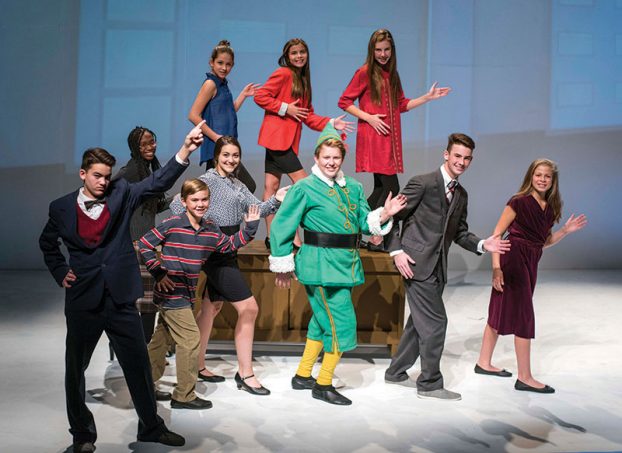 December 8, 2016 - "I thought 'Elf' was great. All the actors were awesome. I loved the play so much. I could watch it a million times and it still wouldn't be boring." —Ruby W.
"What I loved about the play was the songs, and how all the actors and actresses tried their hardest to really express the characters they were playing." —Grace Spieler
---
Arc of Rowan: SA Students Decorate "A Noteworthy Christmas" Tree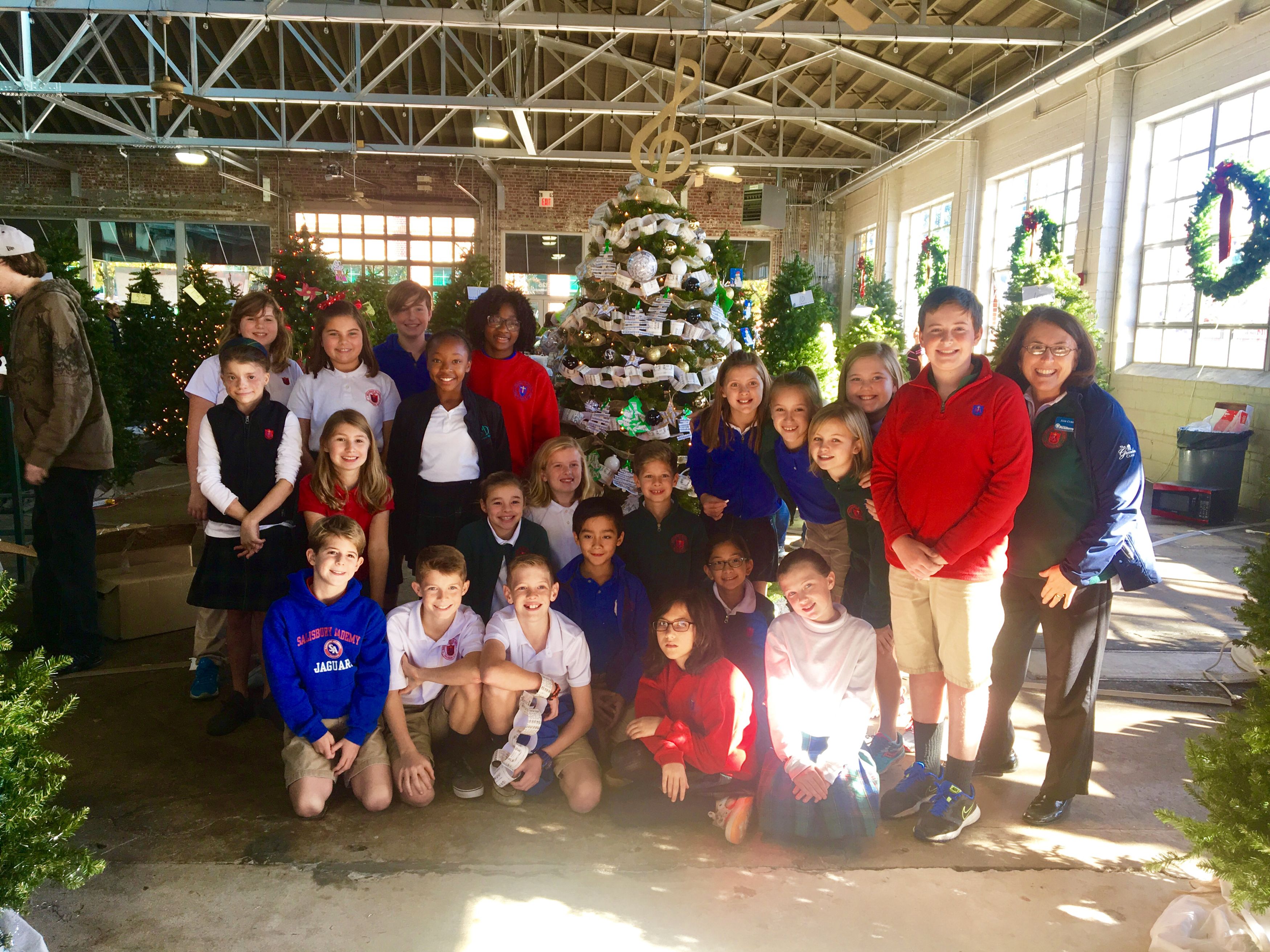 December 2, 2016 - ... The fifth grade class from Salisbury Academy came up with this year's "Noteworthy Christmas" tree theme. Each year the class has the responsibility of creating a theme. The students voted on the theme, which parent volunteer Paula Mead believes was inspired by William "Dr. Rob" Robertson, a music teacher at the school.
---
Celebrating like it's 1621: SA Thanksgiving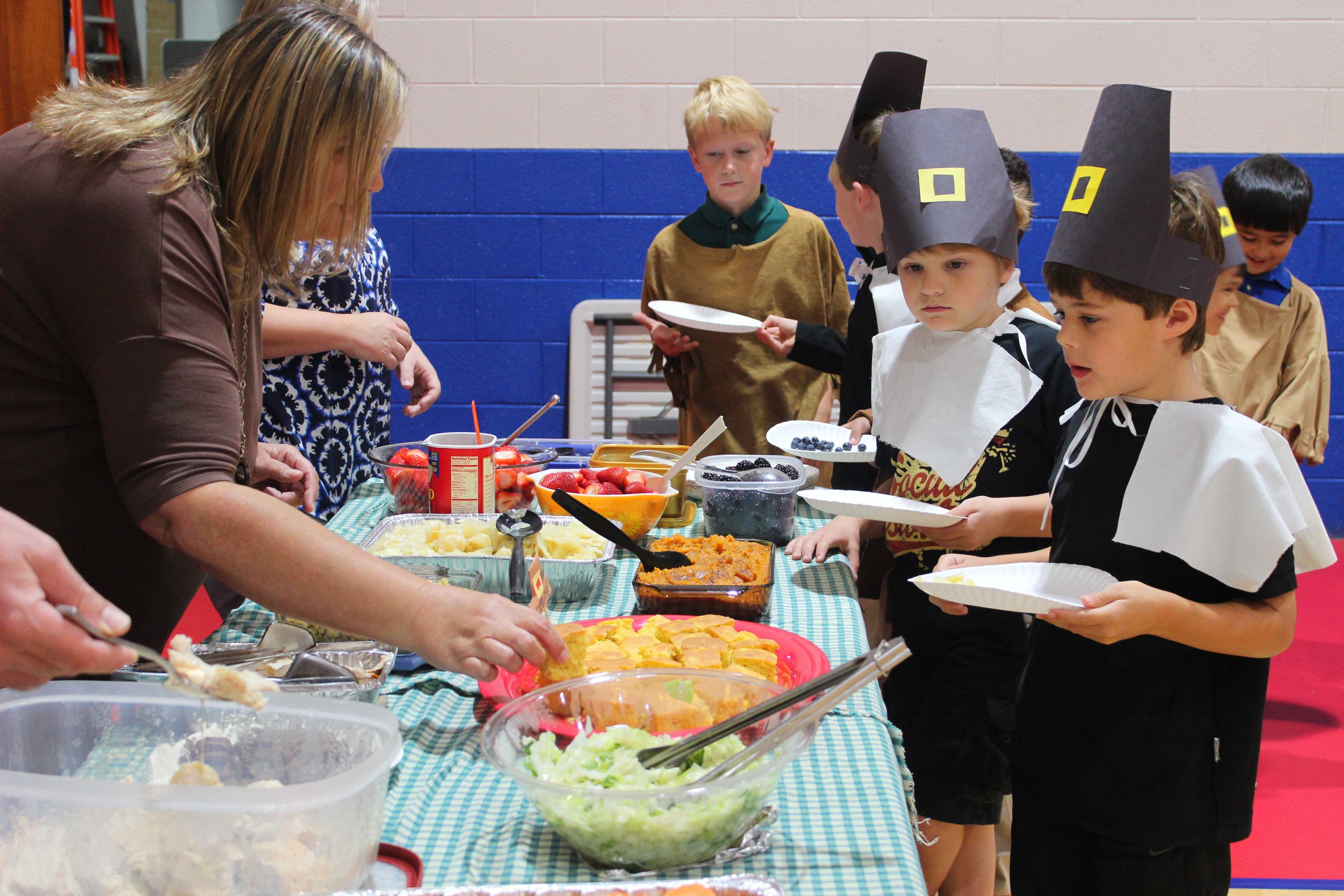 November 24, 2016 - Embracing the many historical and cultural elements of Thanksgiving, Salisbury Academy's first- and third-graders come together each year as pilgrims and Native Americans to re-enact the first Thanksgiving.
---
Music Educator Awarded Order of the Long Leaf Pine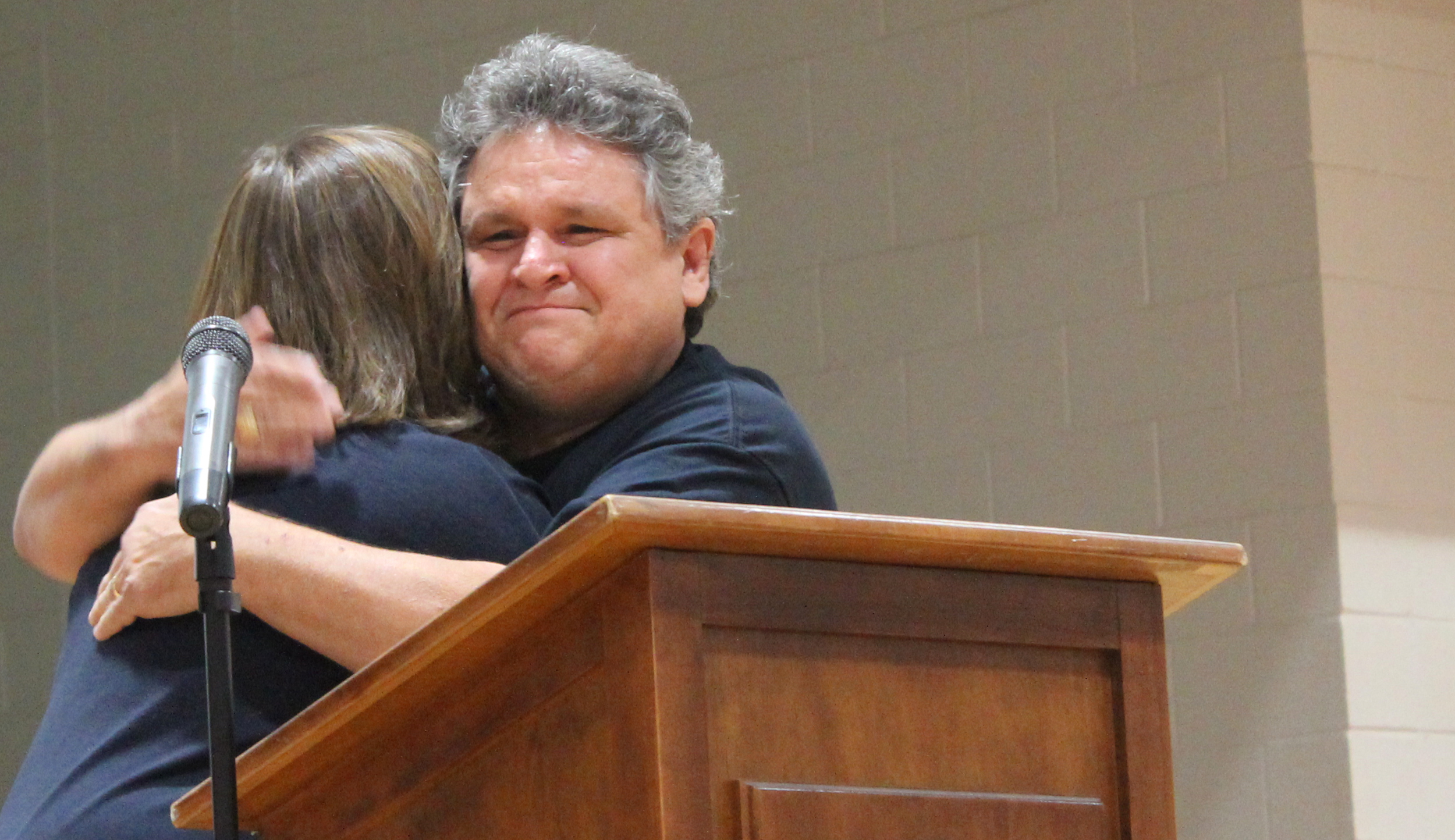 November 12, 2016 - It was in the midst of a turmoil-filled election that Salisbury Academy took a quiet moment to present former educator and piano-player extraordinaire "Dr. Rob" Robertson with the state's highest honor. Head of School Beverly Fowler presented Robertson with the Order of the Long Leaf Pine during the school's weekly chapel service on Nov. 3.
---
Salisbury Academy Students Find their Walden Pond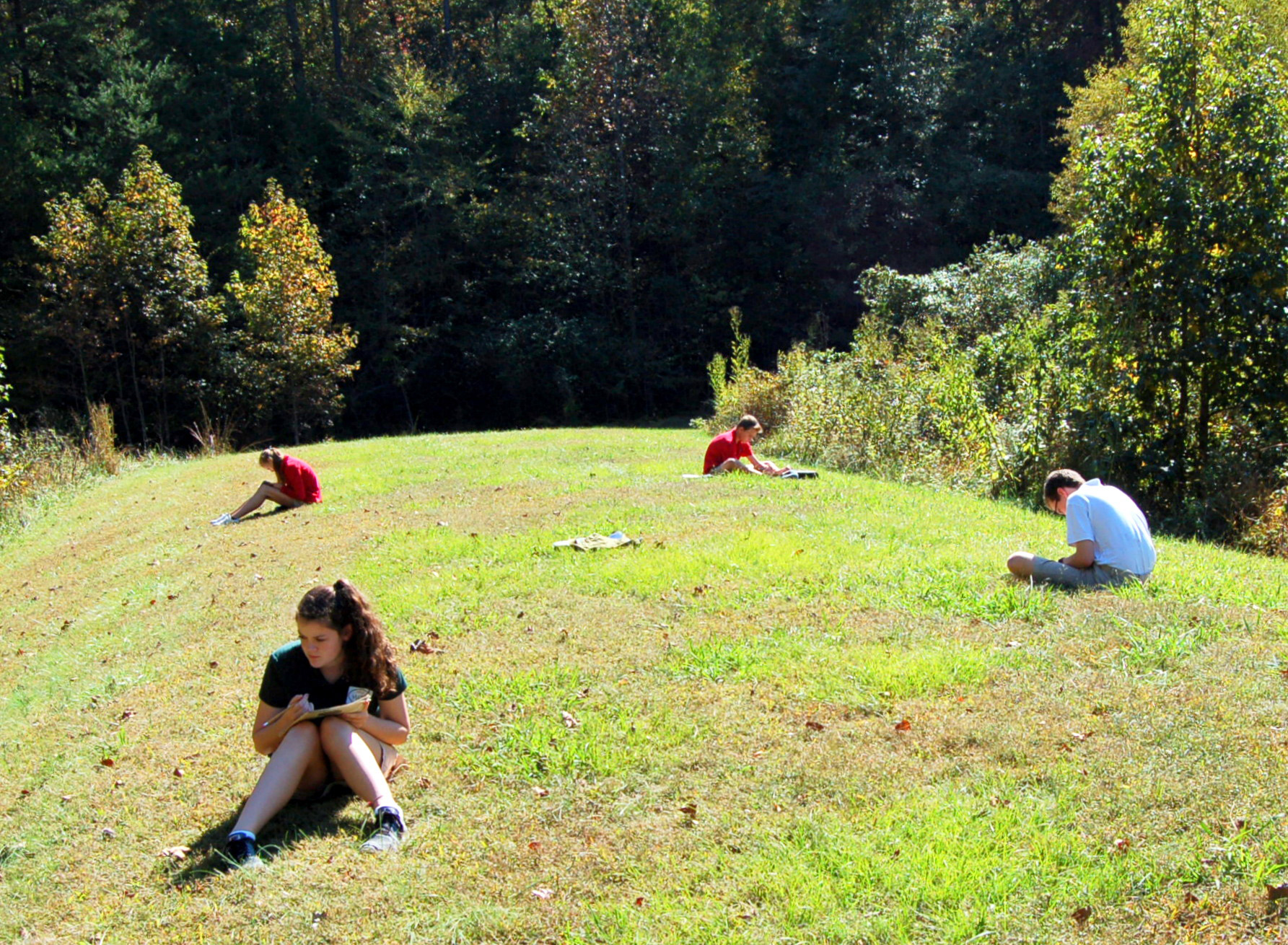 November 11, 2016 - Finding quiet places for students to be one with nature and reflect on connections with the natural world can be difficult in today's fast-paced world. At a recent poetry of nature course, Salisbury Academy's eighth grade class did just this. In many ways, students found their "Walden Pond" through the experience, or a place where poetry and connection with inner feelings join with writing practice and literary reflection.
---
Community Pumpkin Painting at Salisbury Academy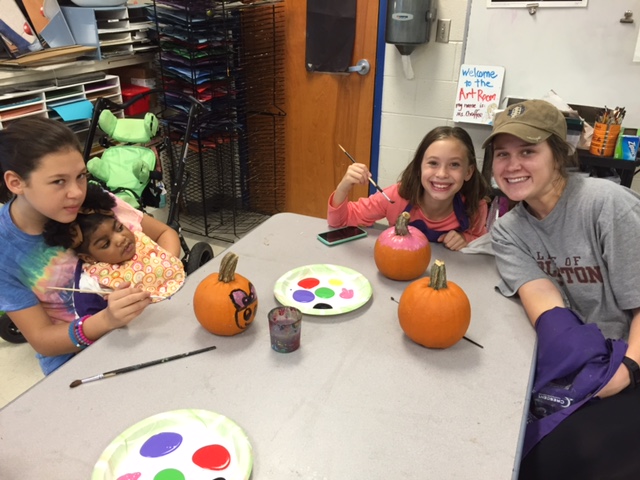 November 3, 2016 - Salisbury Academy and Footprints in the Community joined together for a day of camaraderie and artistic fun at a pumpkin painting event last weekend. Held at Salisbury Academy, the family gathering offered an opportunity for relationship building as well as community inclusion for children with special needs, a cornerstone of the Footprints organization's mission.
---
Wading in the Unknown: How teachers are approaching the 2016 election
October 30, 2016 - Salisbury Academy's "Rock the Vote" middle school exploratory was featured in an article by The Salisbury Post outlining how elections and the electoral process are being taught in Rowan County schools.
---
Wild and Scenic Film Festival at Salisbury Academy inspires environmental awareness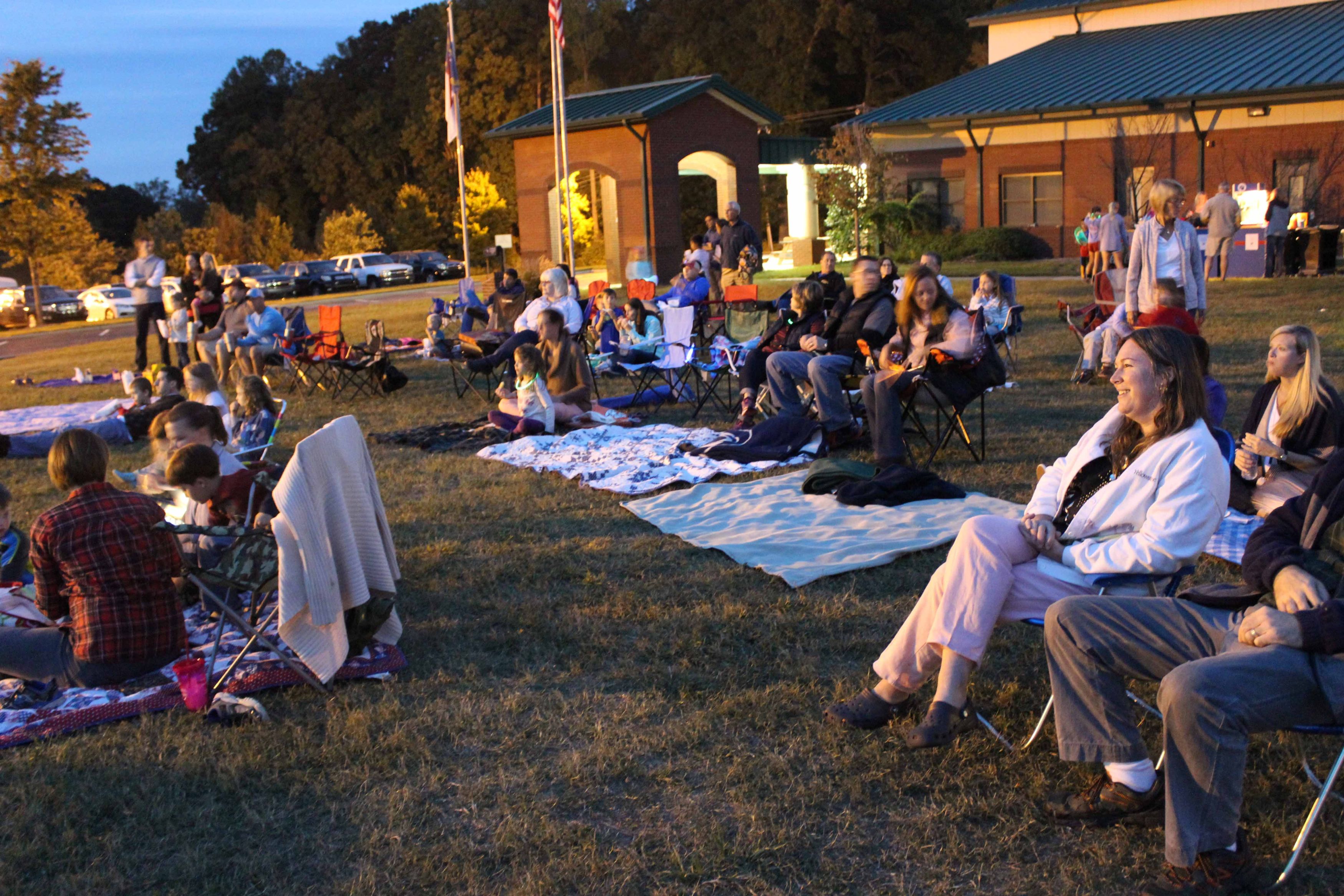 October 20, 2016 - The air was crisp and pumpkins turned into works of art on Friday night as the larger community joined Salisbury Academy in a fall celebration and "Wild and Scenic Film Festival." Children decorated and bowled with pumpkins along with other fun fall crafts and games as adults chatted and waited for the series of adventure films to begin.
---
Salisbury Academy Students Discuss Alabama Pipeline Leak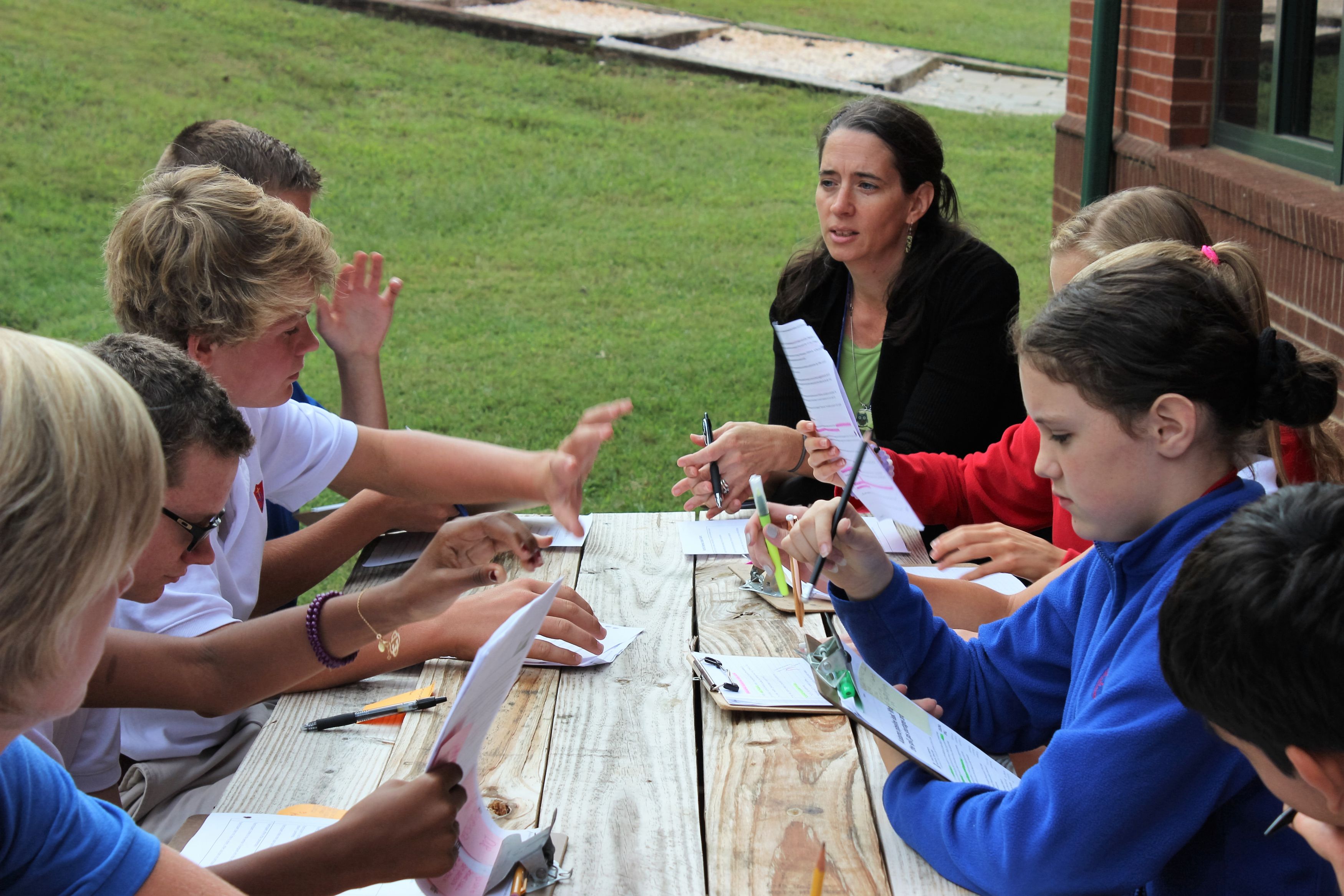 October 6, 2016 - Seated outdoors at a large picnic table in an open forum classroom arrangement, Salisbury Academy eighth-graders shared ideas, facts and interpretations last week on an environmental disaster largely overshadowed by other recent breaking news: the Alabama gasoline pipeline leak.
---
Salisbury Academy Celebrates See You at the Pole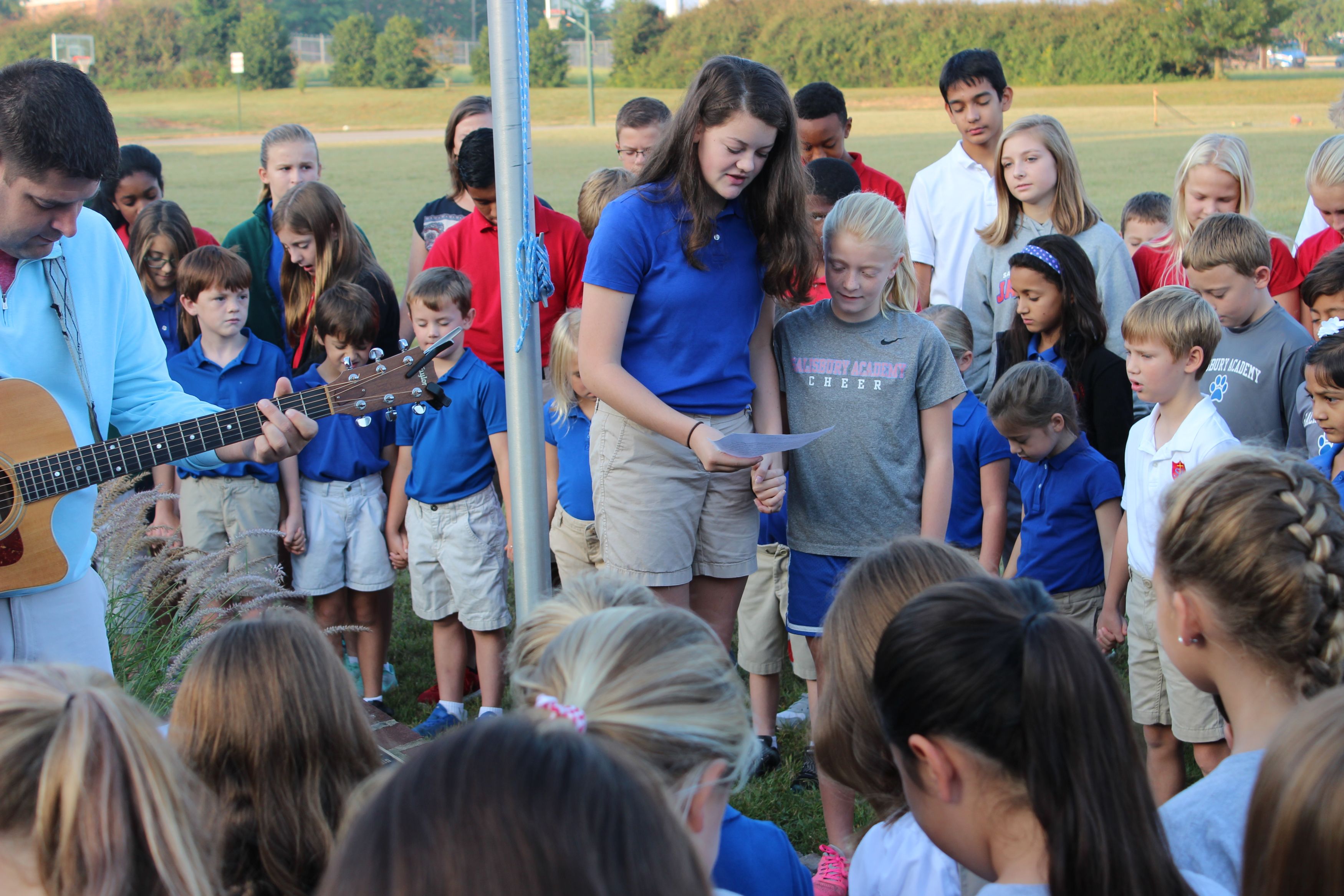 September 29, 2016 - A foggy morning was brightened with song and prayer at Salisbury Academy's "See You at the Pole" gathering early Wednesday. Held annually on the fourth Wednesday of September, the student-led rally brings millions of students together in prayer across the globe.
---
Footprints Camps Revived by Bloom Enchanted Funds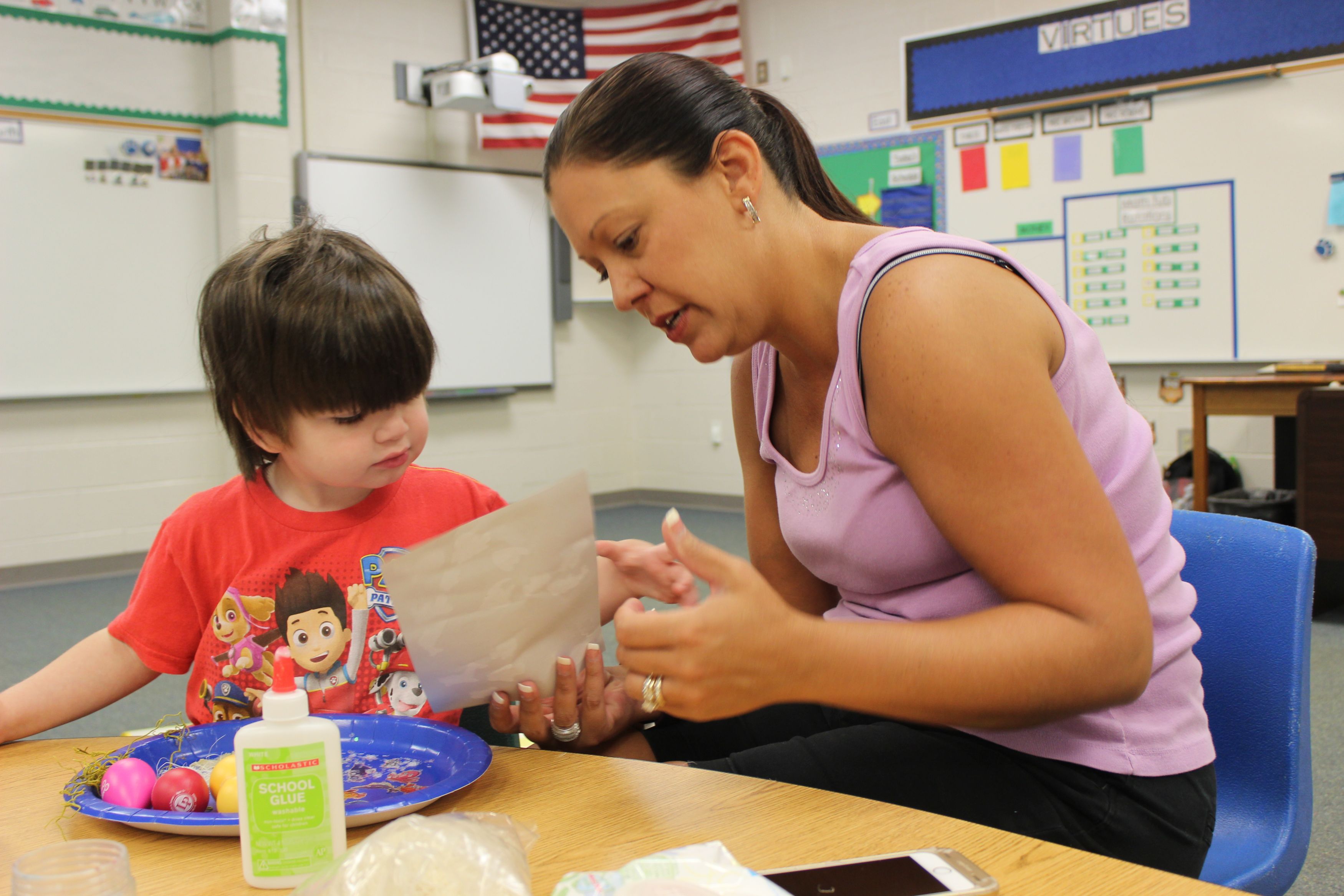 August 18, 2016 - One evening of fundraising and compassion can go a very long way. At a time when Footprints in the Community - an organization which promotes community inclusion for children with special needs - was ready to reduce their summer camp programming due to funding issues, a portion of the money raised at Salisbury Academy's Bloom Enchanted gala brought the programs back to life.
---
Back to School 2016: Salisbury Academy has New Talent, Green Initiatives, and Environmental Programming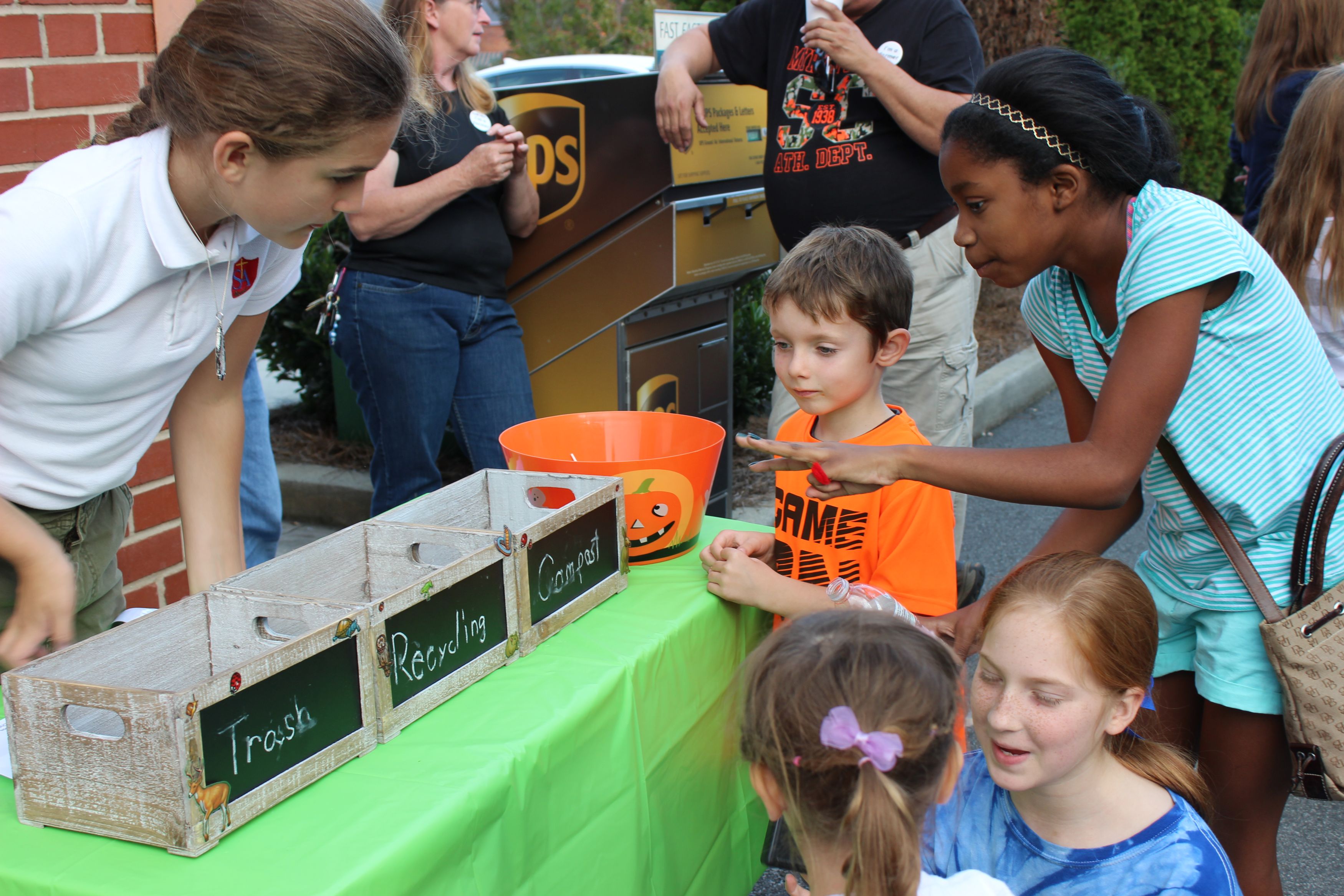 August 12, 2016 - Salisbury Academy begins another school year with a continued commitment to engaging minds and building futures. Recent programming and faculty and staff additions complement the school's learning environment and will further prepare students to enter their future world as leaders.
---
Salisbury Academy Welcomes New Staff, Board Members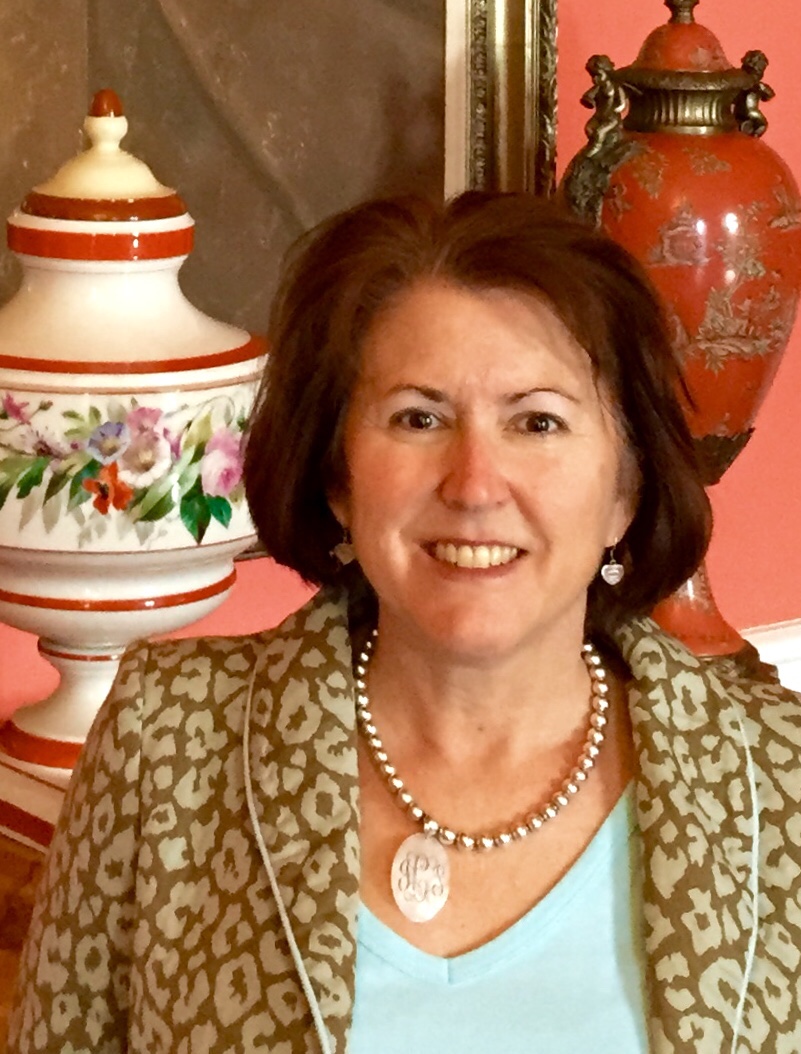 August 11, 2016 - This year, Salisbury Academy welcomes two new staff members to its family, as well as three new members to its board of trustees: Staff members Jane Current and Hannah Lewis, and board of trustees members Madison Currin, Mark Robertson, and Traci Williams.
---
Salisbury Academy Alumni Graduate from Area High Schools, Plan for Future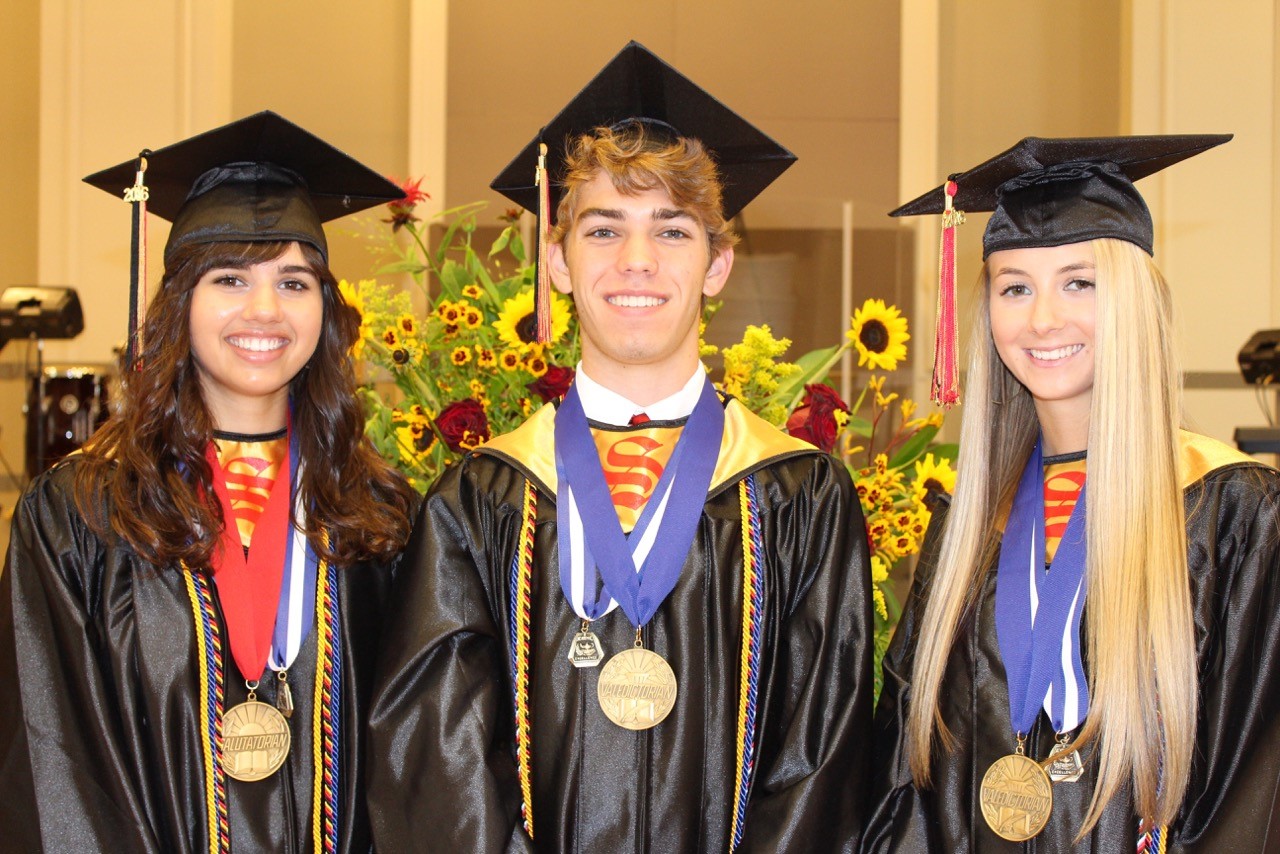 June 30, 2016 - Twenty-one Salisbury Academy alumni graduated from area high school programs. Salisbury Academy has more than 285 alumni who have graduated since the first graduating class of 1998. "Each year, as our alumni graduate from high school, it is wonderful to learn about their accomplishments and the exciting experiences ahead of them," said Head of School Beverly Fowler.
---
Salisbury Academy earns NC Green Schools Award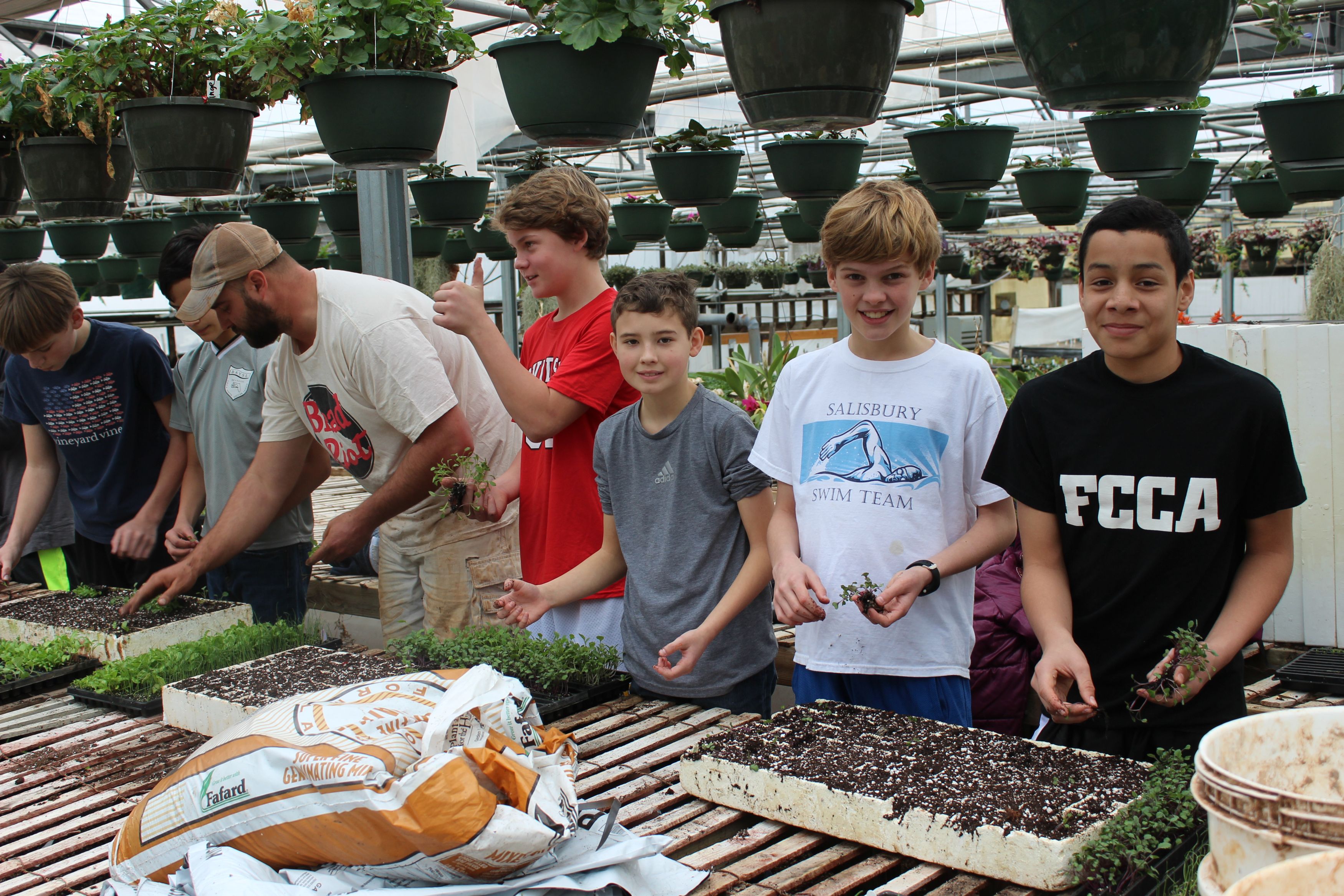 June 30, 2016 - Salisbury Academy recently received the N.C. Green School of Promise Award from the N.C. Green Schools Program, a nonprofit organization that promotes sustainability in the state's schools from pre-kindergarten through 12th grade.
---
Salisbury Academy to Launch Phase One of their Outdoor Space of the Future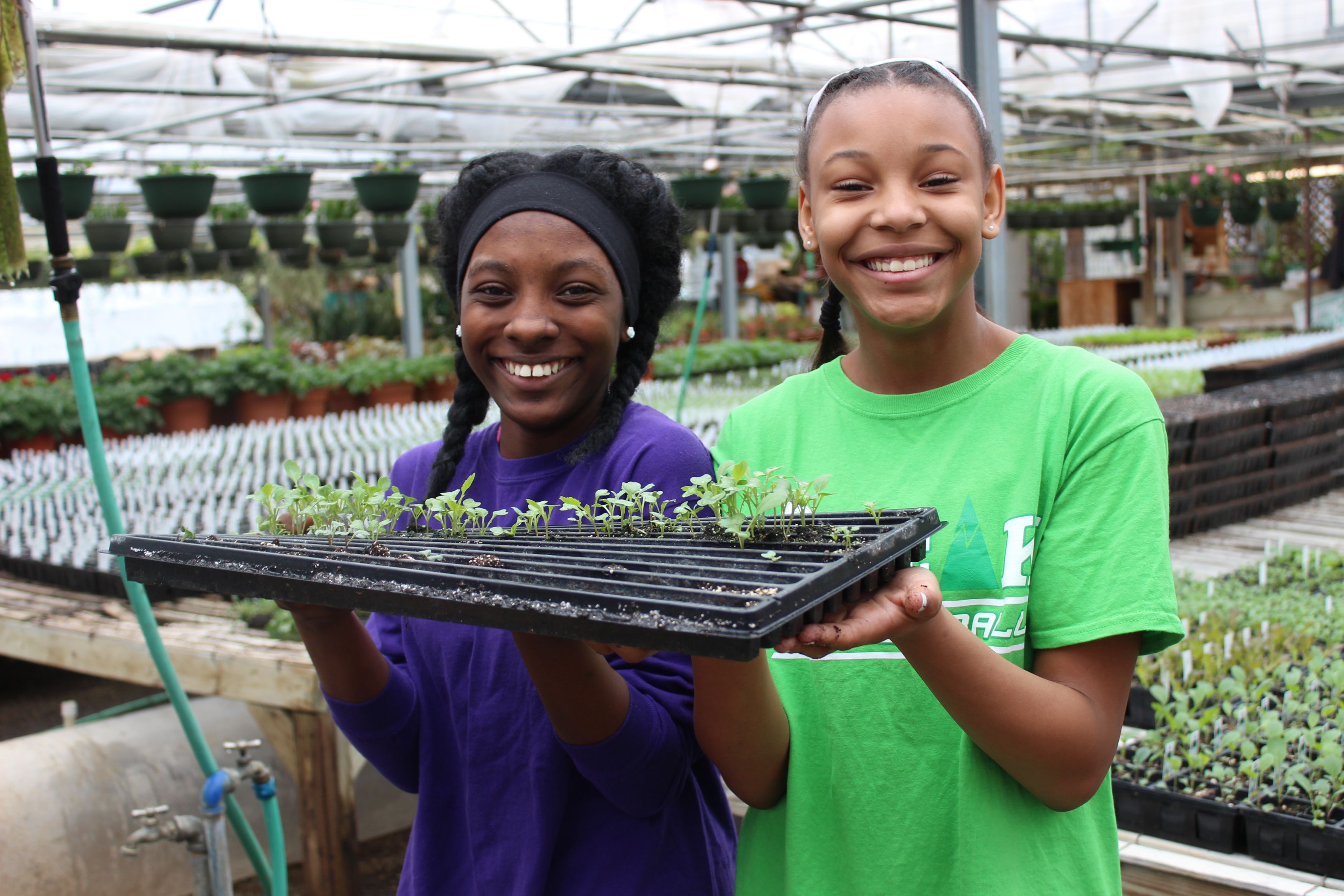 May 26, 2016 -The need for student engagement with the natural world has never been greater. With an increase in the use of technology by children and physical activity often taking a back seat to more sedentary play and learning, a chasm has emerged between children and nature.
---
Catawba College Sends Student Ambassadors to Salisbury Academy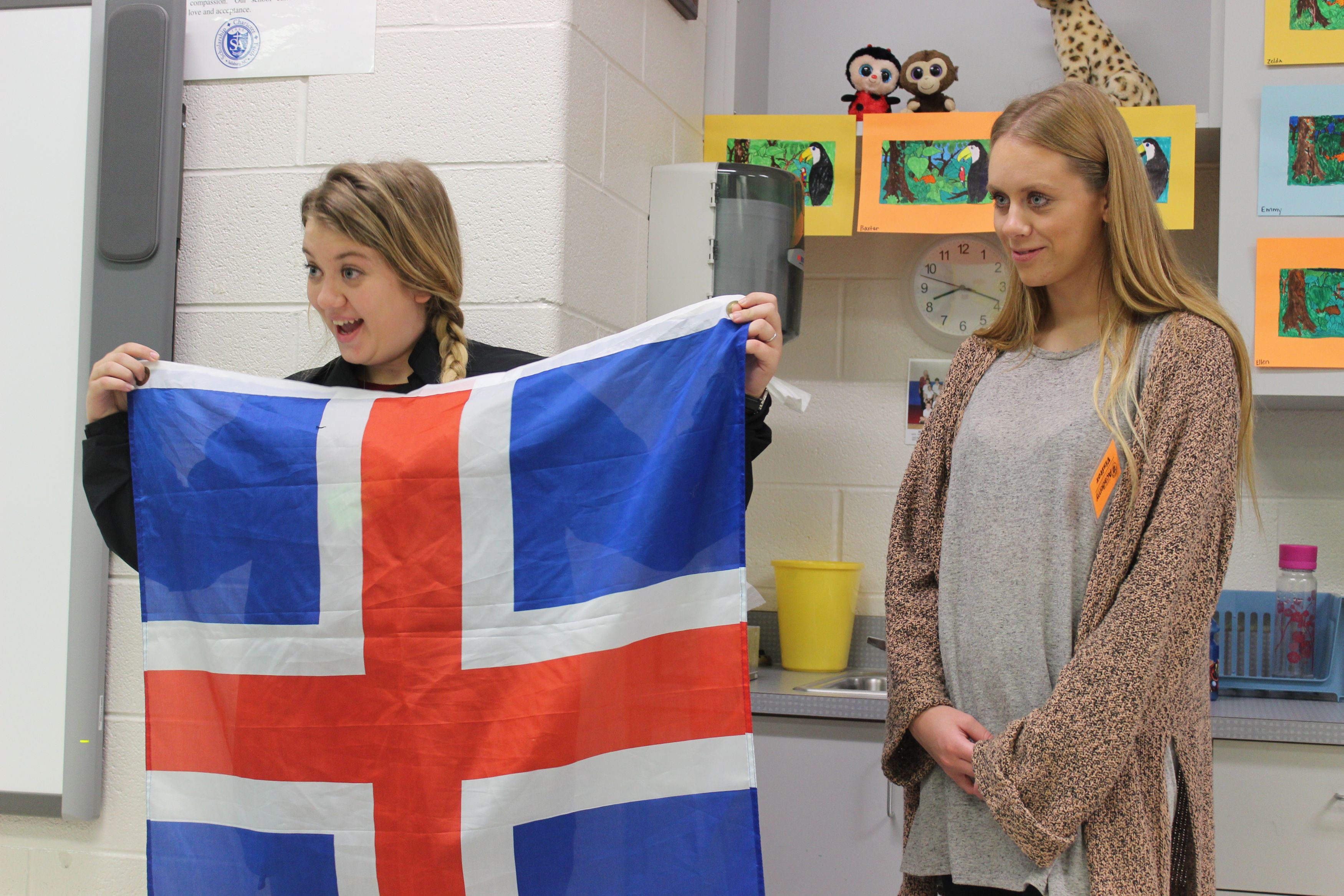 May 12, 2016 - The Icelandic national anthem played in Salisbury Academy's second grade as grinning Catawba College international students Malen Eiriksdottir and Gudny Jonsdottir entered the room. "We'll tell you about our country, Iceland," said Malen, a Catawba freshman and communications major. "It's very beautiful and we're very proud of it."
---
Bingo Night and the Butterfly Effect: SA and Oak Park Leap into Giving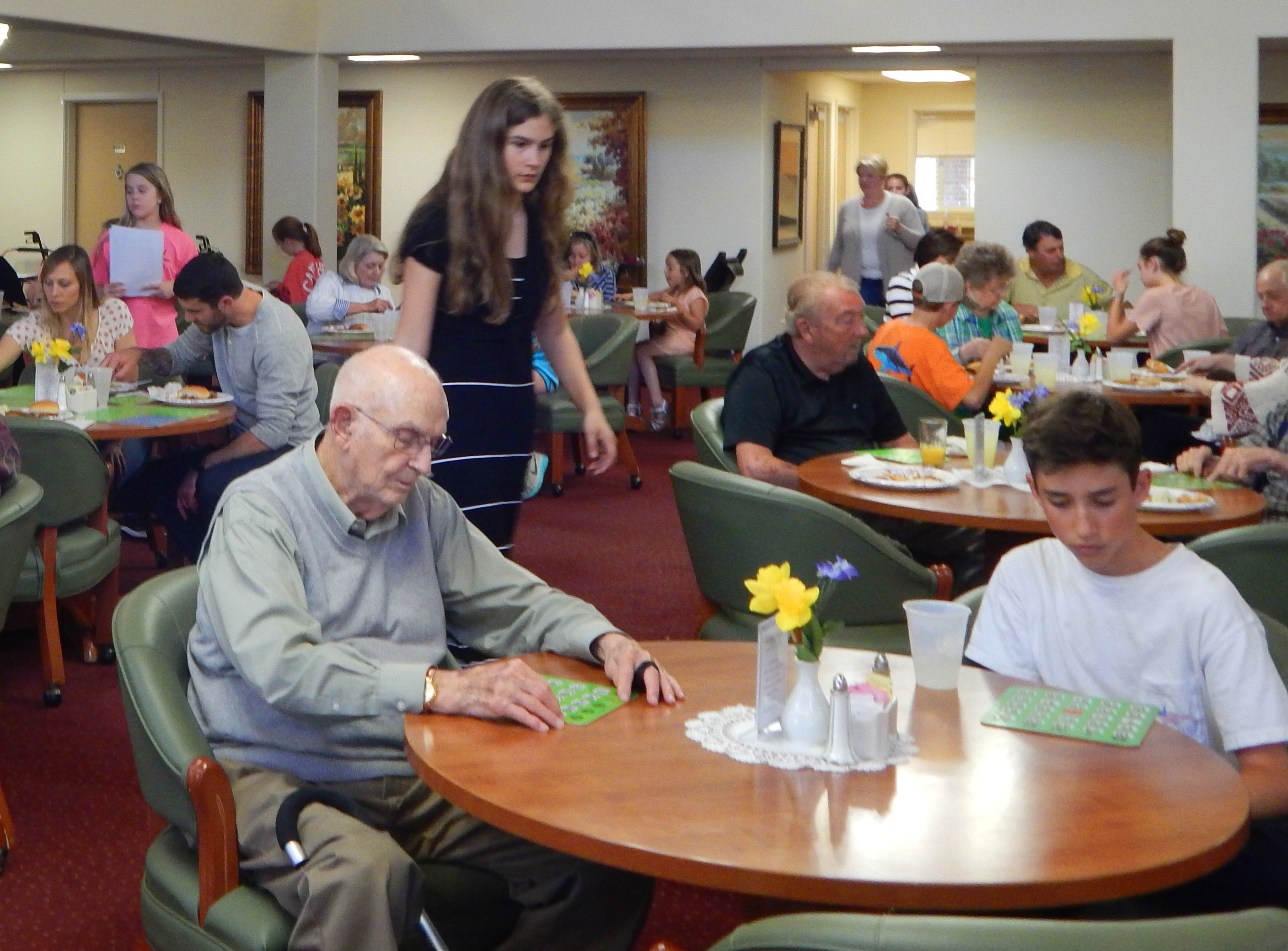 April 28, 2016 - You could almost feel the butterfly flapping its wings when Karen Leonard, activity coordinator for Oak Park Retirement, called Salisbury Academy teacher Katie Skalka. Would Salisbury Academy be interested in taking part in the butterfly effect — a social movement proving that a small act of kindness can be a catalyst for great positive change — Leonard asked over the phone.
---
SA Students Review the Norvell Theatre's Production of "The Taming of the Shrew"
February 18, 2016 - This week eighth graders at Salisbury Academy went to see the Norvell's production of the 'Taming of the Shrew.' After the show, each student wrote a review of the play. "'The Taming of the shrew' was a very entertaining play that put a twist on classic Shakespeare literature. The actors and props were amazing!" - Virginia R.
---
SA Students Witness the Life Cycle of Water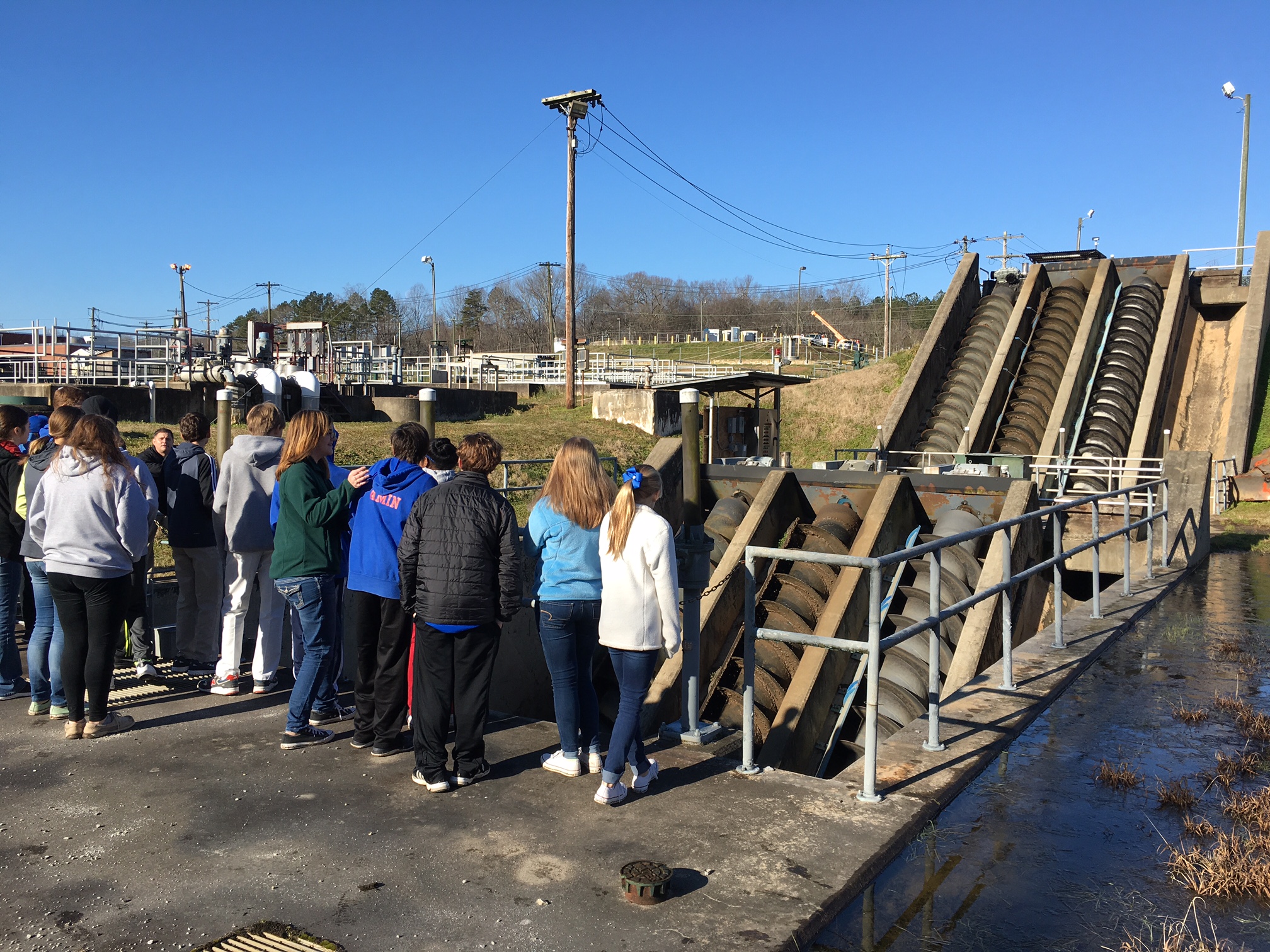 February 11, 2016 - When Salisbury Academy's eighth-graders stepped off the field trip bus at the Salisbury-Rowan Utilities Town Creek Wastewater Treatment Plant, they knew they were in for an adventure. "This is a culminating event for you in terms of environmental studies," said Salisbury Academy science teacher Katie Skalka to her students as they filed off the bus. "We've learned about water resources and recycling, we've formed our school green team, and this visit builds on everything we've been learning since sixth grade."