Salisbury Academy's Corporate Partnership program provides businesses multiple ways to reach the Salisbury Academy community with their brand and messaging, while supporting our school's commitment to Engaging Minds and Building Futures.
As a Corporate Partner, your advertising message will reach current, prospective, and past families at all of our events held on campus along with the 2,500 contacts we have with our monthly communication. The return on investment for your company will bring you the benefits associated with year-round advertising along with the satisfaction of partnering with Salisbury Academy to develop well-rounded, personally and socially responsible stewards of the community.
---
Corporate Partner Benefits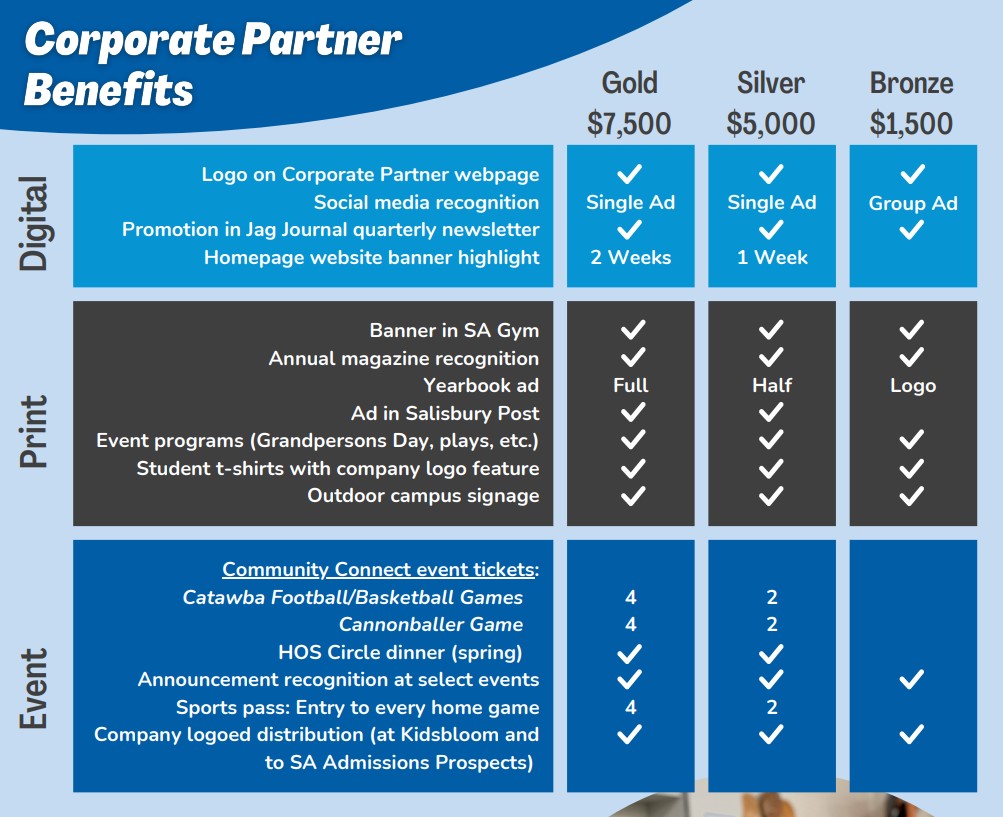 Corporate Partner Levels
Gold: $7,500
Silver: $5,000
Bronze: $1,500
To discuss Corporate Partnership opportunities, please contact SA's development office.
---
"Salisbury Endodontics is proud to support Salisbury Academy because of its commitment to developing learners and leaders. Nothing could be more important to our community's future. We are glad to be Corporate Partners of this exceptional school!"
- Brett R. Henson, DDS, Salisbury Endodontics
---
"Walser Technology Group is a community business, and strong communities start with strong schools. The enriching opportunities that Salisbury Academy provides for students at SA and in the larger community, coupled with the school culture of service learning and stewardship, all make WTG proud to support Salisbury Academy as a Corporate Partner!"
- Brad Walser, Walser Technology Group
---
"Salisbury Academy's values of lifelong learning, developing strong character, and service to the community all speak to me, my business, and to Wallace Realty's approach to caring for our clients. I am proud to support
Salisbury Academy as a Corporate Partner."
-Keith Knight, Wallace Realty
---
"Accelerate Therapy & Performance believes children
learn best in an active, hands-on environment where they are encouraged to play and explore. The Corporate Partner program allows us to help provide
this environment for children and pay it forward to our leaders of tomorrow, all while sharing our brand and marketing message with the broader community
of education supporters."
- Delaine Fowler, Accelerate Therapy & Performance
---
"Salisbury Academy's Corporate Partnership Program provides my business with the opportunity to support Salisbury Academy, local students throughout the county, and the community at large, all while enhancing my organization's recognition and connections."
- Lee Snow, Snow Benefits Group