Language Arts
Students write fiction, poetry, and drama in this course, but special attention is given to expository and point-of-view writing. Students examine their work with attention to unity, coherence, purpose, audience, and emphasis. Students read from a variety of genres including poetry, plays, novels, and short stories. Some selections include Animal Farm, The Good Earth, I Know Why The Caged Bird Sings, and Twelfth Night. Lessons are focused on the enhancement of writing skills. Emphasis is placed on punctuation, modifiers, parallelism, and sentence variety. Vocabulary study is based upon Greek and Latin stems and is strengthened through cross-curricular connections and use of The Word Within the Word series.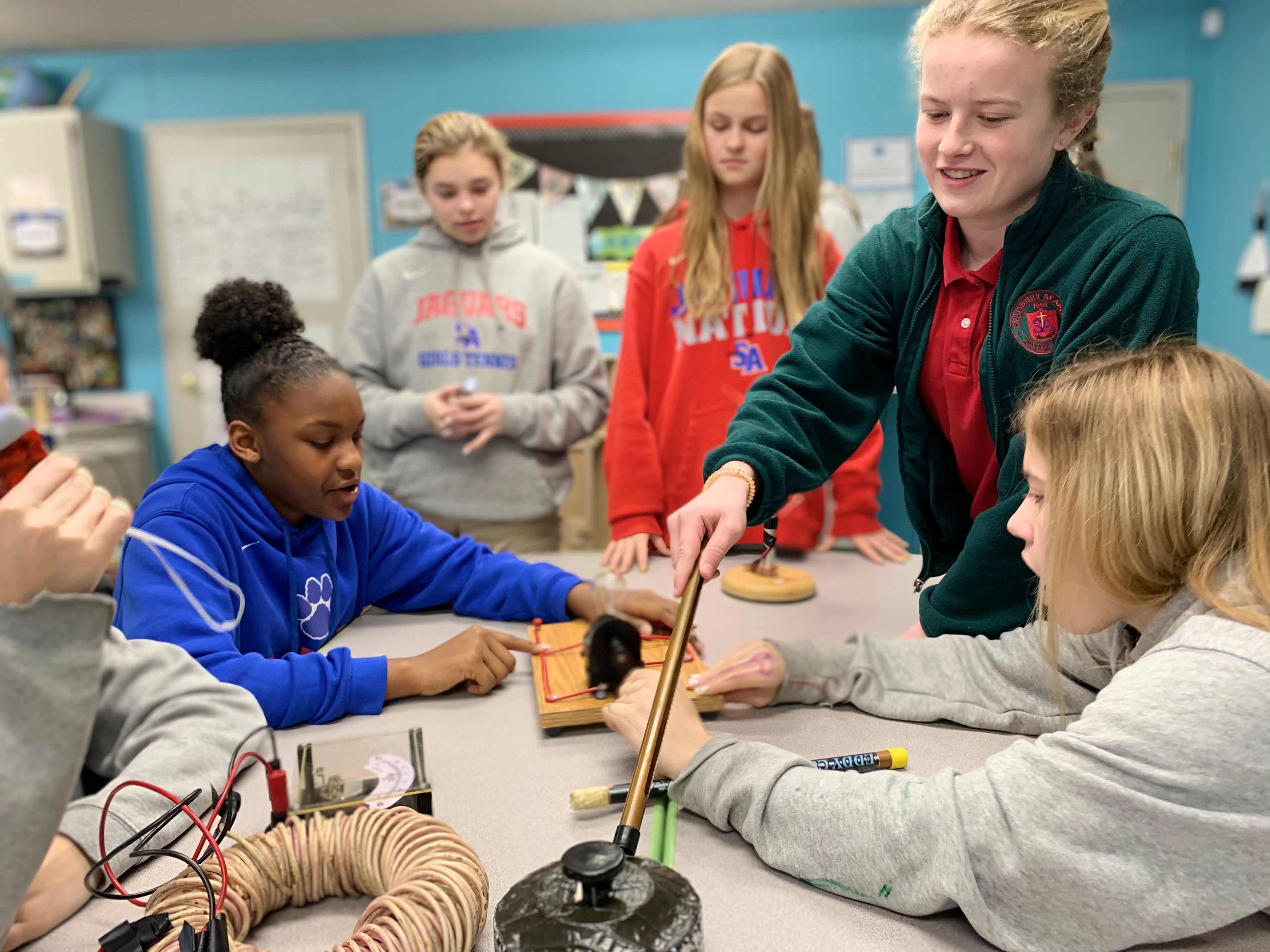 Algebra I
Eighth grade math is a challenging Algebra I course which allows students to expand upon the knowledge they gained in Pre-Algebra. Algebra I begins by making connections between algebra and computational skills and concepts that most students already understand. The course then moves on to include the rules of algebra, solving, graphing, and writing linear equations, solving and graphing linear inequalities, solving systems of equations, powers, and exponents, quadratic equations, polynomials and factoring, and radicals. Graphing calculators are used to investigate and verify findings. Opportunities for acceleration and online course work are available to students working at an advanced pace.
Social Studies
This course revolves around an examination of humanity's right to liberty and freedom and how it is perceived throughout a global history. The decline of European Colonialism and the rise of nationalism and democracy are studied in the beginning of the year. As the year progresses, students use their knowledge of these subjects to enhance their in-depth exploration of the Civil Rights Movement and social activism during the Vietnam War. The ideology of protecting global freedom through the containment of communism is studied through the events of the Cold War and fall of the Berlin Wall. This segues into the study of the political climate of Middle Eastern Politics and its influence on the oil industry.
Science
The eighth grade science program includes the study of Food Chemistry and Respiration, Physics, Electricity and Magnetism, Electromagnetic Radiation and Light, and Sound Waves. More in-depth lab experiences, along with field trips and computer programs, enrich our students' learning.